If you clicked on this page, it probably means you want to learn how to improve your roofing company's search engine optimization (SEO) strategy. If so, you're in the right place!
You probably already know how vital SEO for roofing is to your company's success. If you don't get your company in front of the right audience, you'll struggle to drive any leads or sales. That's why following the right roofing company SEO best practices is a must.
But what are those best practices? Great question. On this page, we'll go over seven different roofing company SEO tips that you can use to improve your lead generation and conversion rates. Those tips include:
Keep reading to find out more about SEO for roofing!
1. Build out location pages on your site
The first way to improve your roofing company SEO is to build out location pages on your website. This step is particularly important if you service multiple locations. For example, maybe you provide roofing services in Baltimore and Washington, D.C.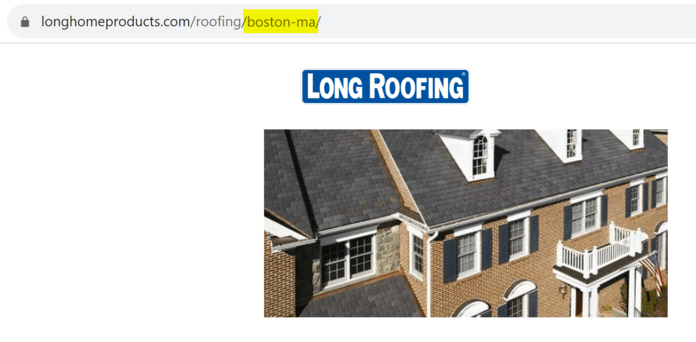 Creating a separate location page for each service area helps you increase your local search traffic in those areas. Sure, you can use keywords like "roofing services in Maryland" across your site, but the more specific your traffic is, the better.
With location pages, you can target keywords like "roofing services in Baltimore" on one page, and "roofing services in Washington, D.C." on the other. That way you get highly relevant traffic from both locations.
2. Optimize your page speeds
When people visit your website, they don't want to wait 10 seconds for each page to load. Your pages need to load quickly to prevent users from hitting the "back" button.
Not only will slow page speeds drive people away, but it will also cause Google to rank your site lower, since page speeds are a major ranking factor. That means having poor page load times will hurt your roofing SEO in more ways than one.
Ideally, your pages should load in three seconds or less. To help your pages load faster, there are several things you can do, including:
Minifying code
Compressing images
Limiting redirects
Caching web pages
When you do each of those things, your web pages will load more quickly, and you'll earn more traffic in the long run.
3. Showcase your expertise on your website
If you want people to trust your roofing company, you need them to feel confident in your expertise. The best way to do that is to showcase that expertise on your website, and there are multiple ways to do that, like through certifications and accreditations, case studies, and industry-specific content.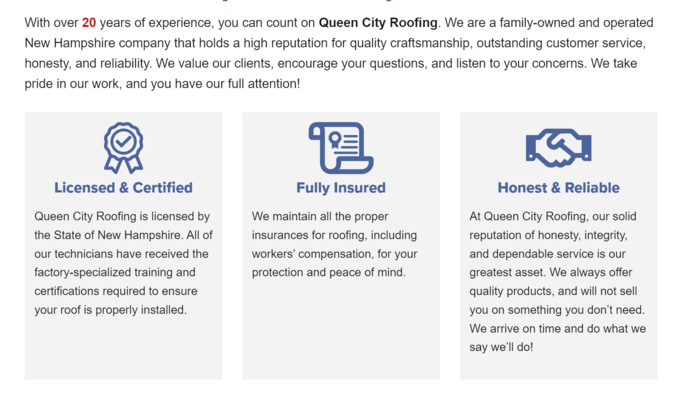 One way is to regularly post informational content about topics in the roofing industry. That shows people firsthand that you know your stuff when it comes to roofing. For that reason, it's a good idea to start a blog on your site — especially since blog content is a great way to show up in search results.
Another way to showcase your expertise is to feature case studies on your site. These show off what you've achieved for past customers and how satisfied they've been with the results. Doing this is a great way to elevate SEO for roofers.
4. Use responsive design
Did you know that Google uses mobile-first indexing? That means that when it ranks pages in search results, it ranks the mobile versions of those pages — even in searches made on a desktop computer. That means that if your site doesn't have a mobile-friendly version, your rankings have almost no shot.
To ensure better rankings, you should make your site mobile-friendly. The best way to do that is to use responsive design, which is a type of web design that rearranges the elements on a page to fit the screen where it appears. That means pages may look slightly different on mobile than on desktop: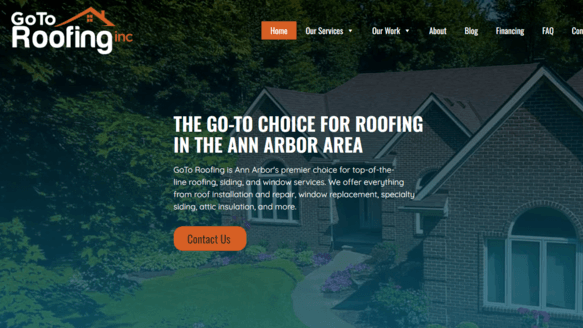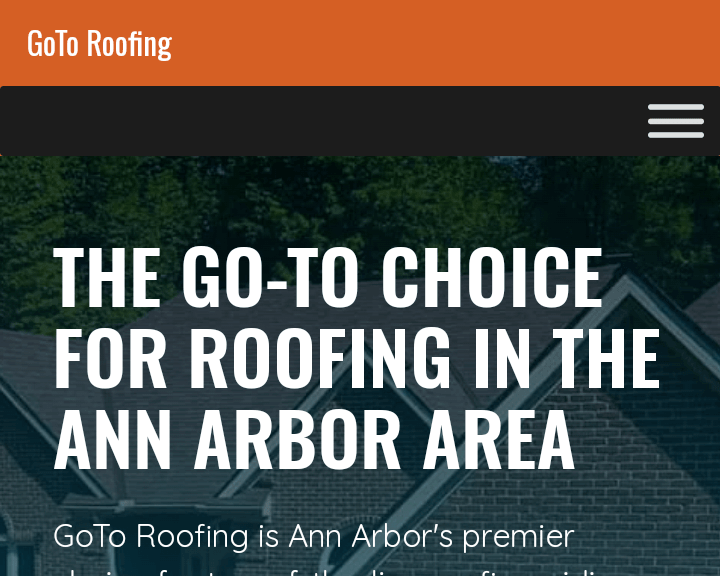 As a result, users on any device will be able to access your website and have a shot at becoming leads.
5. Feature testimonials on your site
No matter what you say about your roofing business, people will take it with a grain of salt. After all, your competitors are saying good stuff about themselves, too. But what about when your customers give you praise? Those are the statements people are most likely to trust.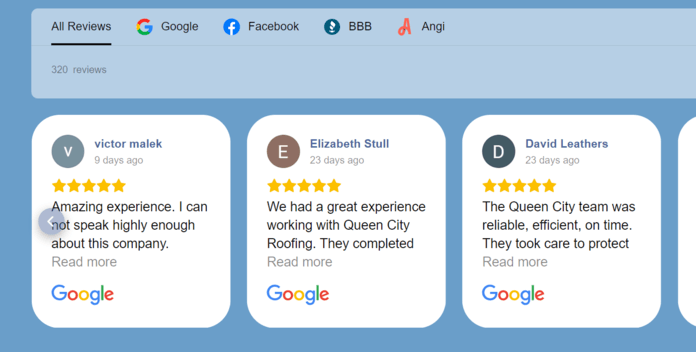 To take advantage of that, you can present testimonials on your website. You can gain these testimonials by simply asking your customers to leave you some after you work with them. You could do this in person, through an email campaign, or through some other method.
Regardless of how you obtain testimonials, displaying them on your site makes it easy for people to see how happy your customers are, quickly and reliably increasing their trust in your business. That's why testimonials are a great way to boost SEO for roofing companies like yours.
6. Earn reputable backlinks
One thing that Google considers when ranking pages is how reputable those websites are. Reputable websites get ranked higher. So, how do you show Google that your site is reputable?
The answer is backlinks, which are links that lead from third-party websites to your own. If a reputable website links to your content, Google assumes that your site is reputable as well, and it ranks you higher. That means you should aim to get backlinks from reputable, third-party sites in the roofing industry.
To do that, here are some ideas:
Produce high-quality, original content
Create interactive tools, like a roof replacement calculator for your state
Design infographics that explain complex concepts
Research broken links on industry-specific sites to see if you have replacement content
When pursuing backlinks, keep in mind that quality is far more important than quantity — one high-quality, authoritative backlink is better than 10 low-quality ones from shady or irrelevant sites.
7. Create a Google Business Profile
For our final roofing company SEO tip, you should create a Google Business Profile for your business. That's a profile that contains basic information about your business such as:
Company name
Location
Phone number
Hours
And more!
When people search for businesses in their local area, Google typically returns a local 3-pack — that is, a set of three local business profiles that match the query. So, if someone in Boise searched for "roofers near me," they'd see a set of three roofing profiles at the top of search results.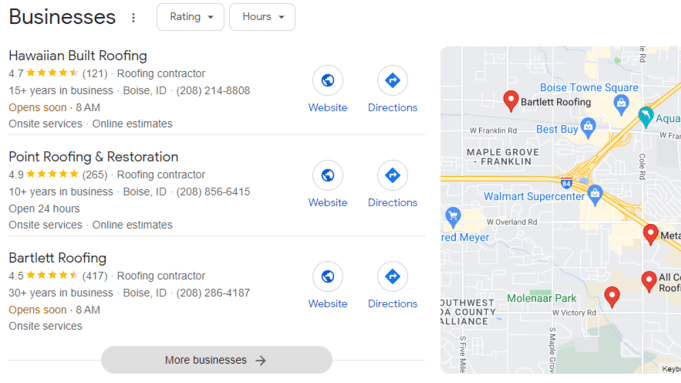 That's obviously great for SEO. So, to ensure that your business has a shot at appearing in local 3-packs for your area, go claim your Google Business Profile and fill out as much information about your company as you can.
Find more helpful SEO tips on SEO.com
The tips on this list are a great starting point, but there's still a lot more you can learn about SEO for roofers. If you want to find out more helpful roofing SEO info, you're already in the right place — just check out some other pages right here on SEO.com!
Writers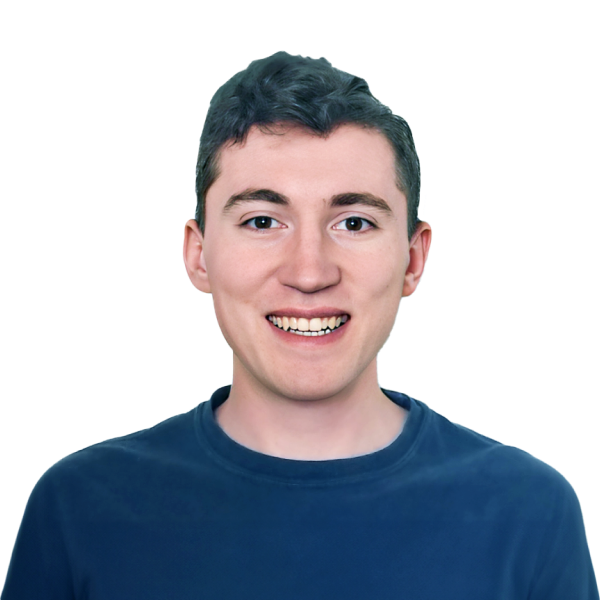 Matthew Gibbons
Lead Data & Tech Writer