Looking to use artificial intelligence (AI) for your search engine optimization (SEO) strategy? Good news, you're in the right place. Here, we'll explore the best AI tools available — both paid and free — and provide actionable tips on how to use AI for SEO in 2023.
What is AI for SEO?
AI for SEO is the use of artificial intelligence, like ChatGPT, for search engine optimization efforts. Common applications for AI in SEO include generating structured data, title tags, keyword ideas, and more. With AI, SEOs aim to save time while producing quality SEO content.
7 best paid and free AI SEO tools
You can get started with artificial intelligence by experimenting with these paid and free AI SEO tools:
1. Surfer SEO (One of the leading AI SEO tools!)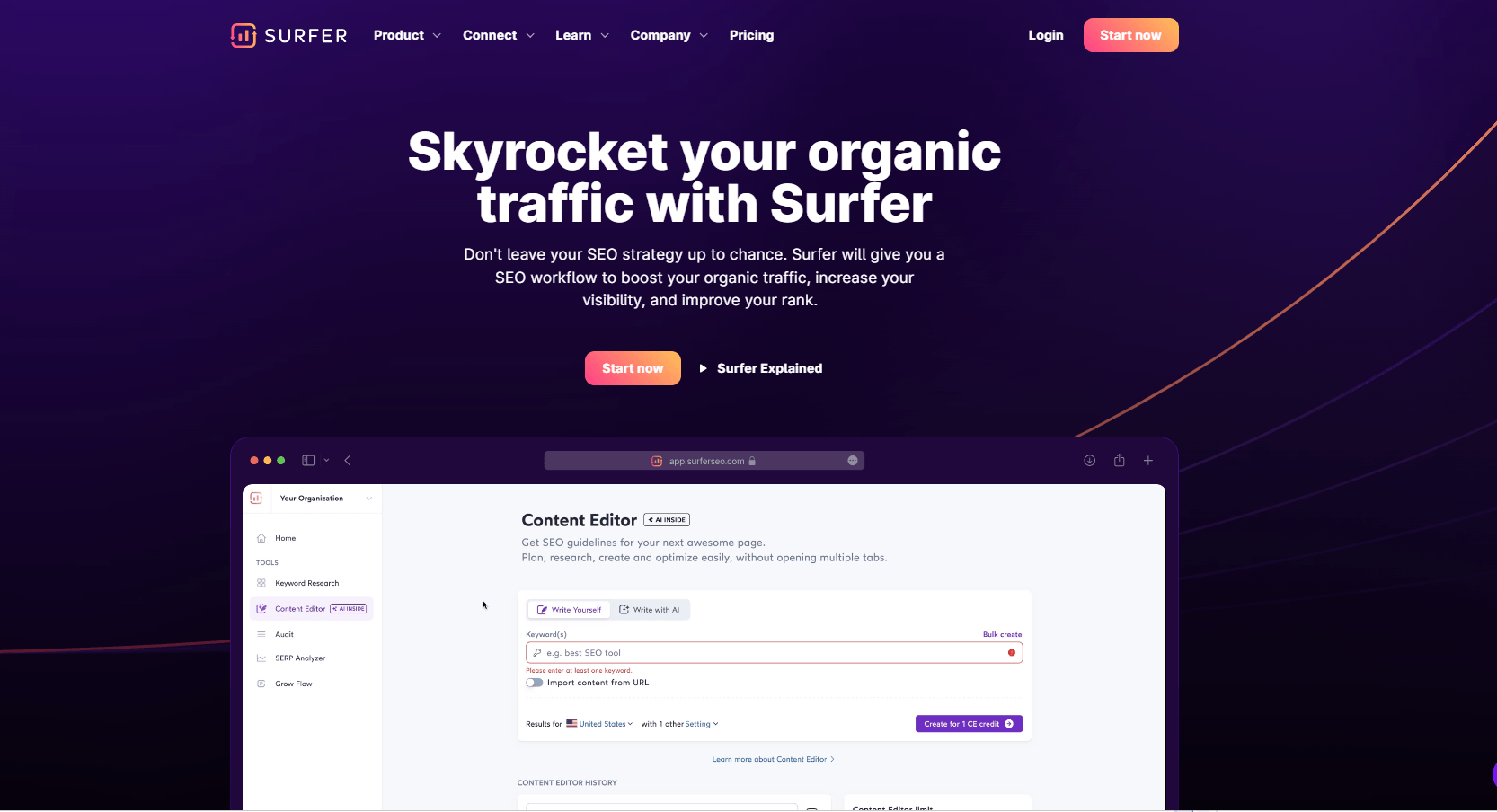 Price: Paid
Use cases:
Create SEO content briefs
Write SEO content
Optimize existing SEO content
Improve internal linking
Research keywords
Analyze search results
Audit SEO content
And more!
Why we like it:
Surfer SEO is fast, analyzing search results and auditing content in a short amount of time
Surfer SEO delivers accurate internal linking recommendations
Surfer SEO integrates with Google Search Console, plus Semrush
Surfer SEO supports outsourced content writing with easy-to-share content briefs
Surfer SEO customizes search results analysis, allowing you to exclude irrelevant URLs
Learn more about Surfer SEO by visiting their website.
2. Ahrefs (A great free option)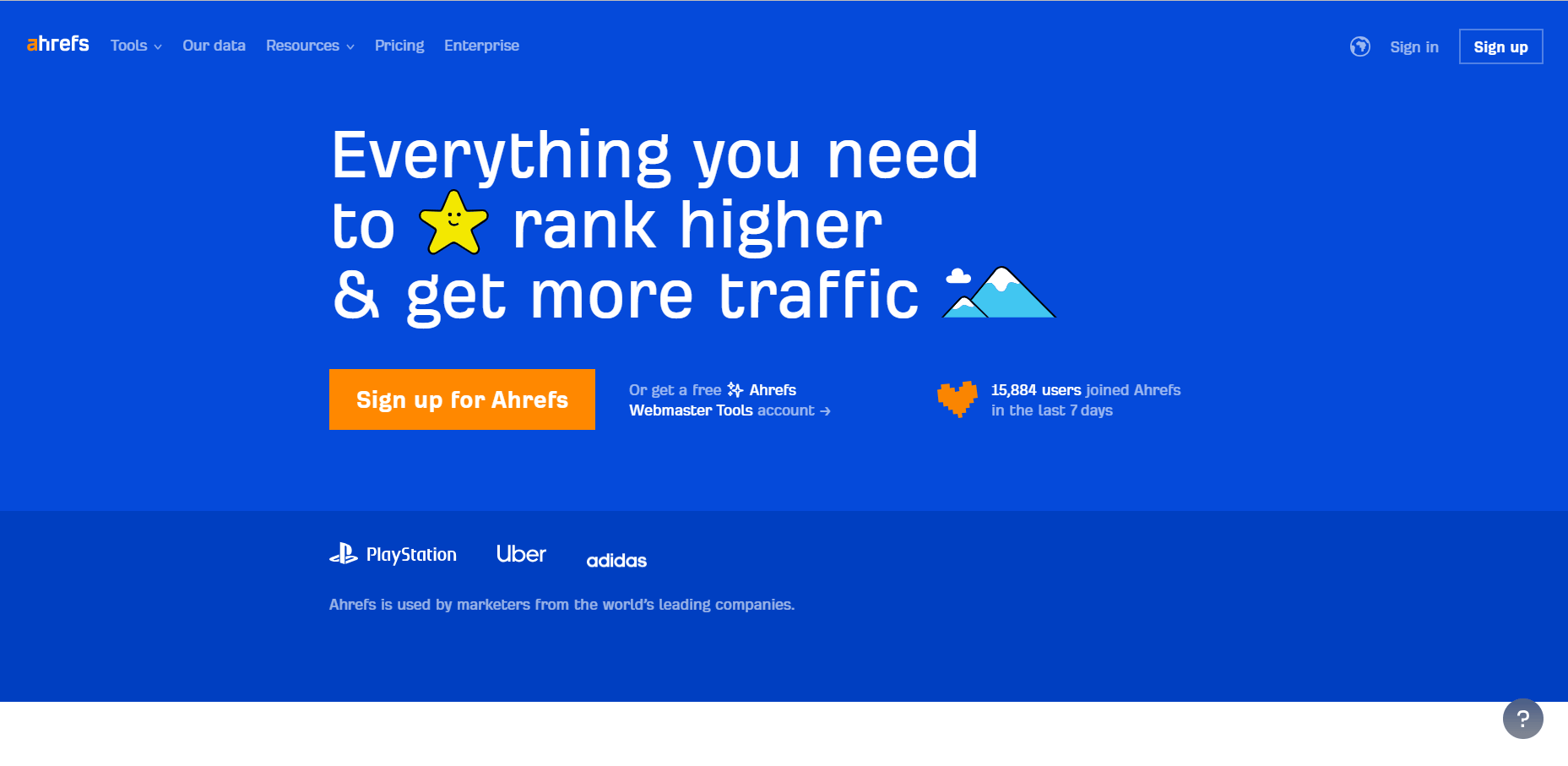 Price: Free
Use cases:
Create content outlines
Improve existing content with paragraph and sentence rewriting tools
Generate title tags and meta descriptions
Compile content ideas
And more!
Why we like it:
Ahrefs provides its tools for free, which is invaluable to smaller businesses and sites
Ahrefs offers different tone options for content generation, like formal and luxury
Ahrefs generates content in multiple languages, from English to Arabic
Ahrefs allows exporting of your work
Ahrefs supports additional AI use cases, like for social media and business development
Try Ahrefs' free AI SEO tools by visiting their website.
P.S. Learn more about Ahrefs in our breakdown of Semrush vs. Ahrefs!
3. Jasper (The AI SEO Tool Original)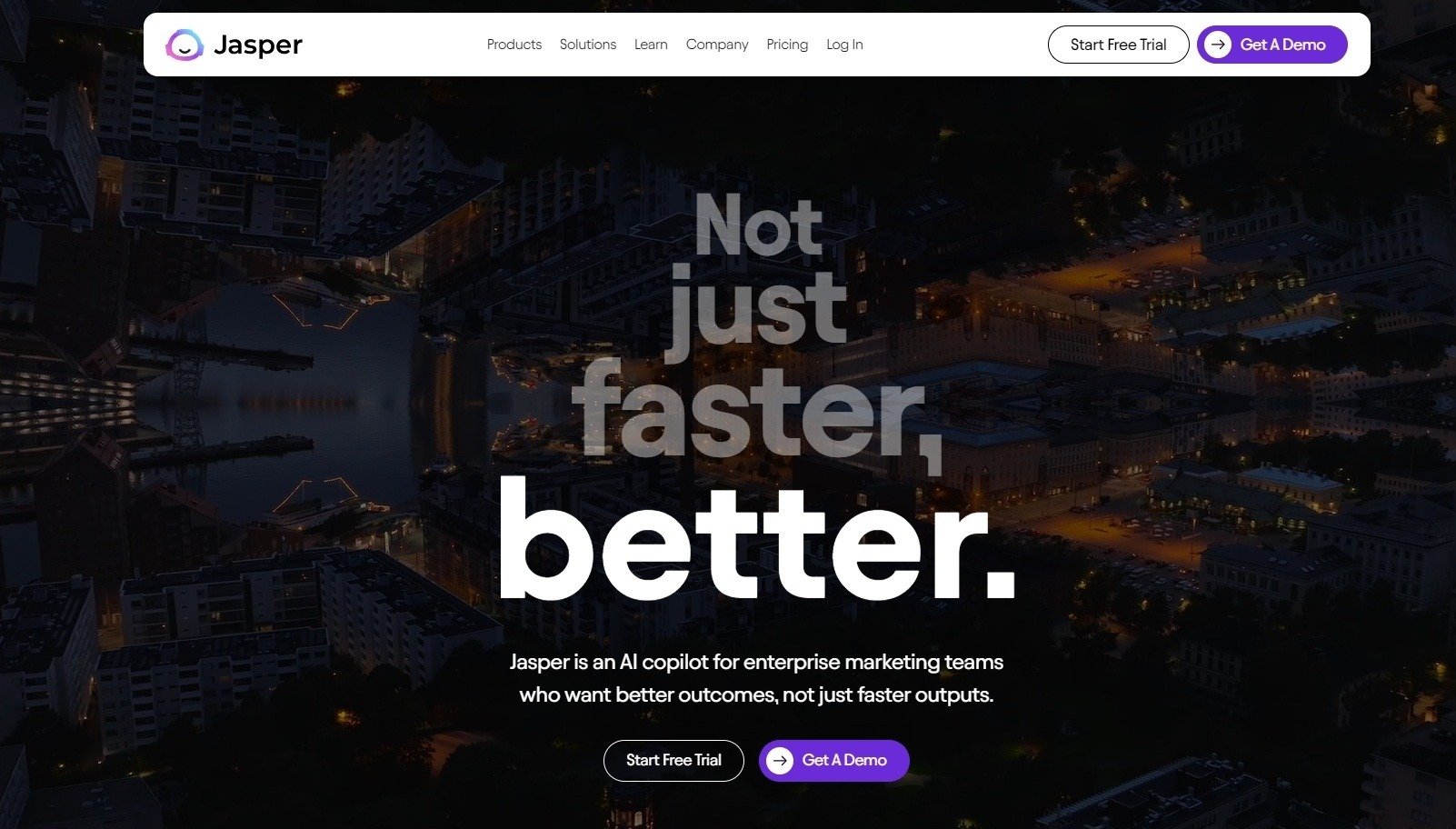 Price: Paid
Use cases:
Generate content outlines
Create content summaries
Rewrite existing content
Build title tags and meta descriptions
Establish custom workflows
Access pre-existing templates
And more
Why we like it:
Jasper lets you get started fast with pre-existing templates
Jasper includes templates for other strategies, like video, social media, paid ads, and more
Jasper provides built-in tools for campaign planning, implementation, and execution
Jasper offers an Edge and Chrome extensions for use in Surfer SEO, WordPress, and more
Get a free demo of this AI tool for SEO by visiting Jasper's website.
4. Semrush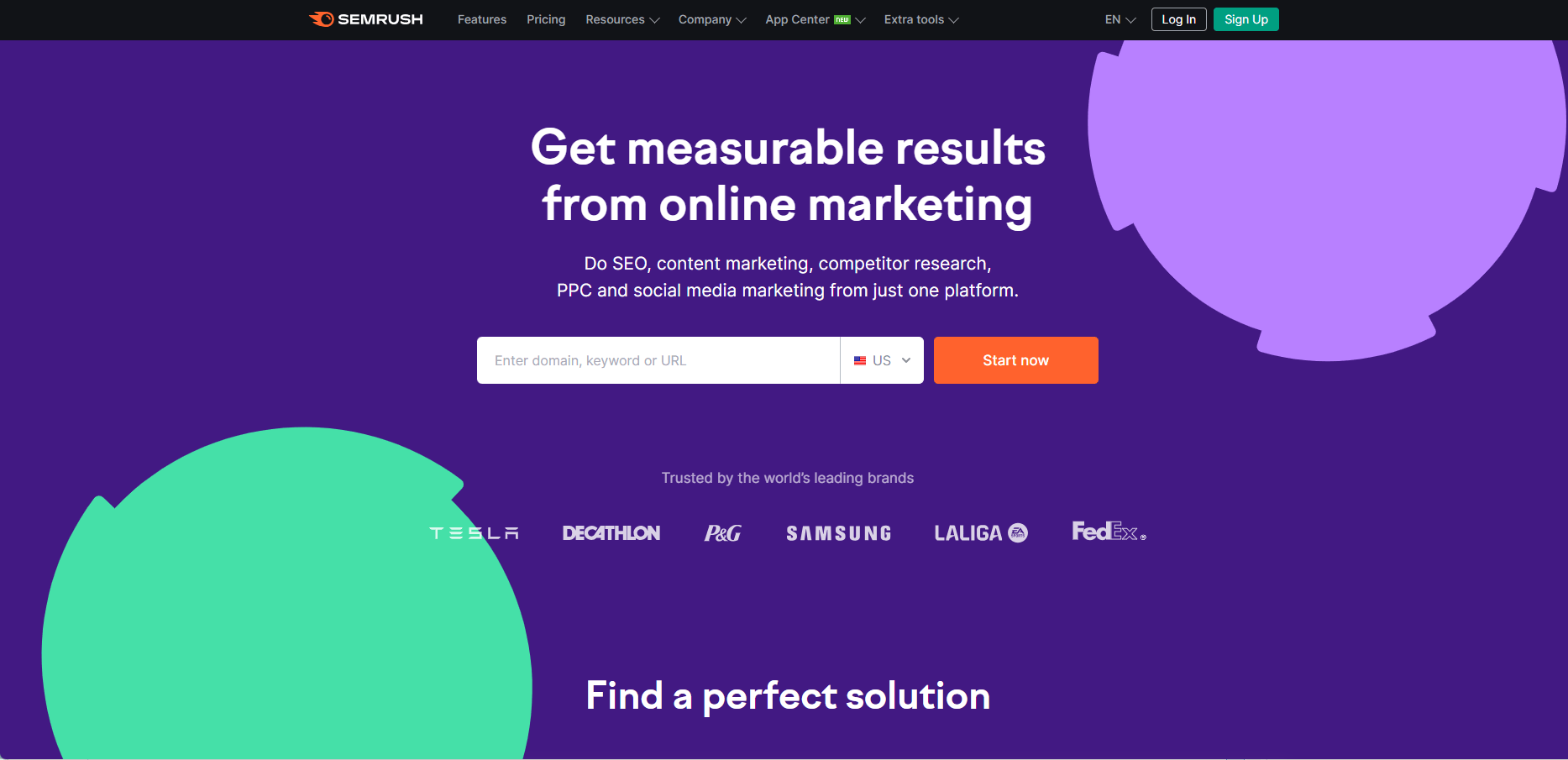 Price: Paid
Use cases:
Build content briefs
Audit SEO content (before or after publishing)
Improve SEO content's optimizations, readability, originality, and more
Rephrase, simplify, or expand existing content
Produce AI-generated content
And more
Why we like it:
Semrush provides access to this tool with your existing subscription
Semrush integrates with Google Docs, WordPress, and Microsoft Word
Semrush evaluates content on SEO, plus readability and originality
Semrush helps maintain brand guidelines across content creators
Learn more about Semrush's AI SEO tool by visiting their website.
5. Outranking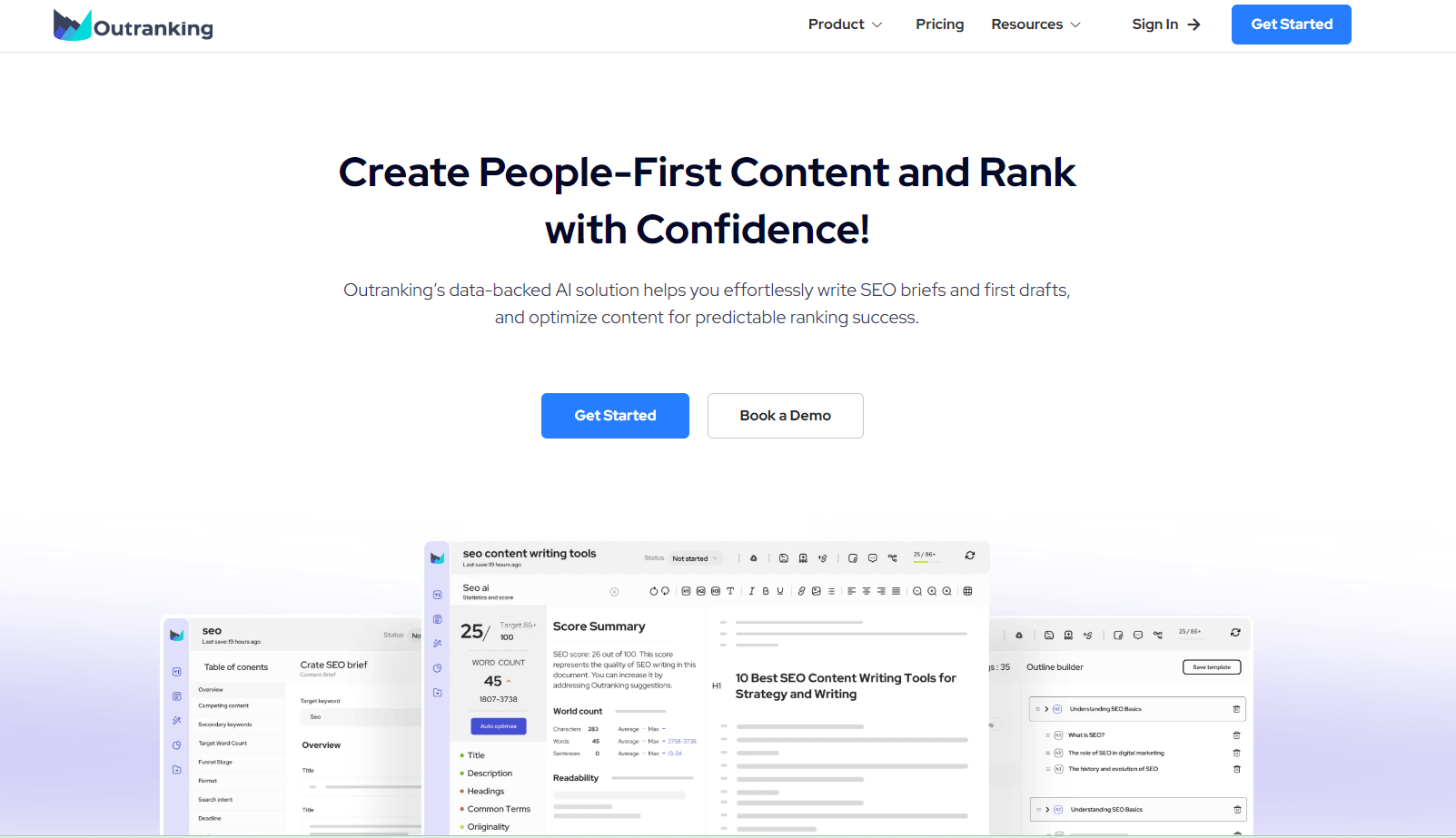 Price: Paid
Use cases:
Create content briefs
Complete keyword research
Access AI writing assistant
Generate title tags and meta descriptions
Automate internal linking
Build prompt library
Set up content creation workflows
Why we like it:
Outranking supports bigger teams with workflows and prompt libraries
Outranking offers easy-to-use (and learn) writing space
Outranking creates on-brand content briefs to maintain messaging
Outranking automates time-heavy tasks like internal linking
Visit Outranking's website to learn more about their AI SEO software.
6. Alli AI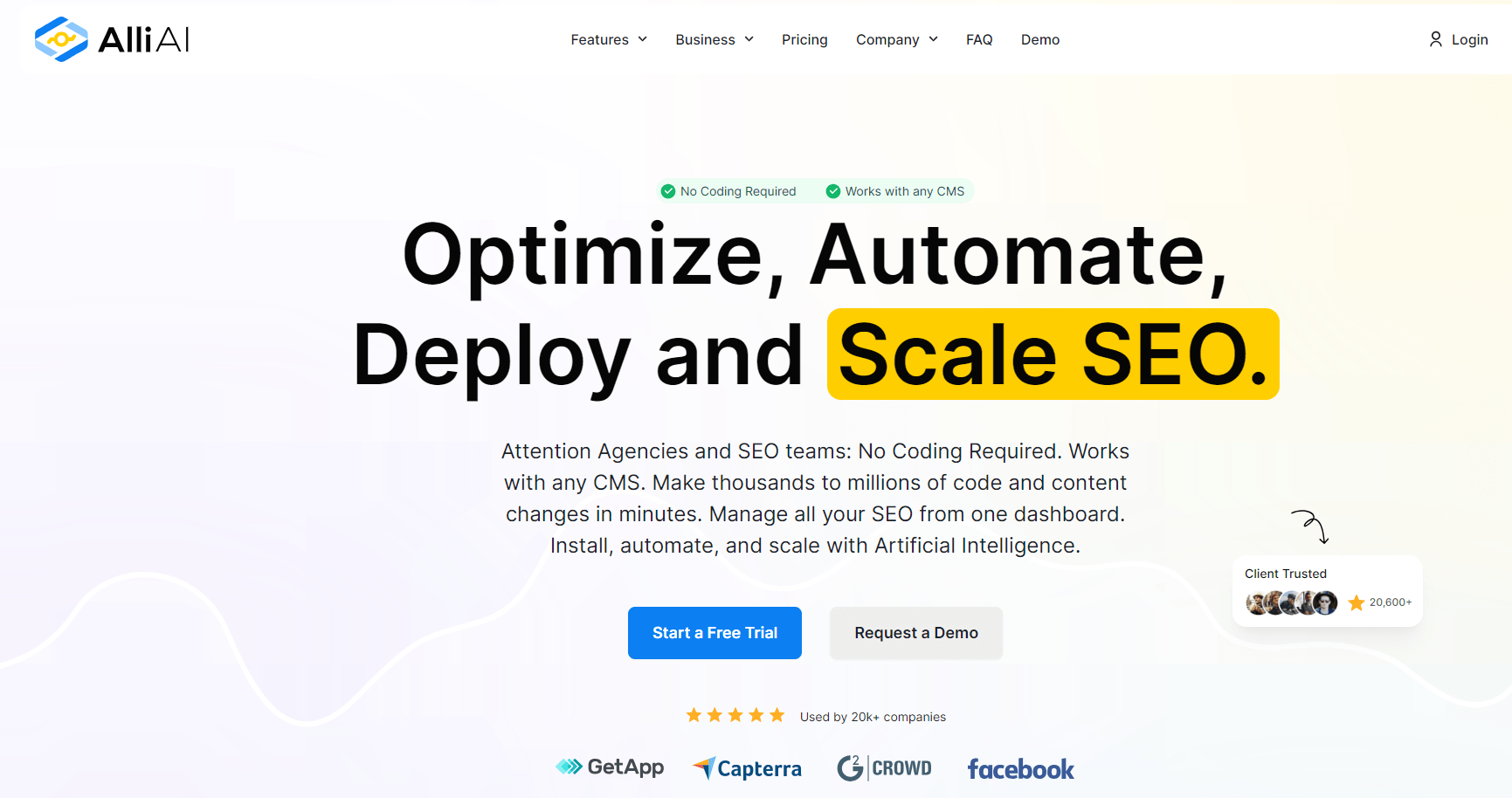 Price: Paid
Use cases:
Generate schema markup
Make on-page optimizations
Do A/B SEO testing
Optimize site speed
Automate internal linking
And more!
Why we like it:
Alli AI integrates with the most popular content management systems (CMS)
Alli AI allows you to approve every recommendation (an un-approve if needed)
Alli AI supports customizing your automated recommendations
Alli AI pushes SEO updates live faster
Learn more about trying a free trial of Alli AI by visiting their website.
7. ChatGPT (How could we not include this AI tool?)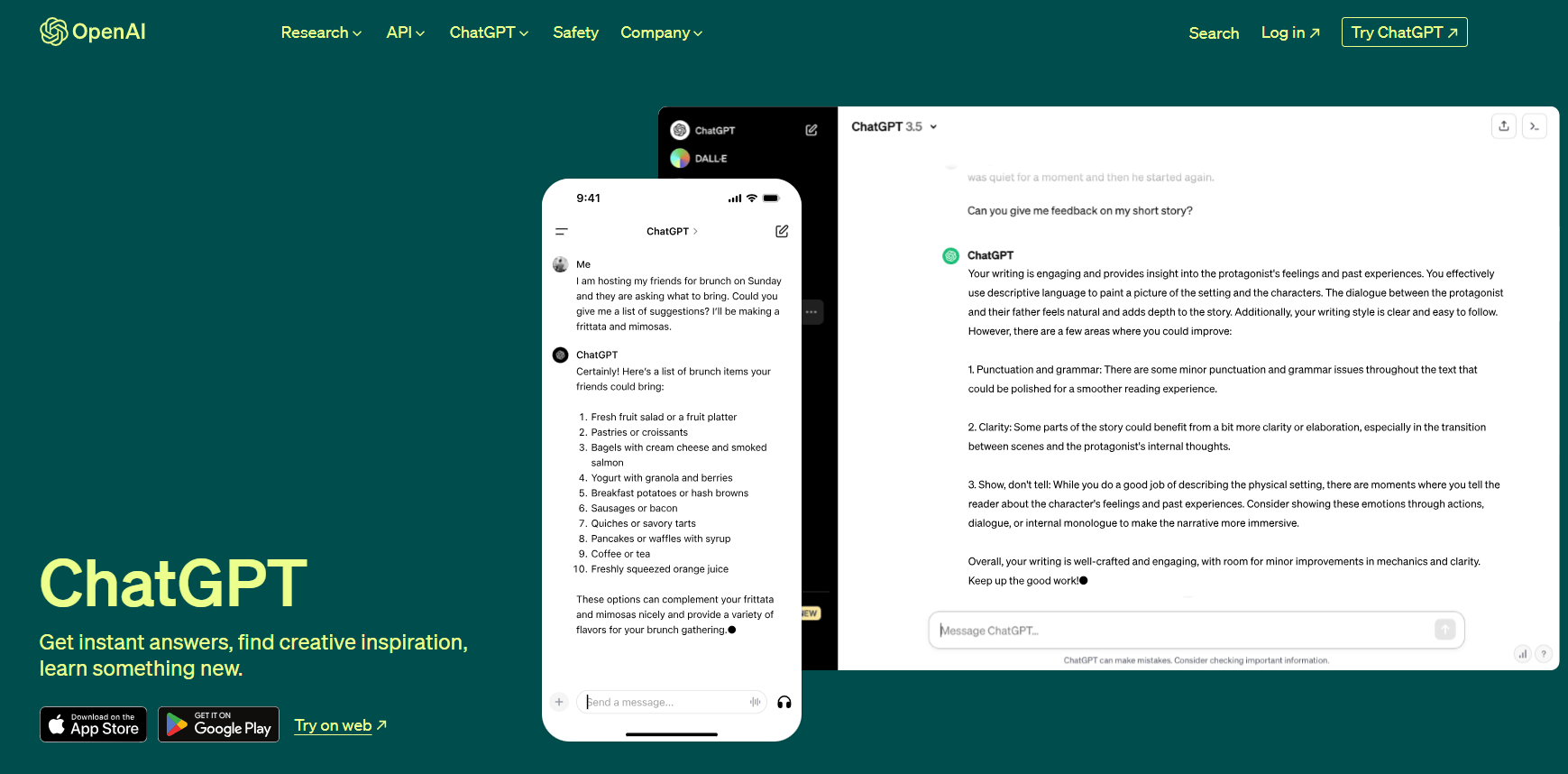 Price: Free
Use cases:
Generate title tags and meta descriptions
Create content outlines
Compile content topic ideas
Generate schema markup
Summarize content
And more!
Why we like it:
ChatGPT offers limitless use cases for AI SEO
ChatGPT provides a free AI tool for SEO
ChatGPT supports Chrome browser extensions
ChatGPT allows for custom prompt creation
Learn more about using ChatGPT's free SEO AI tools by visiting their website.
How to use AI for SEO
You've probably got some ideas on how to use AI for SEO by this point, but you'll find more below:
Generate title tags and meta description ideas.
Compile keyword ideas by listing topics related to your target market.
Create content outlines for your next piece of SEO content
Generate structured data, like FAQmarkup
Audit existing content's on-page SEO
Analyze SEO data
And more!
When using AI for SEO, remember that artificial intelligence isn't perfect.
For example, you'll often find AI struggles with counting characters, which results in title tags that exceed 60 characters. Or that AI SEO tools can repeat themselves (or start making things up) when they're not given enough information.
This is where your expertise comes into play! Review your AI generations and edit as needed.
Bring artificial intelligence to your SEO strategy with industry experts
Leveraging artificial intelligence in SEO is a new frontier. If you're looking for the industry's experts on AI and automated SEO, you've found them here. With our award-winning team, we can help your business bring AI tools and SEO specialists together to create an effective SEO plan.