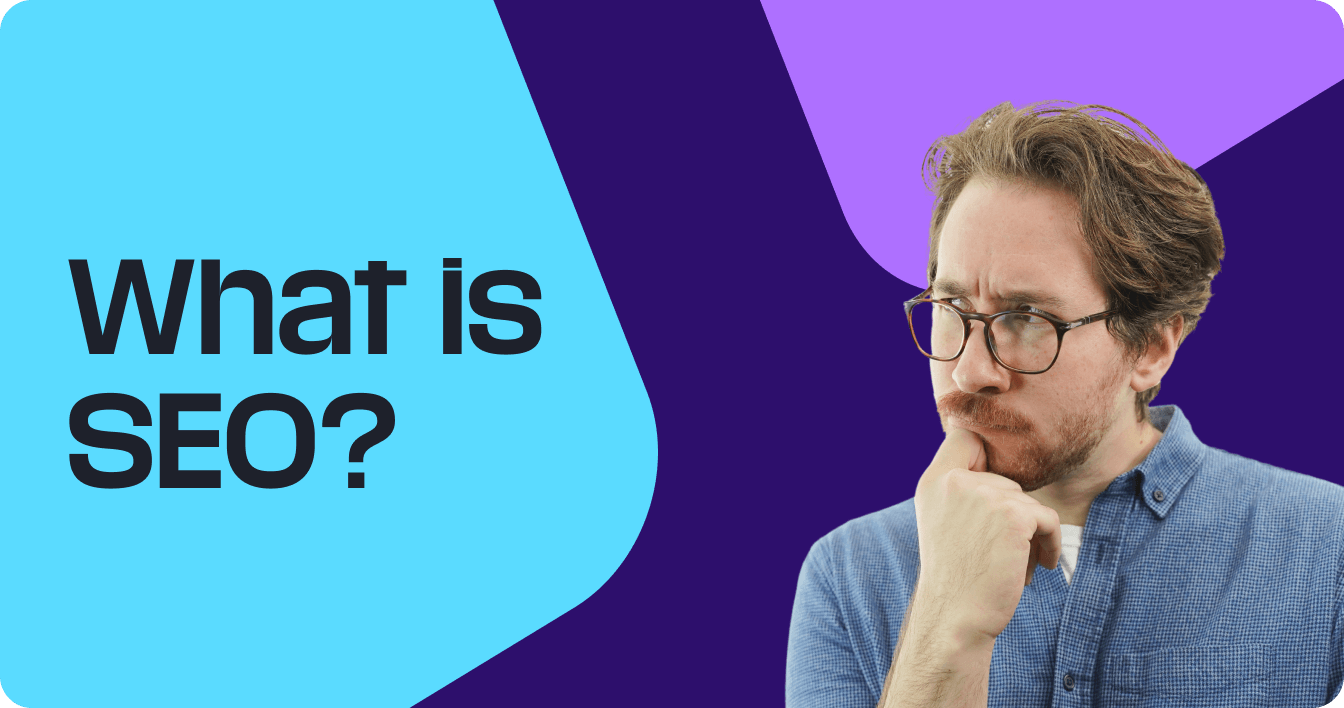 Looking to capture more qualified leads for your business? With search engine optimization (SEO), you can! Learn how to use SEO for pest control companies to reach your target audience and turn them into qualified leads for your team to close below.
What is pest control SEO?
Pest control SEO is optimizing a pest control company's website to improve the site's visibility in relevant organic search results. Common SEO optimizations include researching keywords, writing SEO content, building links, and more.
What is local pest control SEO?
Local pest control SEO is the optimization of a pest control company's website and directory listings (think Google Business Profile) to improve the site's visibility in organic, localized search results. Common local SEO optimizations include managing local listings, targeting localized keywords, and more.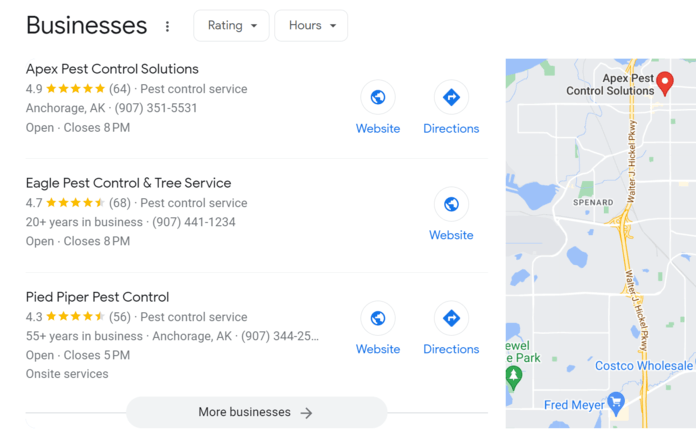 What is the difference between pest control SEO and local pest control SEO?
The focus is the difference between pest control SEO and local pest control SEO. Local SEO focuses on localized search results, like "exterminator los angeles," while traditional SEO focuses on general search results, like "how to get rid of ants." Both serve an important role in improving a site's organic visibility.
Why is SEO for pest control companies important?
SEO for pest control companies is important for a few reasons, including:
Reach your target market: People turn to the Internet to find what they need, whether they're looking for pest control services or birthday gift ideas. With SEO, you can make finding your business online easy and reach your target market when they need you.
Increase your qualified leads: Unlike billboard ads, which target everyone who drives past, pest control search engine optimization targets your preferred client by focusing on the search queries (or keywords) they use to find pest control companies.
Optimize your marketing costs: Search engine optimization is extremely cost-effective because it works for your business 24/7 and generates a bottom-line impact through qualified leads that your sales team can then close.
While SEO takes time to work (typically three to six months), it's one of the most effective digital marketing strategies available to pest control companies. In our decades of experience as an SEO agency, we've seen it help businesses like yours grow their revenue, service area, and team.
How to get started with pest control SEO
Learn how to get started with pest control SEO (and reaping its benefits) below:
Claim your Google Business Profile
Local listings like Google Business Profile are critical to brick-and-mortar companies like yours. In Google's search results, when someone makes a localized search (like exterminator los angeles) local listings can feature at the top in a carousel called the local 3-pack.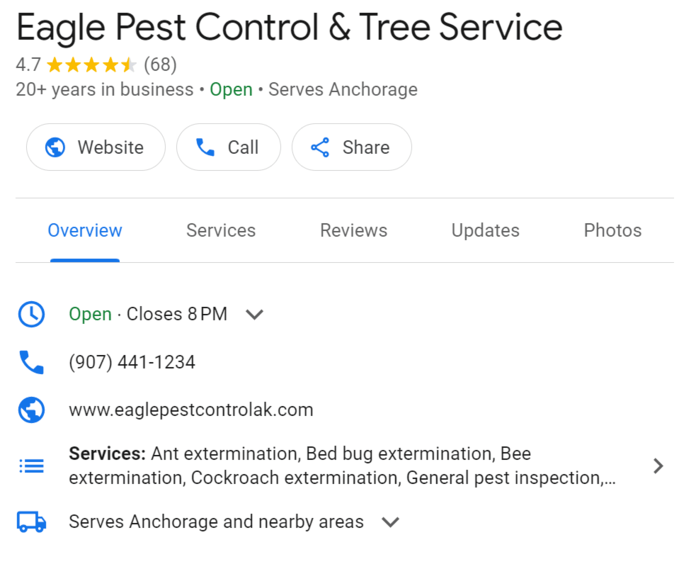 Claiming and optimizing your Google Business Profile can help you earn a spot in this carousel.
Get started with this pest control SEO optimization by claiming or creating your Google Business Profile. Once you have your profile, you can complete several critical optimizations that provide Google and users with invaluable information about your company, like your:
Name
Address
Phone number
Hours
Services
Website
Photos
Ongoing, you'll want to complete the following optimizations:
Update your hours, like for the holidays
Answer your reviews and questions
Share your newest updates, like a promotion
While growing your Google Business Profile reviews can improve your trust, you cannot incentivize reviews by offering a coupon, discount, or other reward. However, you can educate customers that you're online, like through your business card, vehicle fleet, and more.
Focus your keyword targeting on localized keywords
People use search queries to find what they need online, and the most popular search queries become keywords. As a part of SEO for control companies, you target keywords in your online content, like "how to get rid of ants" in a blog post titled "How to Get Rid of Ants in 7 Steps."
Since pest control companies operate in designated service areas, targeting localized keywords is helpful. While there is value in targeting more general keywords (like for growing your backlink profile), localized keywords will often drive leads and revenue.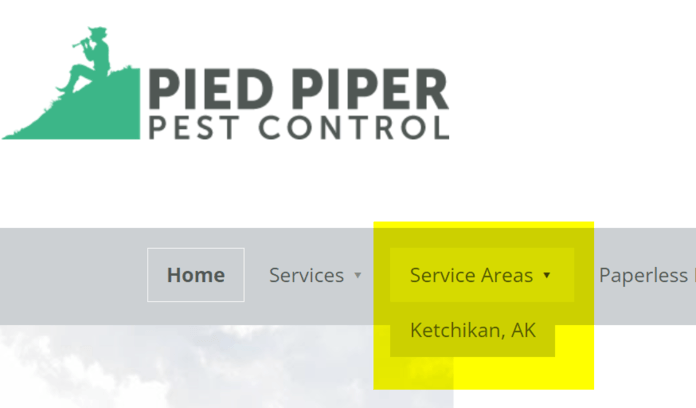 Typically, localized keywords will include one of the following:
Neighborhood
Township
City
State
Keyword research tools like Keywords Everywhere, Ahrefs, and Semrush can help you vet local keywords. For example, these tools show a keyword's monthly search volume and competitiveness.
Typically, our SEO company targets local keywords most relevant to our clients' businesses and their target market. In some cases, this approach can mean targeting keywords with low search volume but high conversion potential.
Once you determine your most valuable keywords, you can create content for them!
Make your content helpful, unique, and trustworthy
For search engines like Google, content quality is how websites separate themselves from one another. That's why it's vital to produce helpful, unique, and trustworthy content vs. an original repeat of what's in the search results.

Use these tips (and check out Google's checklist) to bring originality and value to your content:
Get your technician's feedback on your content to incorporate first-hand experience
Leverage your company's experience (like years in business) to add authority
Improve your content's originality with case study photos, video walkthroughs, and more
Besides these upgrades, you'll also want to follow these best practice optimizations for content:
Use your target keyword in the first 100 words
Organize your content using header tags (H2s, H3s, and so on), short paragraphs, and lists
Write your content's title tag and meta description using your target keyword
With these tips, you can produce compelling content that ranks well in search results.
Grow your website's backlink profile
When it comes to search engine optimization, backlinks are one of the most important ranking factors. That's why it's critical to develop a pest control SEO strategy that outlines a plan for attracting backlinks from reputable and relevant sites in your industry.
Some effective tactics for growing a site's backlink profile include:
Producing helpful and original content
Creating interactive experiences, like calculators, quizzes, and other tools
Sharing original research or case studies
While you can conduct outreach, this process is time-intensive and often challenging for small, in-house marketing teams. That's why pest control SEO companies like ours maintain a dedicated, well-connected outreach team for building reputable links to your site.
Improve your site's page speed and website experience
Speed and ease matter in search engine optimization, but they're difficult to master.
In most cases, you'll require the help of a web designer and web developer to improve your page speed and page experience, which are two ranking factors you can analyze in Google Search Console's Core Web Vitals and Page Experience report.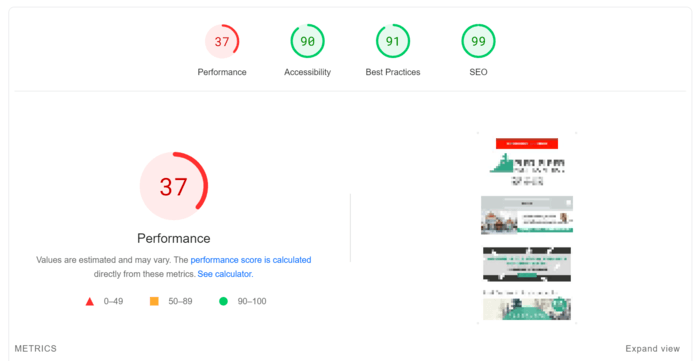 Some common optimizations for these areas include:
Compressing images
Minifying code
Auditing site plugins
Improving contrast ratio
Adding accessibility support
While you can work with a freelancer for these areas, we recommend choosing someone with SEO experience. If they aren't familiar with pest control search engine optimization, they'll likely make decisions that hurt or reverse your optimizations.
Improve your pest control SEO with SEO experts
From improving your online visibility to growing your qualified leads, pest control SEO provides your business with the fuel for growth. If you're struggling to find the time to learn SEO, optimize your site, and monitor your performance, ask an SEO agency like SEO.com for help.
Learn how our full-service solutions can save you time while growing your revenue by contacting us!
---
FAQs about outsourcing SEO for pest control companies
If you're curious about outsourcing your SEO, check out these common FAQs:
What are pest control SEO services?
Pest control SEO services are one-time or ongoing services that optimize a pest control company's online presence for search. Agencies, consultants, and freelancers offer these services at varying rates and intervals, like monthly, hourly, or once.
What do pest control SEO services include?
Typically, pest control SEO services will include:
On-page optimizations
Off-page optimizations
Technical optimizations
Reporting
Deliverables vary by provider, so request a custom proposal before hiring the service provider.
How much does professional SEO for pest control companies cost?
Professional SEO for pest control companies costs $1500 to $5000 per month. This cost includes on-page, off-page, technical SEO, and SEO reporting for a full-service solution. Factors like the agency's experience, number of locations, and strategy complexity can influence pricing.
Why should I outsource my pest control SEO?
In our experience, we've found most businesses find value in outsourcing their SEO when:
They're looking to scale their SEO strategy
They're struggling to find the time to do SEO
They're struggling to meet their SEO goals
They're struggling to master different SEO areas, like off-page SEO
When they do, they often see these benefits:
Get more time to work on other areas
Meet search engine optimization goals
Make progress in lagging SEO areas, like off-page SEO
If the earlier challenges sound familiar, consider getting help with pest control SEO.
How do I hire a pest control SEO company?
Start your search for a reputable, trustworthy pest control SEO company with these tips:
Ask your network for referrals (or warnings)
Check your potential agency's reviews, case studies, and testimonials
Meet your potential agency to ask questions and evaluate their team and culture
While you can hire a dedicated pest control SEO agency (meaning they only work with pest control businesses), there are downsides to this approach. For example, in our experience, we've seen where these agencies work with a client's competitors or use a copy-and-paste method to the client's SEO.
That's why we recommend considering agencies with deep and diverse industry experience, meaning they're knowledgeable about working in your industry but also have experience in other sectors. In our experience, this approach creates a richer, more competitive SEO strategy.
Writers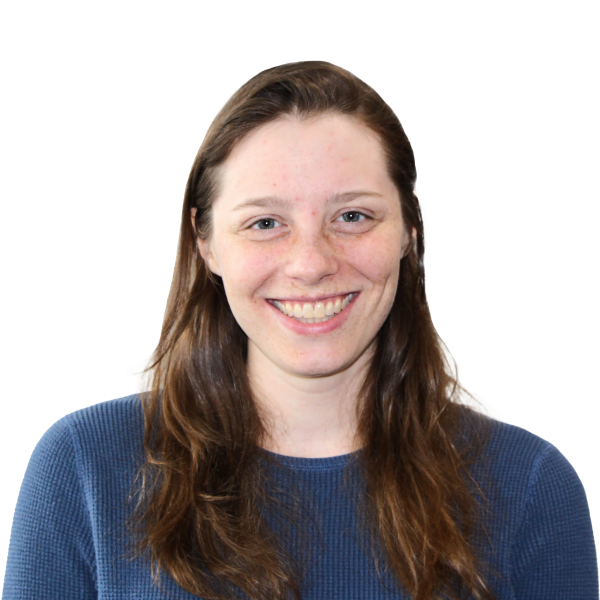 Sarah Berry
SEO Consultant