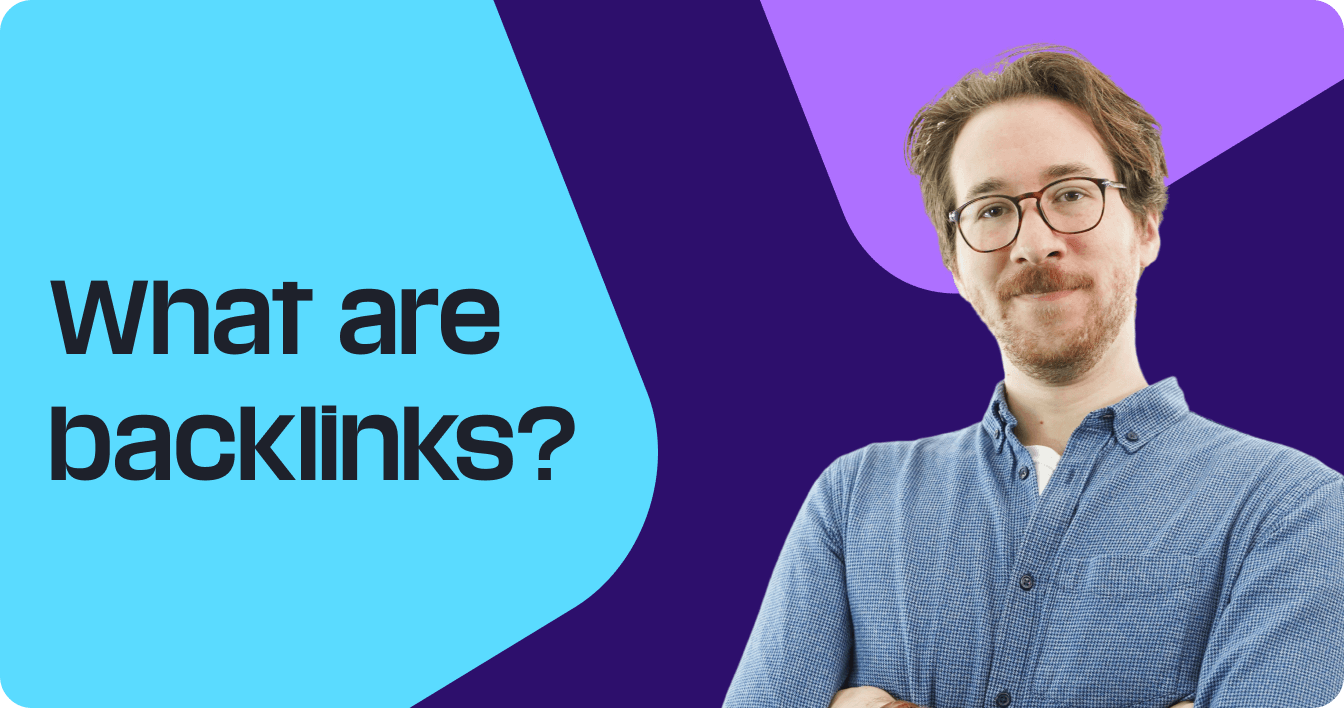 In search engine optimization (SEO), backlinks are one of the most important ranking factors, making them essential to SEO strategies. Learn the meaning of backlinks and how to earn backlinks for your site now!
What are backlinks?
Backlinks are links that lead from other websites to pages on your site. These links come from anchor text on the other websites that drive traffic to your site when people click on the links.
Why backlinks matter
Backlinks play an important role in helping your website perform better in search results.
Build your site's authority
First, backlinks help build the trust and authority of your website. When another website links to one of your pages, it acts as a "vote" of confidence that your page is a reliable source of information.
When these "votes" come from reputable and authoritative websites, it helps boost your website's authority. It signals to Google that your website is trustworthy, which leads Google to rank your website better in search results. If a reputable site is linking to yours, that tells Google that your site must be reputable as well.
Grow your referral traffic
Additionally, backlinks help to drive relevant traffic to your website. When websites link to your content, they put the links on pages about similar topics. For example, if a site linked to your list of pest control tips, they'd probably put that link on a page that also talks about pest control.
That means the traffic coming from those pages is already interested in what you offer.
Overall, earning SEO backlinks is a great way to boost your website's trust and authority in your industry. It sends a positive signal to Google that your website is a reliable source of information, which helps improve your search rankings.
What makes a good website backlink?
When you start working on backlink building, it's important to know what makes a good backlink.
Here are five key components of a good SEO backlink:
1. The link comes from a trusted website
A crucial component of backlink SEO is that you want the link to come from a trusted website.
Keep this in mind: Not all backlinks are good backlinks.
Bad backlinks are known as toxic backlinks. Toxic backlinks come from websites that have low domain trust scores and can be spammy websites. Websites with low domain scores are not viewed as trustworthy.
That lack of trustworthiness can transfer to your website. If only low-quality, low-trust websites link to you, it leads Google to believe that your website might also be untrustworthy.
That's why it's crucial to earn backlinks from trustworthy websites. Trustworthy websites will boost your website's credibility, and, therefore, your ranking in search.
2. The link is related to your page or website
A good website backlink is related to the page it links to or your website. You want your backlinks to relate to your business, which helps build trust in your business within that industry.
If you had a business in the food industry, you'd want to earn backlinks from businesses within the same sector. Earning a backlink from a famous food industry titan would add value and trust to your website.
Earning a backlink from a concrete company wouldn't hold the same value, even if they were a high-authority website.
Your backlinks need to be relevant to your pages, business, and industry to help boost your ranking in search results.
3. The link uses your target keyword as anchor text
Another core component of SEO backlinks is the anchor text. The anchor text is the word or phrase that contains the hyperlink on a webpage linking to your business. This text provides a preview of what the page is about.
With backlinks, it's important that the anchor text is relevant to your page. In this example, a collectibles auction website linked to a page using the anchor text "most expensive comic book sales."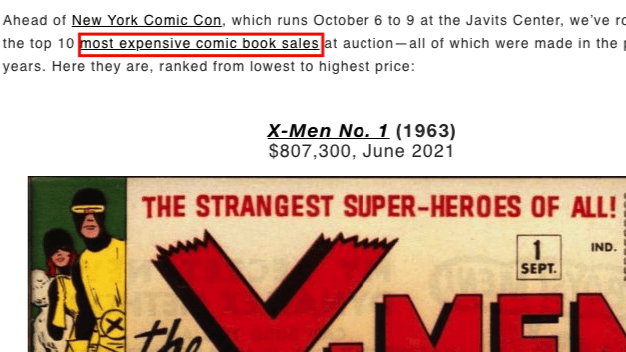 When you click on the link, it takes you to a relevant page about the 16 most expensive comic books ever sold.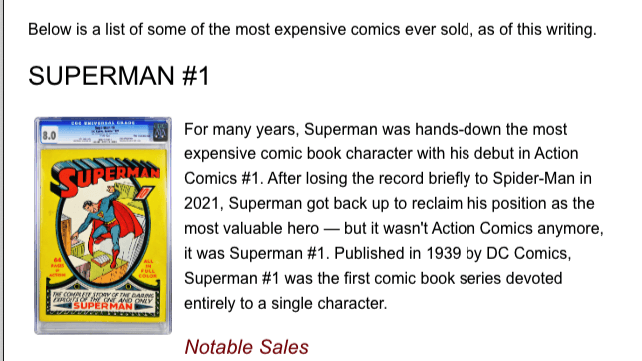 This anchor text provides an accurate preview of the page. By providing appropriate anchor text, the site ensures that Google knows the relevance of your page and can rank it appropriately.
4. The link comes from a new website
One of the biggest misconceptions about backlink building is that earning links from the same authority website is the best option for boosting SEO.
Truthfully, earning backlinks from new websites has more value than repeated backlinks from the same website. The first backlink you earn from a website holds the most value — any backlinks earned after that (from the same website) don't hold as much value.
Having a diverse backlink profile helps build your trust and authority. It shows Google that multiple authoritative sources endorse the validity of your website, which has a greater impact than one site linking to you multiple times.
That said, don't draw the wrong message from this — backlink quality is still more important than backlink quantity. You want your backlink profile to be diverse, but the quality matters most. You still want to ensure that the first backlink to your website from a new site comes from an authoritative one.
5. The link is a follow link
When you earn a website backlink, make sure it's a "follow" link. Follow links are what pass the trust and authority along to your website.
If a backlink has a "nofollow" link, that means the website authority doesn't transfer to your website. In other words, the website is telling Google not to count the backlink as a vote of confidence in your site. Your competitors might use this tactic if they want to credit you, but don't want to transfer the authority.
A good backlink will be a follow link so it can past the trust and authority to your website.
3 quick tips to earn backlinks
If you're ready to start backlink building, we've got three quick tips to get you started. Here's how you can earn more authoritative backlinks to your website:
1. Create quality, informative content
The best way to earn SEO backlinks is to create high-quality content. High-quality content is informative and helpful for anyone who reads it.
When you create content that has great information, you drive interested traffic to it. If a high-authority website visits your content page and likes the information, they'll link back to it on their own page.
Creating informative and helpful content is the key to earning backlinks for your business.
2. Look for broken links on other websites
One way you can earn website backlinks is by identifying broken links on an authority's website. Broken links hurt SEO because they cause both people and bots to come to a halt. Many website owners don't even know they have broken links on their website.
You can use this opportunity to reach out and point out the broken link. Then you can offer your relevant article as an option for replacement.
It can help you earn some additional backlinks for your website.
3. Try guest posting
Another great option for backlink building is guest posting. Guest posting involves writing content to share on another company's website.
When you guest post, you want to ensure it's on a website that fits in your niche. You can then use this opportunity to link back to your website and drive relevant traffic.
Go beyond backlinks
Backlinks are just one of the many factors that influence your website's performance in search results. To learn more about what you need to optimize to improve your SEO, check out our blog!
Don't fail your website's
most important test
Get an SEO scorecard of your website for free in less than 30 seconds.