Got a WordPress website? Want to rank in search results? Then, you've come to the right place! Here, you'll learn how to do search engine optimization (SEO) for WordPress from our award-winning SEO experts. Keep reading to learn how to get started with WordPress SEO!
Is WordPress SEO-friendly?
First of all, is WordPress good for your SEO?
The short answer is: Yes.
To elaborate a bit, WordPress offers:
Lots of customization
Easy solutions for content publishing
The option to install various SEO plugins
Given all those things, WordPress gives you plenty of options for optimizing your SEO, making it a very SEO-friendly CMS. Of course, ultimately, it all depends on how you use it. You can still tank your SEO if you don't follow best practices. But those practices are just what we'll talk about on this page.
5 WordPress SEO challenges (and best practices to fix them)
There are several different SEO challenges that many companies face on WordPress. Thankfully, there are best practices that can help you navigate and overcome those challenges. Here are five of the biggest WordPress SEO challenges, along with some best practices for fixing them.
1. Select the right permalink structure for your site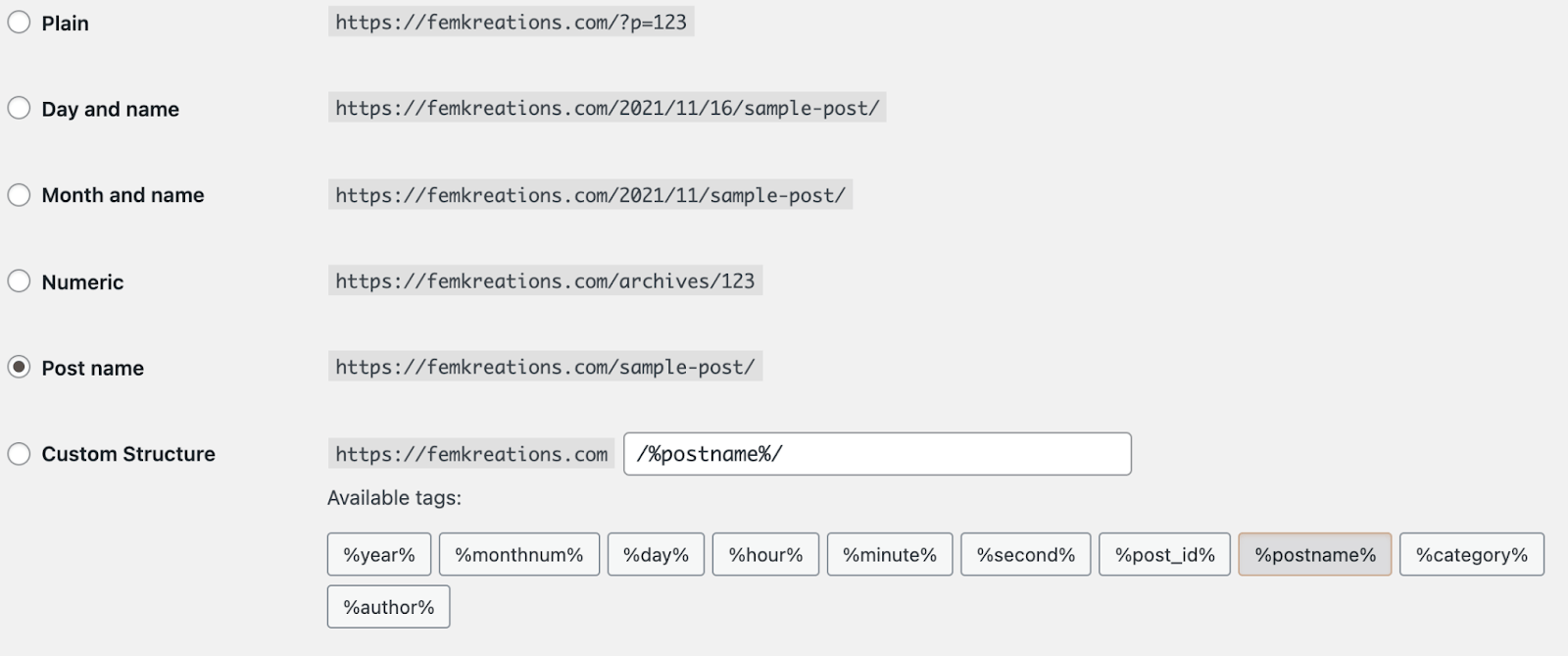 The Permalinks option in WordPress might seem like a small section buried deep in the settings, but it's one of the most powerful options built into the backend.
Your URL (or permalink in WP speak) structure is key structural item of every website. The best way to set up your URL structure will depend on what type of site you have, what pages on your site, and how you are using features in WordPress.
Oftentimes, the default Permalink structure in WordPress is not the best solution when it comes to SEO. You want to make sure you are getting well-organized, descriptive URLs across your site.
2. Identify the right number of plugins to add
Plugins are one of the best things about WordPress. You can add functionality and customization to your site with just a few clicks. However, they can also be detrimental to your website if you aren't careful.
Too many plugins can often create a slow loading site and also cause a lot of SEO issues. Make sure you choose plugins you truly need. Check that the way any content plugins render your website is still friendly to both users and search crawlers.
A common mistake website managers make is to over-rely on plugins for things that are better served as edits to the WordPress template or other core files. Plugins are easy to use but be certain that ease isn't costing you dearly in other areas, including SEO.
3. Posts vs. Pages
A common early decision for WordPress users is what type of content page to use in WordPress: Posts or Pages. Those are the two default options for content out of the box. While they are similar, there are a few key differences that are important to note as SEO considerations.
WordPress frames Pages as 'static content' — pages that aren't updated frequently and aren't tied to a specific timeframe. Posts are content like a blog post or news update…a place to house frequent updates.
Of course, there are no rules and people use Posts and Pages in many different ways. You want to make sure you have a strategy behind your decision and your site is set up to use the built-in features of WordPress in the best way.
4. User management (and education)
WordPress makes collaboration a breeze, with plenty of options and permission levels for users on your site. Make sure to spend time thinking through this aspect of WordPress. We've seen many issues where key SEO changes are overwritten by users, sites get hacked through old user accounts that aren't updated
5. Indexation preferences
A default WordPress installation creates a lot of pages across the site — you'll typically have unique URLs generated for things like tags, categories, authors, photos, and more.
Depending on how you are setting up your theme and site, those URLs can be good or bad.
For most websites, you'll want to no-index many of those types of URLs and make sure search engines aren't spending a ton of time crawling pages that are insignificant to the website you are working hard to build.
More URLs isn't always better. So either utilize these pages by building them out into interesting assets on your website or set up a way to ignore them.
A word about SEO plugins
If you really want to get the most from SEO in WordPress, your best bet is to get some different WordPress SEO plugins. One of the best such plugins is Yoast, which offers everything from search result previews to on-page SEO insights. Other good plugins for SEO in WordPress include:
Rank Math
Redirection
Ahrefs
And more!
Since this page focuses on SEO best practices for WordPress, we won't get any deeper into plugins here, but just know that they can help a lot when it comes to optimizing WordPress for SEO.
3 creative ways to use WordPress for SEO
Now that we've covered some SEO best practices for WordPress, let's talk about some additional tactics you can use to get a bit more creative with your SEO in WordPress. Here are three tactics to try.
1. Build out category pages
One way you can improve SEO in WordPress is by building out category pages. Category pages are pages that group similar products or services together.
For example, Bath and Body Works sells various products ranging from hand soaps to air fresheners. So, they divide those product types into different category pages. There's a whole page devoted to candle products, for instance.

You can do the same with your products and services to help site visitors easily find the product or service they're looking for.
2. Use blocks to build out interesting content
Another way to streamline your WordPress process is to build out your content using blocks. Blocks are sort of like mini-templates — you might have a block for the body copy of your page, but then you might have separate blocks for things like:
Calls to action (CTAs)
Testimonials
Quotes
Tables
And more!
The reason this is beneficial is that it makes your publishing process far faster and easier since you can simply reuse blocks for each page where you need them rather than painstakingly building them from scratch on each page. That allows you to put out more content in less time.
3. Use WordPress for your ecommerce needs
Finally, you could consider using WordPress for your ecommerce needs. If you have an online store, you might consider using a separate platform (like Shopify) to build it, but that would mean you'd have two separate websites. That makes it harder for Google to understand the relationship between the two.
However, that's not necessary.
You can build an ecommerce site on WordPress using plugins (hello WooCommerce) and ecommerce templates. Of course, that's not to say you have to use WordPress. We're simply noting that if you'd prefer to have your online store on your regular site, you can use WordPress for both.
Learn more about SEO best practices on SEO.com
Hopefully you now have a better idea of how to harness WordPress to improve your SEO and drive more traffic to your website. If you're interested in learning more about WordPress, or SEO in general, be sure to check out some of the other content on our site!
Writers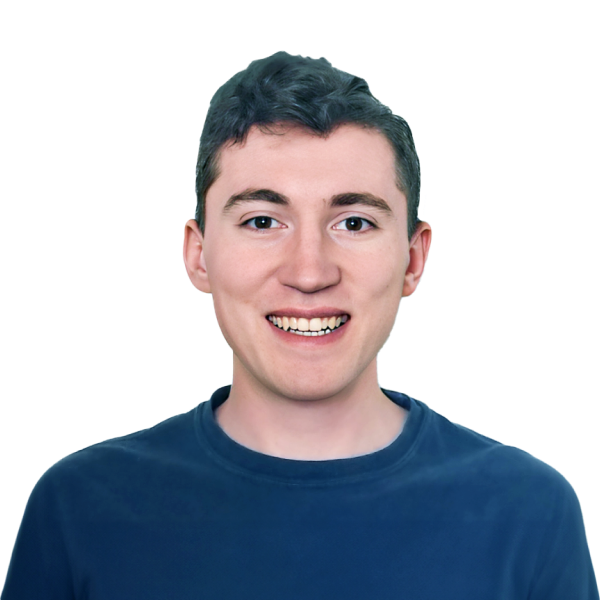 Matthew Gibbons
Lead Data & Tech Writer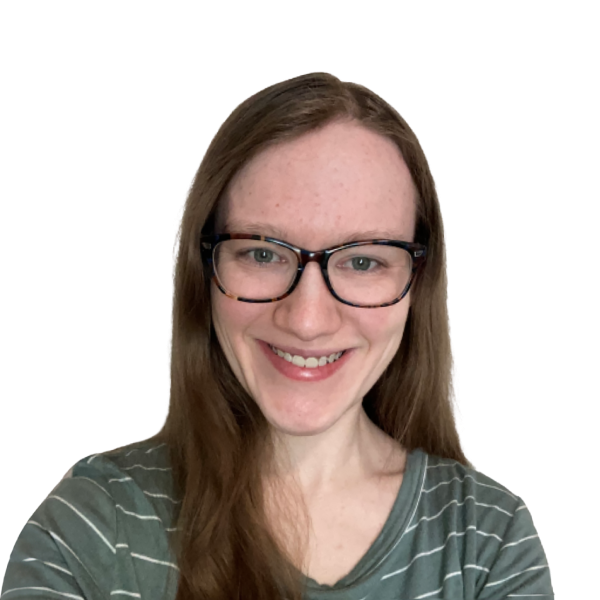 Kayla Johansen
Digital Marketing Specialist