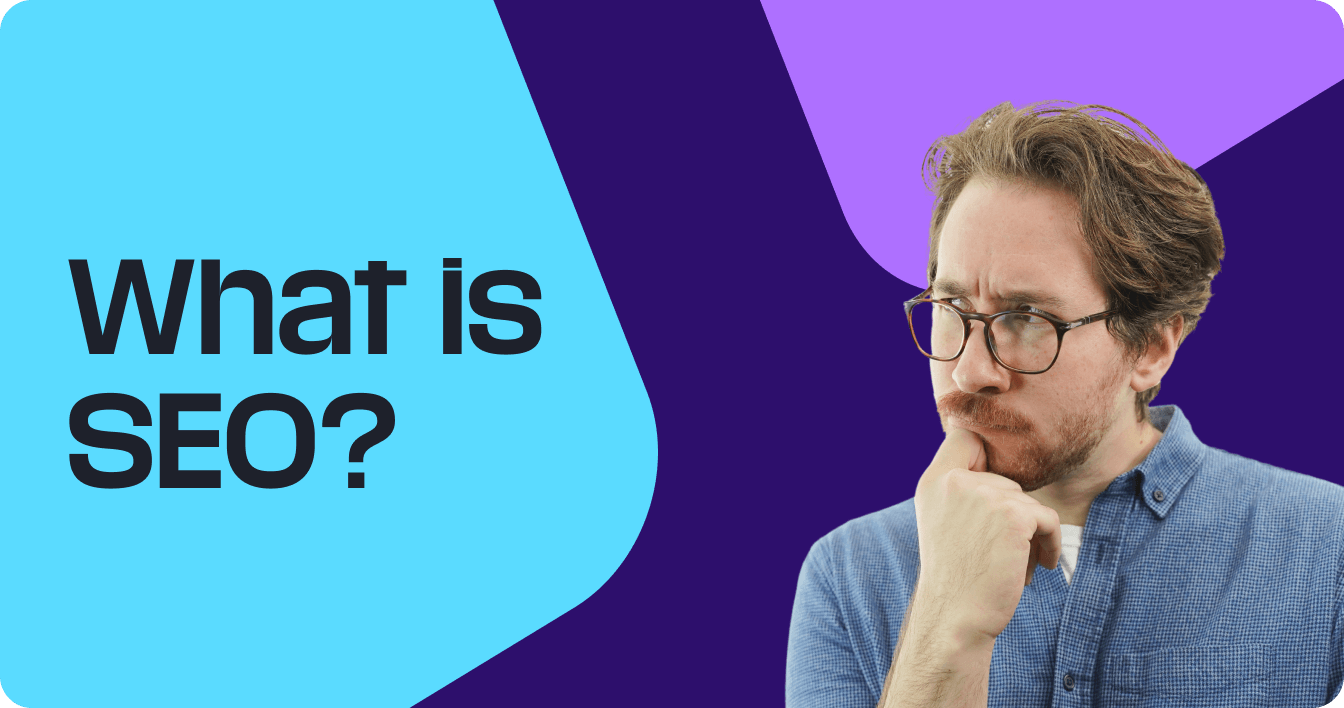 Search engine optimization (SEO) is a staple approach in any Internet marketing strategy. But how can restaurants, food distributors, and beverage crafters use it to their advantage? What about the specific industry requirements?
SEO for food and beverage companies helps you find more customers in a highly competitive industry. This page will break down SEO in the following sections:
Keep reading to learn more and start crafting your own SEO campaign!
What is SEO for food and beverage?
SEO for food and beverage companies is the process of optimizing your website for search engines and users to boost your position in rankings.
All industries use SEO to grow their position in the search engine results pages (SERPs). For food and beverage companies, your strategy will your strategy to your audience and give you an edge over competitors in your industry. Some examples of companies who can use this strategy include:
Restaurants
Cafés
Bars
Wineries and distilleries
Food manufacturers
Beverage creators
Breweries
Food and beverage equipment suppliers
These are just a few examples. Each of these companies will have specific needs and wants that set them apart.
Why does SEO matter?
Since the food and beverage industry is so dense with options, how can you show customers that you're the one to choose?
If you want people to find your restaurant or food service company, they need to be able to find you. Not only that, but they need to be convinced of why they should visit, order, or buy from you.
Here's what you can accomplish with a solid SEO plan:
Earning more customers: The main benefit of SEO is earning more customers and revenue. Optimizing your site for search and users will encourage them to convert naturally.
Building brand recognition: As you rank higher in search engine results pages, people will remember your brand and build an association with your company. Even if they don't convert immediately, they will remember who you are.
Tracking your progress: SEO lends itself to tracking, making it easy to see if you're progressing with your approach. By having SEO analytics, you can prevent resource waste and only use tactics that drive results.
Example uses of SEO for food and beverage companies
Seeing some examples of food and beverage SEO can be helpful when imagining it for your own site. Below are a few different areas to focus on and how they help you grow with SEO.
Local search
If you own a restaurant or want to capitalize on a certain service area, you must optimize for local search. This step will help Google recognize you as a local option to pull you for local search results: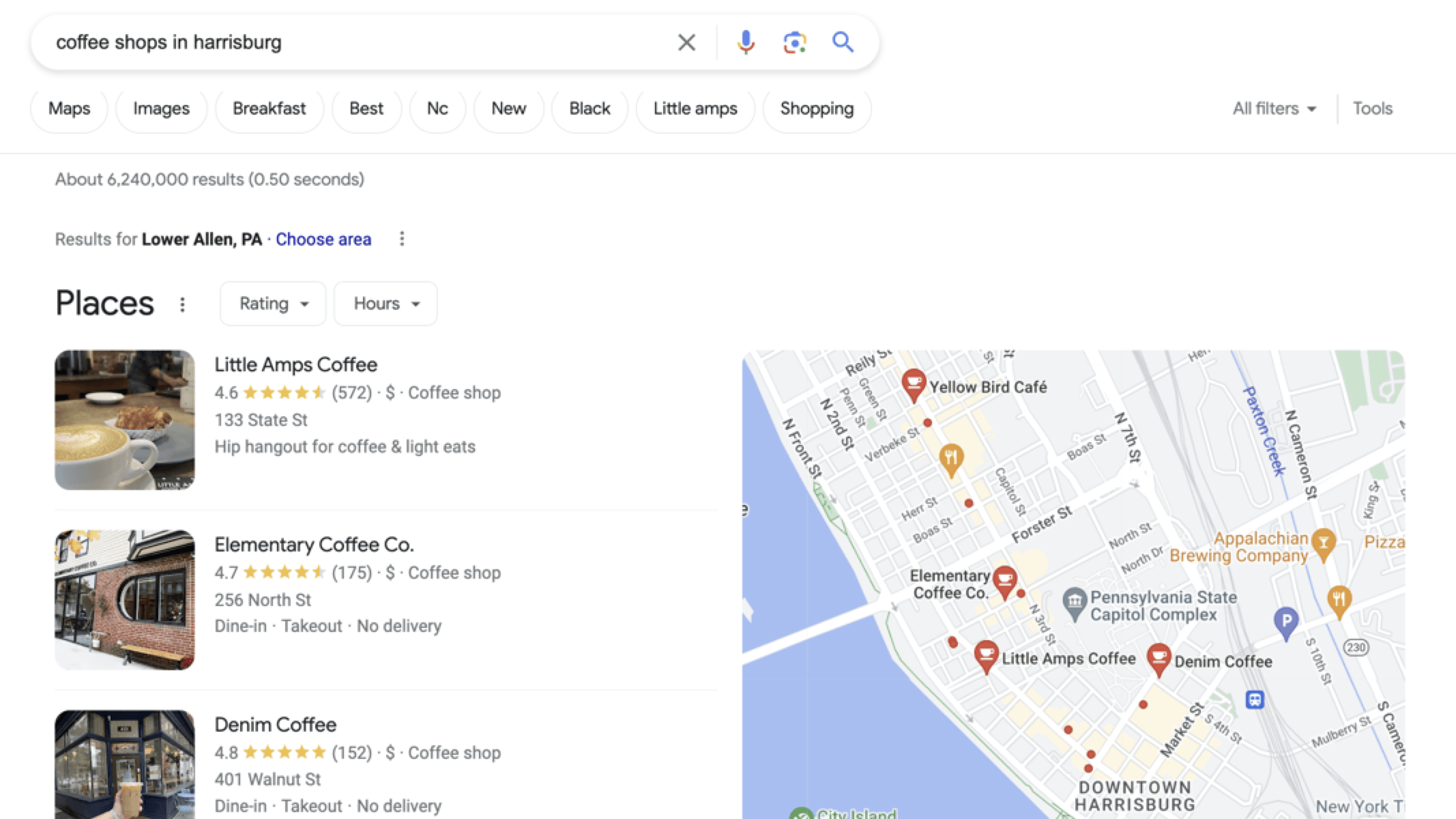 These companies have all specified their location and services to help them reach these results. If you do the same when someone is looking for coffee, food, and more nearby, they'll find you.
Photos and videos
In the food and beverage industry, you must show what makes your product different from the rest. To do that, you can add photos and videos to your website. These are both SEO ranking factors, so you can create a solid website while boosting your rankings.
Here is an example of effective photo usage: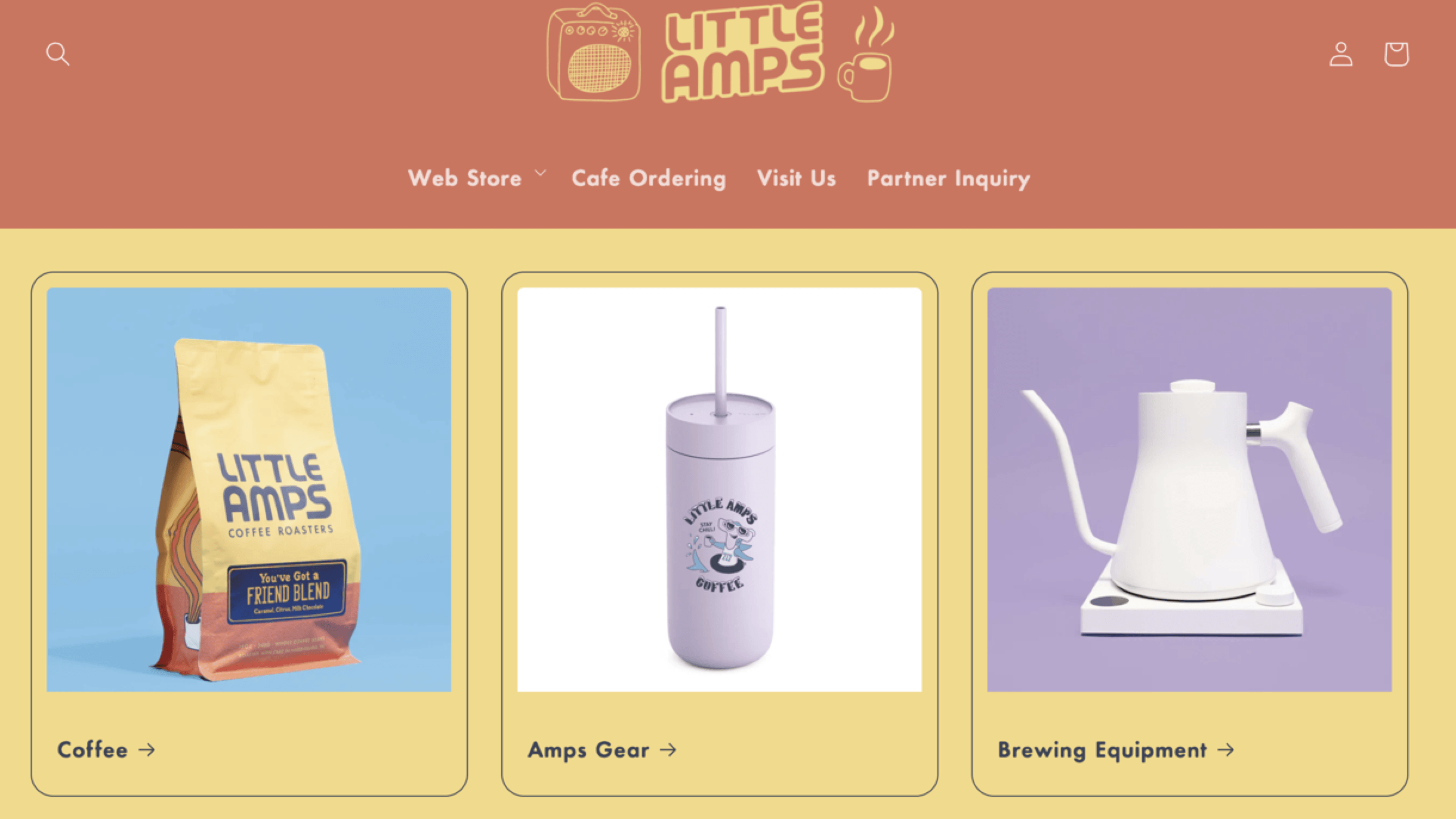 These photos enhance the user's experience when interacting with the website and make it easier to know what to expect.
Company information
Listing your company information online makes it easier for users to find it. It also helps Google pull information into your listing online. You can add important info to an "About Us" page or keep it in the footer: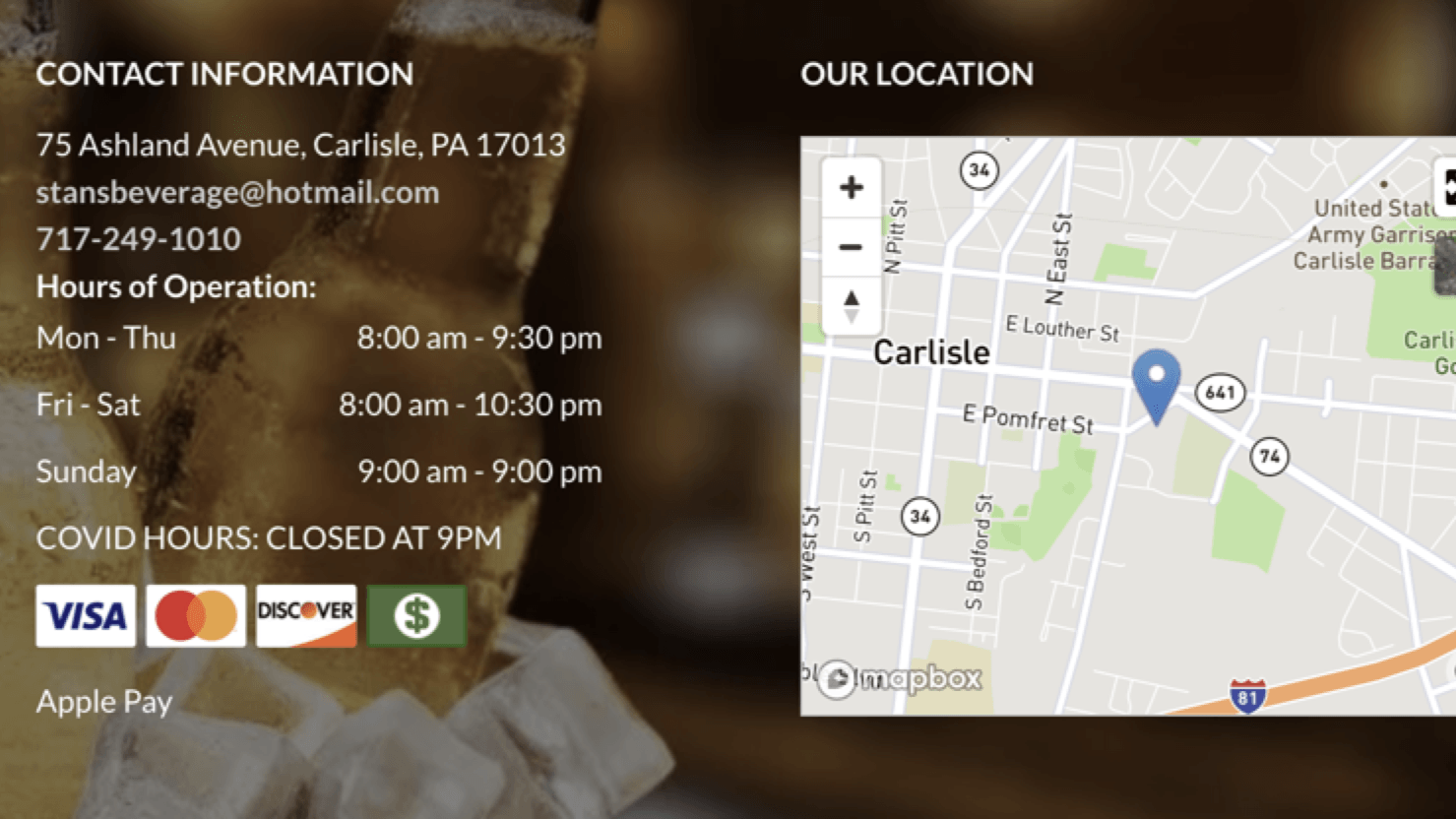 This can help tell Google and users more about your company and what you do. This step also helps with local search, especially if you include your address.
3 tips for food and beverage SEO
To make sure you have the best results possible with SEO, here are three different tips to employ when creating your campaign:
Know your audience
Detail your services and products in full
Set up your Google Business Profile
Let's dive in!
1. Know your audience
Understanding your audience is the first step to any successful SEO campaign.
Think about the end user. Who is going to visit your website? Is it hungry customers looking for a bite to eat, users who want a luxury dining experience, or even businesses looking for food vendors?
Answering these questions can help you target each group's specific needs to create beneficial content that converts.
2. Detail your services and products in full
Promote all your services online to ensure people can find them. For example, if you also offer catering in addition to your menu, you need to list that online to target the right keywords and give users all the information.
Adding all your services to your website benefits users and search engines alike. Visitors will be able to see all your available offerings, and Google will be able to pull your site for more relevant queries.
3. Set up your Google Business Profile
All businesses can benefit from using GBP, but it's especially helpful for targeting specific areas. If you're a restaurant, for example, you should set up GBP to appear in local search like so: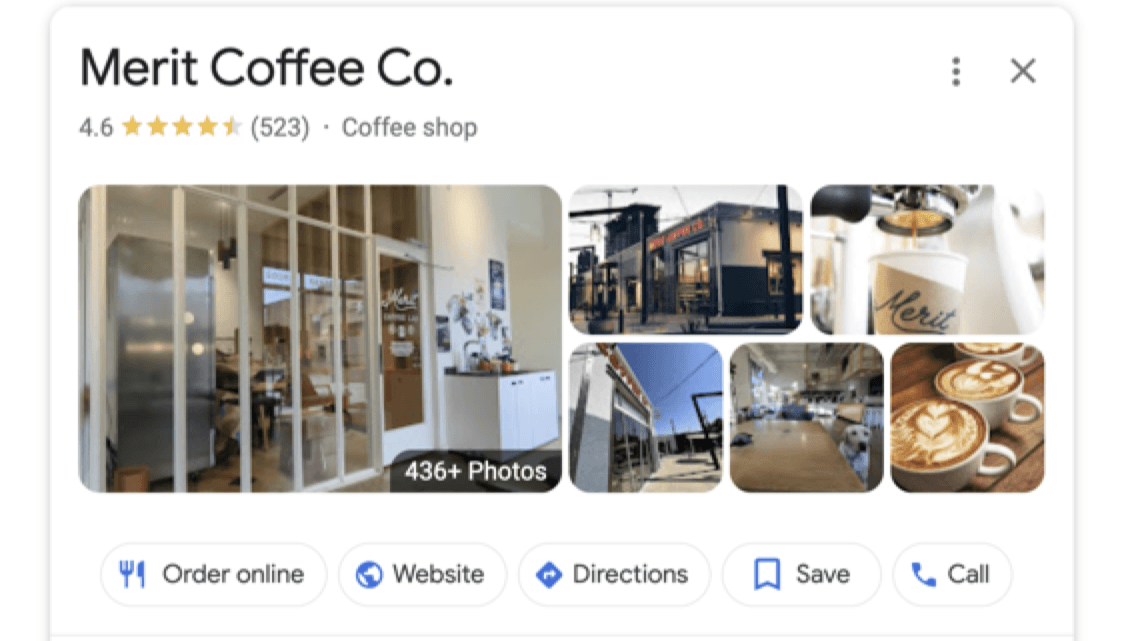 Setting up your GBP can help you appear in these featured results, giving users access to your address, website, phone number, and hours. This way, they can save time from clicking on other options and go straight to you without leaving the SERPs.
Master SEO for food and beverage companies today
Now that you understand the importance of SEO for food and beverage companies, it's time to create a campaign. You can find many informative articles about the SEO process here on SEO.com or contact us online for help. We are here to help!
Writers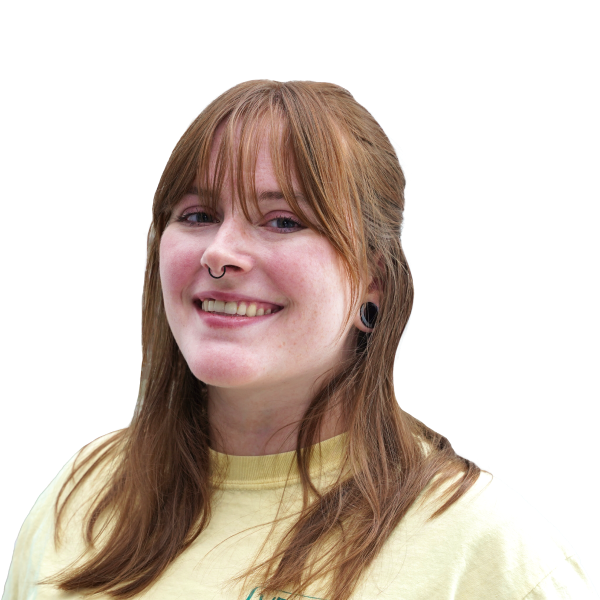 Abbey Stephan
Lead Editor