SEO Analytics: What Is It, and How Do You Track It?
Discover how SEO analytics can optimize your website's performance with our step-by-step guide to tracking, reviewing, and using your SEO data to fuel your growth — online and offline.
---
Written by WebFX Marketing Experts
Last Updated November 14, 2023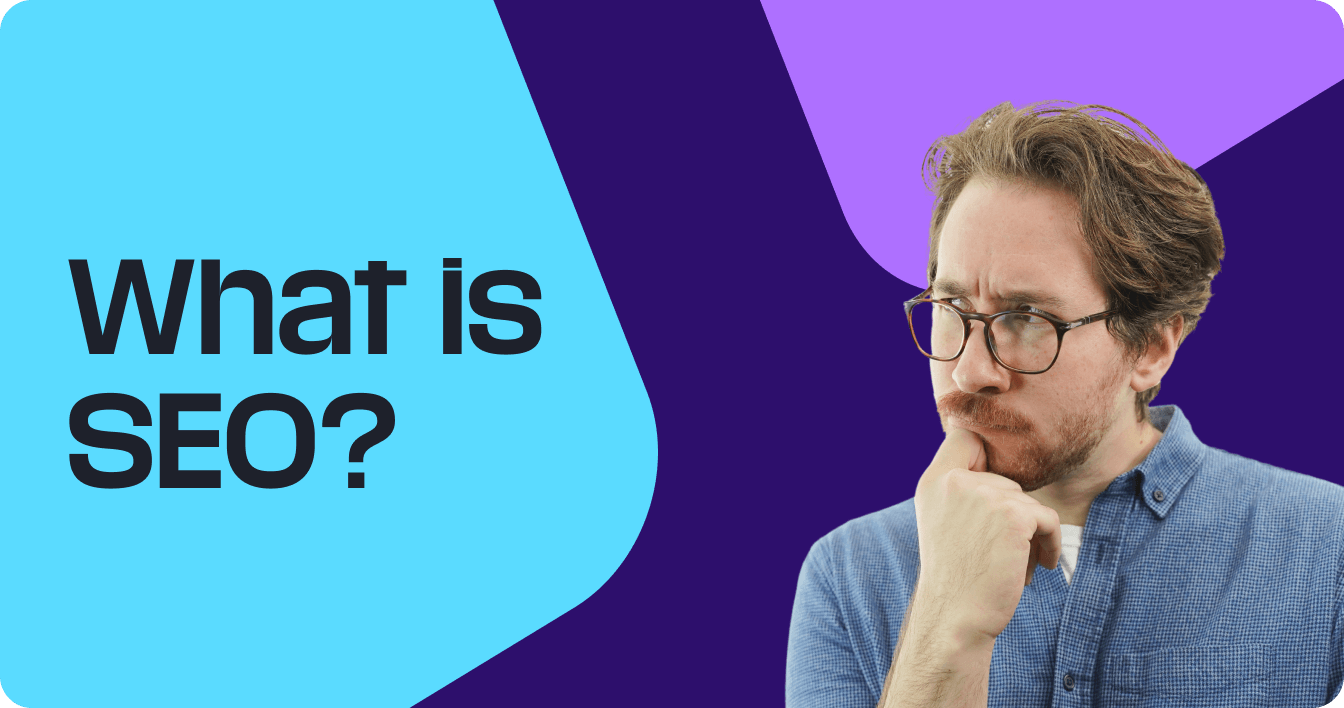 Search engine optimization (SEO) is a digital marketing strategy that takes time to produce results. But how exactly do you view those results and calculate the return on investment (ROI) of SEO?
Today, we're diving into SEO analytics and how you can use that data to optimize your website and accelerate your performance on search engines. We'll discuss:
What is SEO analytics?

Importance of SEO analytics

A step-by-step guide to tracking SEO analytics
Keep reading to learn more about the ins and outs of SEO analytics!
What is SEO analytics?
SEO analytics is the process of collecting and reviewing raw data from SEO tools to gain a better understanding of your website's organic SEO performance. By regularly reviewing your SEO analytics, you can get a comprehensive view of how your SEO strategy is performing and how to improve it.
Importance of SEO analytics
The importance of SEO analytics cannot be understated — regularly reviewing SEO analytics helps you to answer key questions about your website's performance, like:
Where is my website traffic coming from?

What content are my customers interacting with the most?

How is my website performing compared to my competitors?

Where am I losing customers?

What opportunities can I capitalize on to earn more customers?
Along with answering these questions, monitoring your SEO analytics comes with a few other benefits:
Understand your audience
One of the key benefits of SEO analytics is that you can use the data to better understand your audience, including how they interact with your website and where they're coming from.
Understanding your audience is a huge asset when creating and launching SEO content because you can better anticipate the content they want to see and create it with them in mind.
This way, you can make popular content more accessible to them, creating a better web experience for users. Additionally, understanding your audience helps you better target your content towards them and personalize their visits to your site.
Make data-backed decisions
Another advantage of monitoring your website's organic performance through SEO analytics is the valuable insights you learn from the data. From user behavior to results about your campaigns, your SEO analytics give you the information you need to make data-backed decisions about your campaign.
SEO analytics goes beyond reporting whether an SEO strategy is working or not.
Your SEO analytics reflect how and why these strategies work, and help you identify opportunities to further improve them. Now, you can take the guesswork out of SEO strategizing and make actionable decisions that help you improve your campaigns and, ultimately, your online performance and visibility.
Constantly improve your SEO strategy
Your SEO analytics offer insights into what's working and what isn't with your SEO strategy.
The biggest benefit of monitoring your SEO analytics is the potential to constantly improve your SEO strategy.
As we said earlier, your SEO analytics offer insights into what's working and what isn't with your SEO strategy.
Your analytics data gives you the power to identify areas of improvement within your SEO strategy and implement changes that have the potential to improve your search engine performance and funnel more traffic to your site.
Speaking of your website, SEO analytics will also reveal the content on your site that's drawing users in. With this information, you can optimize other pages to perform better, draw in even more traffic, and keep people on your site longer.
A step-by-step guide to tracking SEO analytics
We've talked about the benefits and why it's important, but how do you track your SEO analytics? It's simple. Just follow these steps:
Plan for success

Choose your SEO analytics tools

Set up your dashboards for organized reporting

Review and act on your data
1. Plan for success
Before you can dive into the fine details of SEO analytics, you need to outline your plan, so you don't lose sight of your end goal at any point. What are you hoping to achieve by monitoring your SEO analytics?
Answering this question is crucial, as it'll help guide your analytics process, like choosing which SEO metrics you want to pull.
There are plenty of SEO metrics to track, but trying to monitor and analyze every single one of them will just result in headaches for your team. That's why having a plan in place is key to helping you choose the SEO metrics that'll help you track the progress of your campaign.
Below are a few metrics to consider when tracking your SEO analytics:
Organic search traffic

Average time on page

Exit pages

Conversion rates
Organic search traffic
Organic search traffic refers to how many people visit your website through simple online searches.
Why this SEO metric matters:
Organic search traffic is an important SEO metric to track because it helps you see if your campaigns are driving organic traffic to your website. Analyzing organic traffic gives you a better look at which pages drive the most traffic to your site and whether or not your organic SEO efforts are effective.
Average time on page
This SEO metric measures (you guessed it) the average amount of time people spend on a page within your site.
Why this SEO metric matters:
Average time spent on page is an important SEO metric because it indicates which pages keep users engaged on your site. Pages with longer session durations can indicate that those pages are more relevant and helpful to searchers than those with shorter sessions.
By understanding which pages engage users for longer sessions, you can identify page elements that are drawing attention, like images or videos, and incorporate them into future pages to further improve the average time spent on your site altogether.
Bounce rate
A website's bounce rate tracks and measures the number of people who visit your website from search engine results pages (SERPs) and immediately leave without interacting with content.
Why this SEO metric matters:
Bounce rate is important for a few different reasons. First, a website's bounce rate is important because it offers another look at how users interact with your pages. The higher the bounce rate, the more often users visit your site and leave immediately.
Second, website bounce rate is an important SEO metric to track because depending on the full context of your page, it can mean numerous things, like:
The user left your site because the information wasn't helpful or relevant to them

The page took too long to load, so the user returned to the search results

Your page immediately offered the exact information a user needed

Your page's title or meta description didn't match the information it presented on the page, causing user to feel mislead
When tracking website bounce rate, it's important that you also track other SEO metrics to gain a full understanding of what your bounce rates mean for your SEO performance.
Site speed
Site speed, or average load time, refers to how long your website takes to load when a user opens it.
Why this SEO metric matters:
Your website's speed or average load time plays a direct role in SEO performance because slow speeds can deter people from visiting your site. Think about it — when you're looking for something online, and the page you're on keeps taking forever to load content, you get impatient, right?
When your website takes too long to load, people will click away and look for a different, faster website to help them, and search engines like Google will give you a lower ranking.
Exit pages
Finally, exit pages indicate the last page a user viewed before leaving your site.
Why this SEO metric matters:
Like bounce rate, exit pages offer insight into where people left your site and why. For example, if the exit page is one that marks the end of a site process, like an order confirmation page, you can discern that the user left your site after finding what they needed.
On the other hand, if a user left on a product page, you can infer that something about that page isn't doing enough to encourage users to continue using your site and take that next step towards converting.
By analyzing which of your site pages have high exit rates, you can make improvements and optimize pages to keep users from leaving them.
Conversion rate
Conversion rate measures the percentage of users that convert on your website, whether through a micro-conversion like signing up for your newsletter or a macro-conversion like submitting your quote form.
Why this SEO metric matters:
You're investing in search engine optimization for a reason — and it's most likely to drive revenue. Tracking your organic conversion rates will help you understand SEO's bottom-line impact, whether it's the first or last touchpoint before a conversion.
2. Choose your SEO analytics tools
The next step in the SEO analytics process is to choose the SEO tools you'll use to track your metrics. There are a number of SEO tools and dashboards available, but today we're going to focus on four trusted SEO measurement tools:
Keep reading to learn more about each tool.
GA4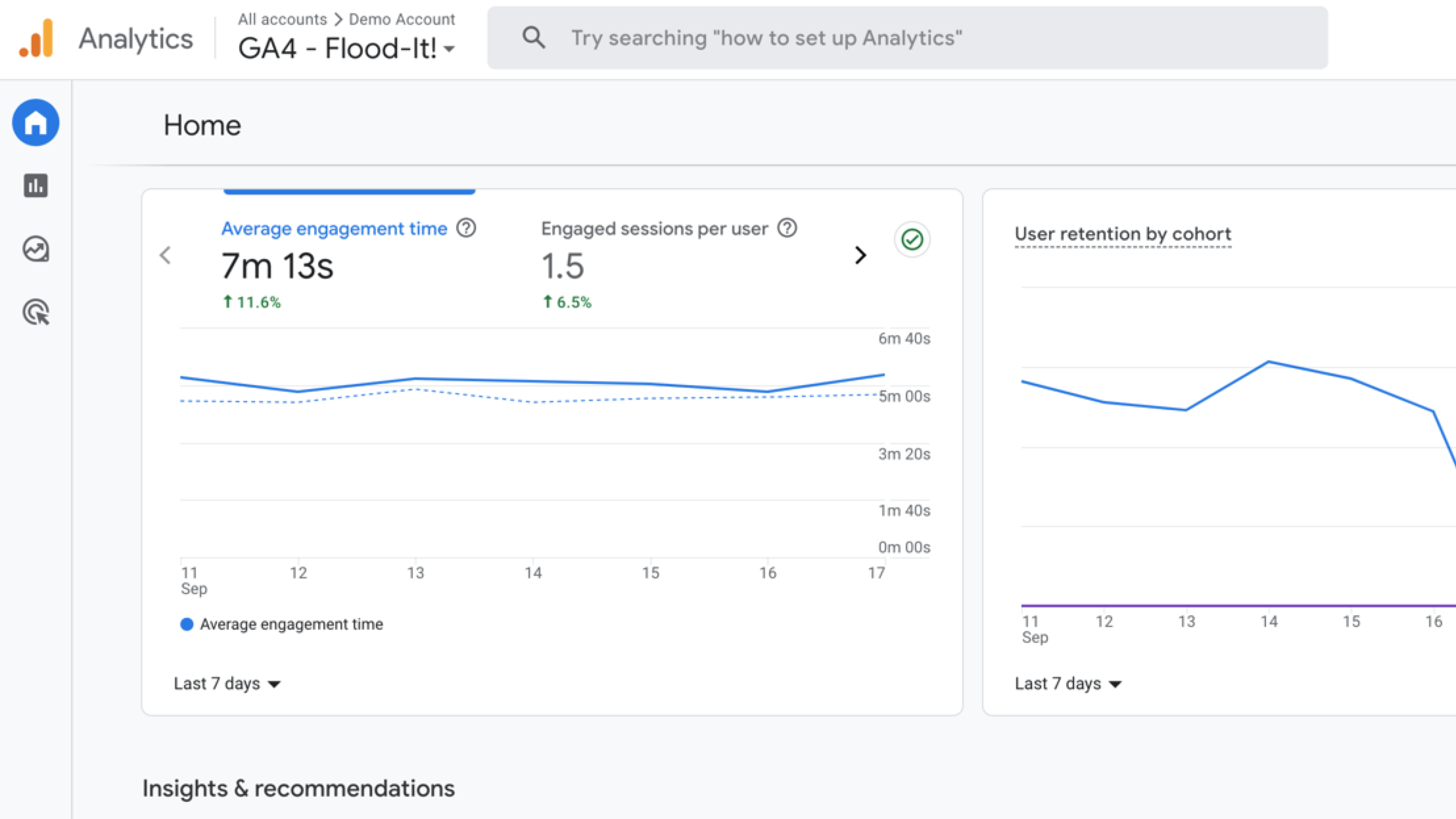 Google Analytics 4, or GA4 for short, is the new and improved Google Analytics that allows your business to track and measure website and app analytics. GA4 unifies business's app and website analytics to help give them even more insight into how Internet users go through the buyer's journey.
Better yet, GA4 is future-proof, in a way, by supporting cookie-free tracking and evolving Internet privacy standards.
Google Search Console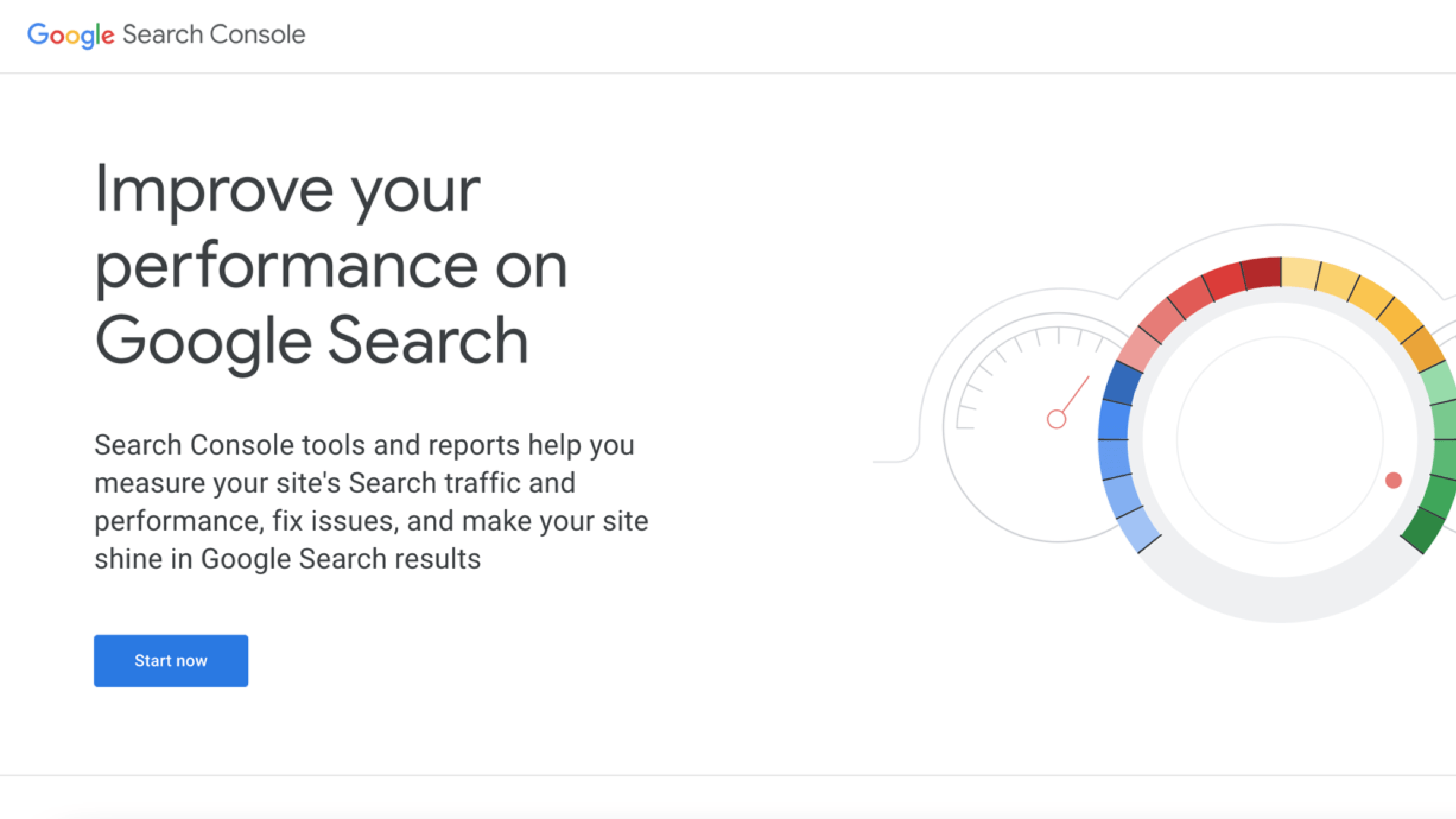 Google Search Console is a free service that helps businesses monitor their web presence in Google search results. Like GA4, Search Console offers a variety of metrics to help businesses track things like website performance, user experience, and site traffic.
What's the difference between Google Search Console and Google Analytics?
We're glad you asked — while both GA4 and Search Console track and measure website analytics, the two platforms differ in one key way. Google Search Console looks at what happens before users reach your site, while GA4 looks at what happens while they're on your site.
Together, GA4 and Search Console can offer you a comprehensive view of your online performance.
Ahrefs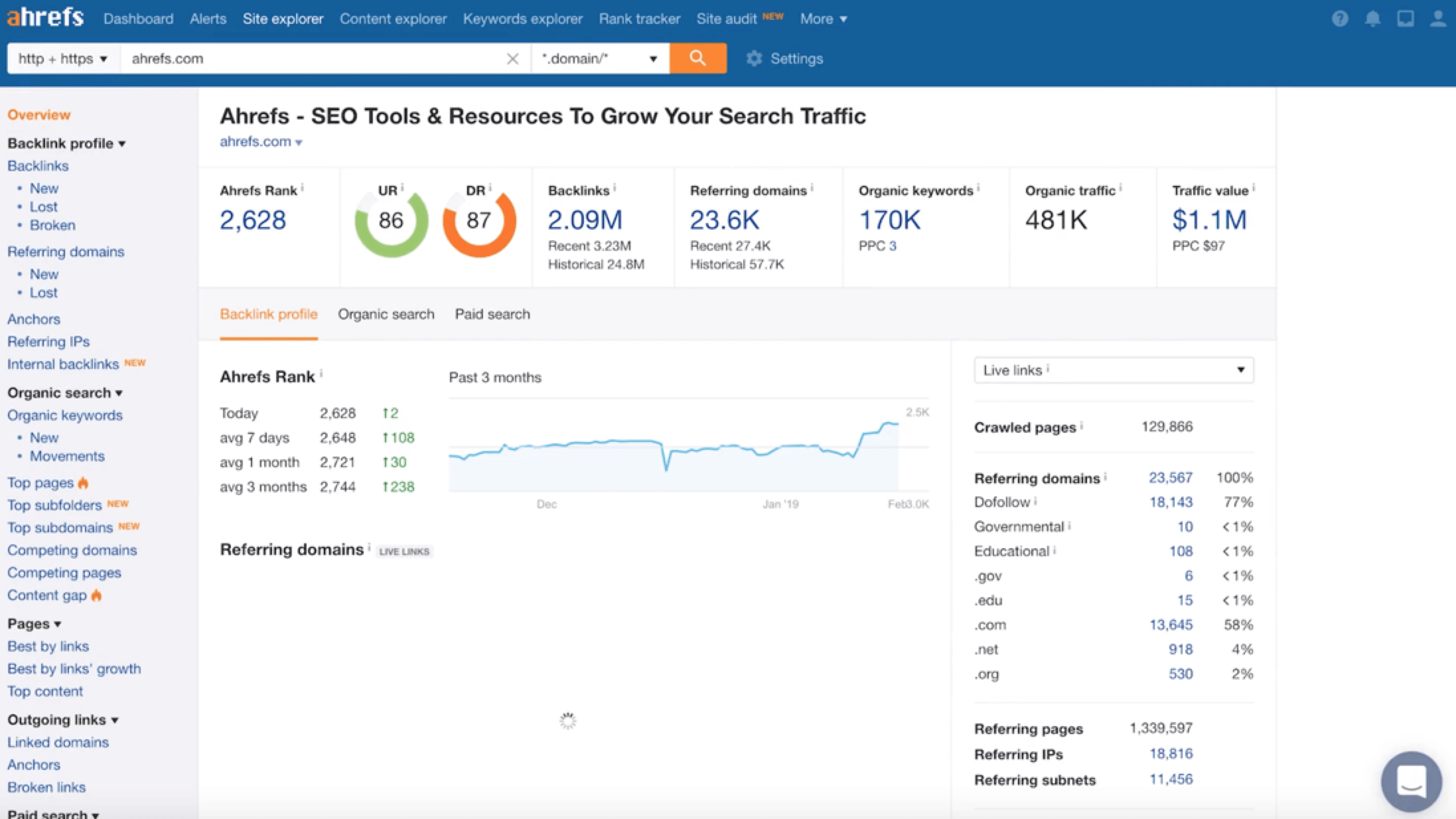 Ahrefs is primarily known as a backlink authority checker. But besides its massive database of live links, Ahrefs provides valuable insights about links and SEO, specifically search engine rankings monitoring and keyword tools.
Ahrefs uses crawling software to recreate a site as a search engine sees it, helping businesses understand their site better so they can optimize it for search engines. Along with that, Ahrefs comes with an analytics dashboard so businesses can keep track of their domain health, site errors, URL rankings, referring domains, and more.
Semrush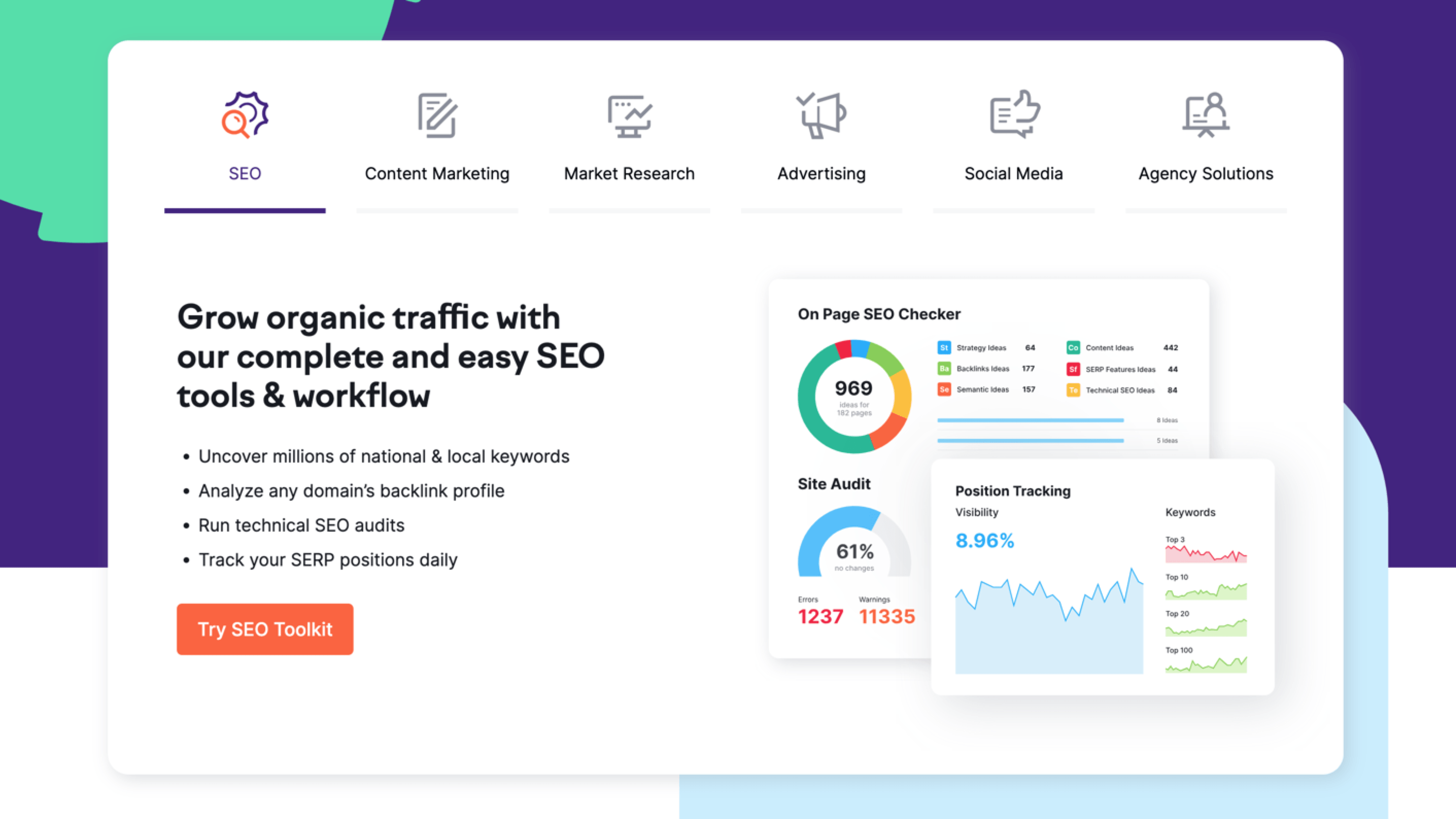 Semrush is an all-in-one digital marketing tool businesses can use to monitor SEO, pay-per-click (PPC), social media, and content marketing efforts. When it comes to SEO, Semrush offers SEO audit tools to help you better understand your pages and optimize them for improved performance.
3. Set up your dashboards for organized reporting
Now that we've selected our SEO metrics and chosen a measurement tool(s), it's time to start assembling an SEO dashboard to display and visualize the SEO data collected.
Analytics dashboards make it easier for businesses and marketers to make sense of the massive amounts of data they collect by organizing and displaying it in one place.
Often, data measurement tools like Ahrefs and Search Console come with pre-made reports and templates, so you can spend less time configuring your dashboard and more time putting it to use.
When creating your SEO analytics dashboard, configure it, so it displays the metrics most important to your SEO goals. If you're presenting this dashboard to leadership, though, remember to tell a story to make the data come to life.
The data you display on your dashboard should help inform your strategy and tell a story regarding your current campaign. Choose metrics that are easy to understand and provide insight into how your SEO strategy is performing and how you can further optimize it.
4. Review and act on your data
Finally, put your dashboard into action and start collecting that valuable SEO data!
At regular intervals (like weekly, monthly, and quarterly), use your dashboard's data visualization tools to make sense of the information and learn more about your audience, how it interacts with your website, and how your website's pages perform on search engines. Then, put those insights to use and start making data-driven improvements to your website so it's fully optimized for SEO.
P.S. Ensure your data is accurate. If you notice a sudden increase or decrease, that can indicate a tracking issue with your analytics software. Your analytics platform (like GA4) should have troubleshooting guides you can use to resolve the issue.
Get SEO analytics assistance from the experts at SEO.com
Want to take your analytics process to the next level? Partner with the experts at SEO.com to gain access to industry professionals with over 25 years of experience in all things SEO.
Whether you want to use Ahrefs, Semrush, or Google's host of analytics tools to track your SEO performance, SEO.com has you covered with Google-certified experts and SEOs well-versed in a host of other data analytics tools.
Get started today by contacting us online to learn more about our SEO services!
Writers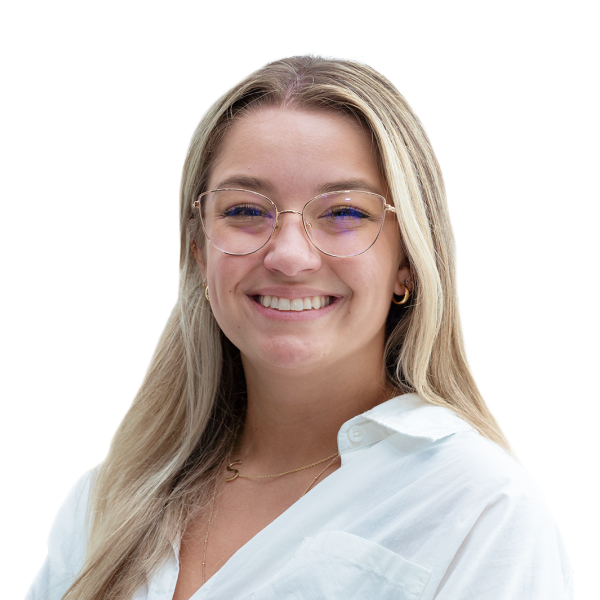 Savannah Swanson
Digital & Social Trends Writer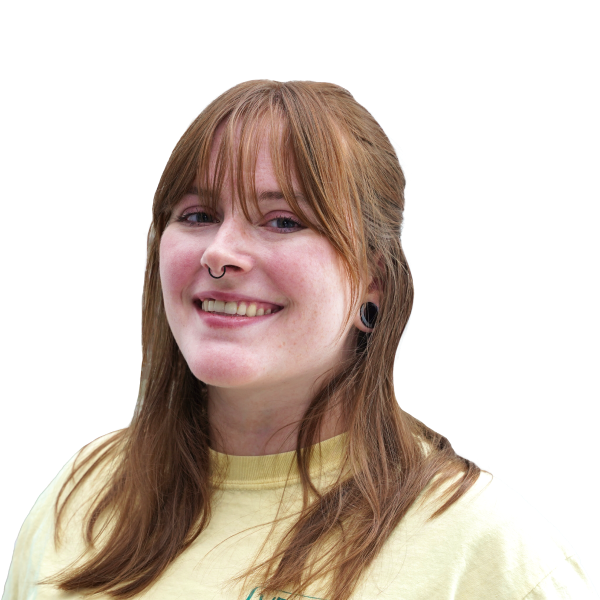 Abbey Stephan
Lead Editor
Learn about the pros and cons of DIY SEO, including cost savings and control, but also the lack of expertise and time commitment, and discover beginner-friendly steps to optimize your website yourself.

Read Now

Discover the SEO benefits that can transform your business, including increased website traffic, brand awareness, lead generation, revenue, and more.

Read Now
Download our free marketing guides
Because we know how tough marketing can get, we've created this handy guide for you based on our 25+ years of experience in the industry.
Unlock the secrets to dominating search engine results in 2024 with our exclusive PDF guide!

Start improving your site's SEO with this beginner's checklist!

Download this easy-to-use template to start your search for an SEO agency.
Let's Drive Results Together
Connect with WebFX to get a digital strategy for your business.