If you've ever used Google, Bing, Yahoo, or any other search engine, you've encountered a search engine results page (SERP). These results are crucial for businesses who want their audience to find them and have their website seen.
Understanding the SERPs can help you know how to use them to your advantage. We will cover everything you need to know about SERPs through the following sections:
What is a SERP?
What is the SERP ranking?
Types of search results
Why ranking matters for businesses
Search engine optimization (SEO) and SERPs
Learn more about SERPs and why they matter below!
What is a SERP?
A SERP is the page displayed to users after they enter a search query in any search engine. This definition includes any page that appears from a search, but it most commonly refers to the first page of responses.
There are many features of the Google SERPs, including People Also Ask (PAA) questions and featured snippets, both of which are featured in the example above.
What is the SERP ranking?
Google — and other search engines — rank pages based on the query to put the most relevant results at the top of the page. Since 71% of clicks on Google go to the first page of results, it's crucial to rank at the top.
While Google's search algorithm is not entirely known, they do share some top factors that they look for when ranking pages and websites, like:
Meaning — what users are looking for when they search
Relevance — how well your content matches the intent
Quality — what sites are most helpful when offering information
Usability — whether sites and pages are accessible or not
Context — details like location, search history, and settings
Google weighs all of these factors while crawling and selecting websites to determine which will give users the information they want fast.
Types of search results
Along with the different sections of SERPs, there are different types of search results — paid and organic.
Organic results
The first type of results is organic, or the most common type of result you'll find. Organic search results are those that come strictly from the search algorithm with no influence from advertisers. They look like this in the SERPS and usually come below paid results: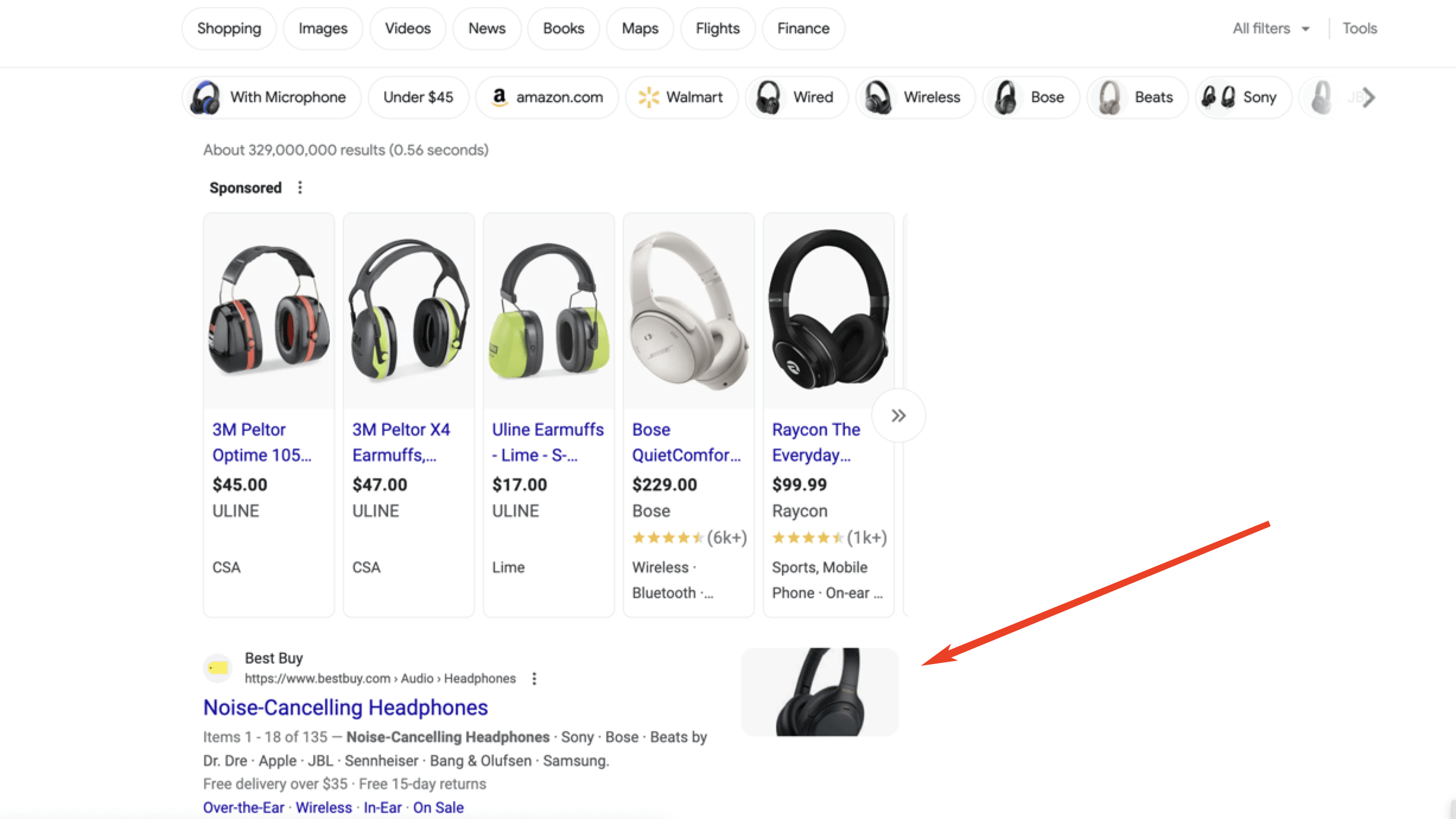 Understanding the algorithm and making changes to your website can help you rank high naturally in organic results.
Paid results
In contrast to organic results, you have paid options, which are results paid for by an advertiser. They usually sit above organic results and have a "Sponsored" label: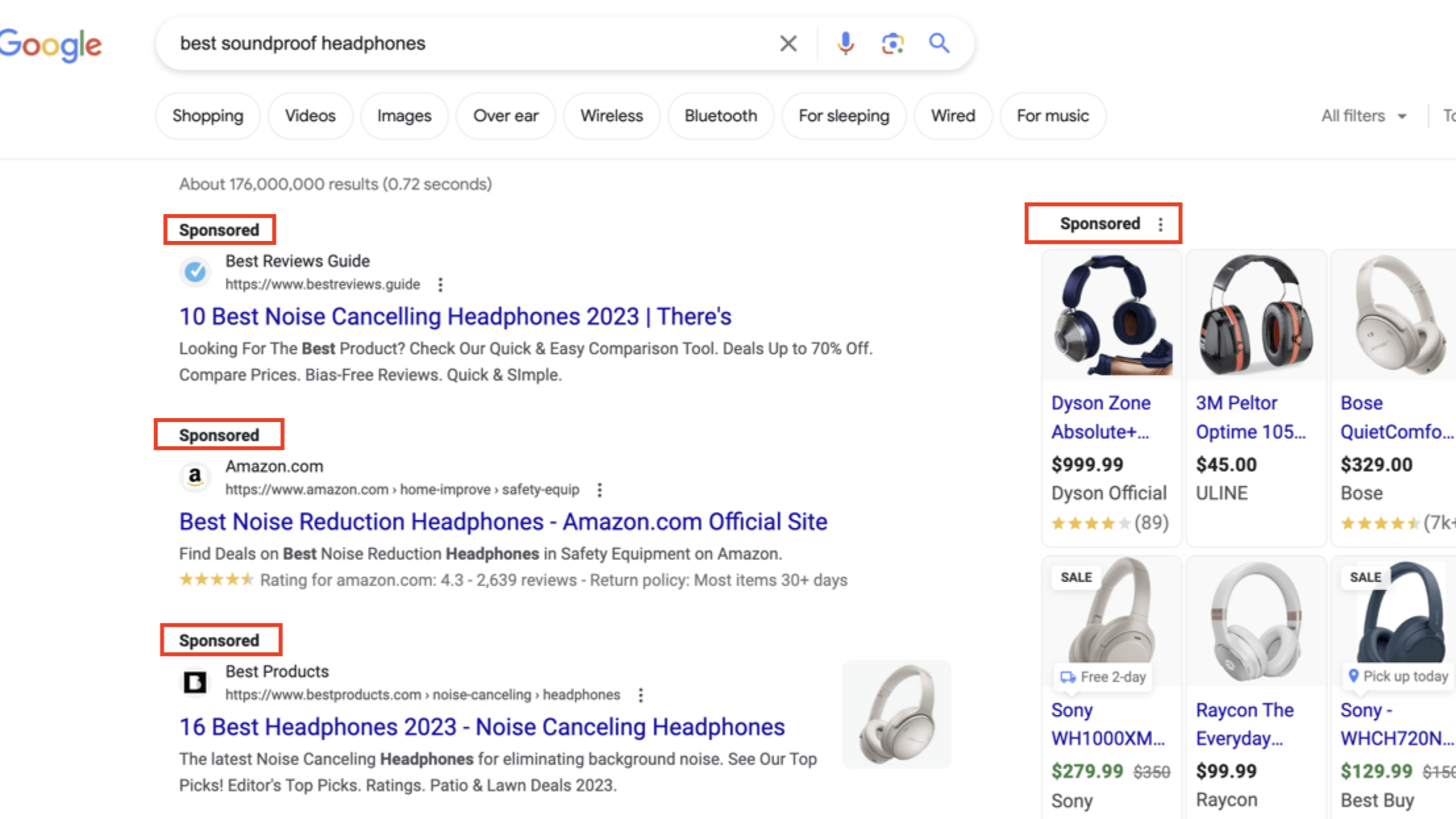 Paid results have their own ranking algorithm similar to organic results, but cost and prevalence cause paid results to appear above organic ones. Some factors for paid rankings include the price the advertiser paid, keyword targeting, and competition in the SERPs.
Why ranking matters for businesses
So, why does ranking in the SERPs matter? With higher rankings, you can accomplish the following:
Get more people to find you: It's hard for people to find your business if they've never heard of it and they have no way to find it. Ranking in SERPs improves your chances at finding new leads.
Improve conversion rates: A one spot increase in rankings can increase click-through rate (CTR) by 30.8%. That means that the higher you rank, the better chances of someone coming to your site to make a purchase.
Boost brand awareness: Even if you don't get every click, people will recognize your name in the SERPs. Publishing more content helps you rank higher in the SERPs, boosting brand awareness and building recognition.
Ranking high in the SERPs helps improve your business's bottom line and drive more growth.
Search engine optimization (SEO) and SERPs
SEO is the process of improving your website to help it rank higher organically. With SEO, you can give yourself the best chance of appearing higher on the SERPs without running paid ads.
This process involves deep-diving into your site's analytics and understanding where to make changes. Many companies assign SEO to their marketing team, consult with SEO experts, or hire an outside agency.
Some key points of effective SEO include:
Targeting keywords
Using internal linking between pages
Creating helpful, researched content
Building out your pages
Using effective design
SEO makes your website easier for users and search engines to find and navigate. In return, you will naturally rank higher as more people find and use your site.
What to do to master the SERPs
Optimizing your website for the SERPs involves assessing your SEO efforts to see how you can improve your performance. If you find you don't have the resources to improve and manage your SEO, consider outsourcing it with an agency.
By investing in SEO services, you'll have a team of professionals optimizing your website to help your business drive better results in the SERPs. Keep learning more about SEO and evaluating your needs to see if SEO services are the right choice.
Don't fail your website's
most important test
Get an SEO scorecard of your website for free in less than 30 seconds.