One moment, your website is at the top of search engine results pages (SERPs). The next, it's unexpectedly overshadowed by other websites. What happened? With the help of search engine optimization (SEO) analytics tools, you can track, troubleshoot, and improve your site's SEO and search performance.
Explore the best SEO analytics tools now!
What is SEO analytics?
SEO analytics is a process where businesses collect and review raw data about their SEO efforts to gain insight into their SEO performance.
Regularly analyzing SEO data lets you understand your SEO strategy's inner workings, including site elements that are driving results and audience behavior. You can then use these insights to optimize your SEO strategy and make data-driven decisions regarding future campaigns.
Top SEO analytics tools
Keep reading to get the scoop on the best SEO analytics tools.
Google Analytics 4
Google Search Console
Google Trends
Ahrefs
Semrush
ScreamingFrog
Bing Webmaster Tools
SpyFu
WooRank
KWFinder
Majestic
SEOQuake
Keywords Everywhere
Serpstat
ContentKing
SEObility
SEOptimer
Sitechecker
1. Google Analytics 4
Pricing: Free
We can't list SEO analytics tools without discussing Google's technology suite, starting with Google Analytics 4 (GA4). GA4 helps you see how users interact with your website and its events, from conversions to lead generation.
GA4's platform includes helpful tools such as:
Privacy controls like cookie-less measurement to comply with emerging data privacy regulations
Event-based data points for accurate assessment of user behavior
Direct integrations with media platforms like Google Ads Manager, AdSense, Search Console, and Salesforce
2. Google Search Console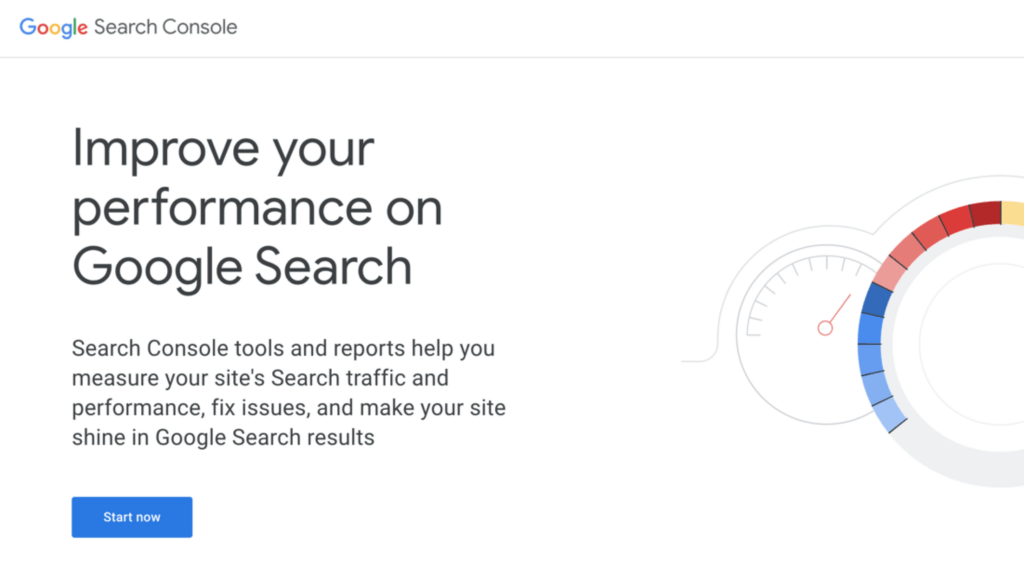 Pricing: Free
Search Console is another excellent Google SEO analytics tool to add to your arsenal. Google Search Console helps you understand how your site looks to search engines. With URL inspection tools and Search Analytics that track site impressions and organic traffic, you can better understand what's bringing people to your site.
Google Search Console offers other great SEO tools like:
Crawlers for site mapping and index coverage
Alert notifications when something on your site isn't working and may affect your search rankings
URL inspection tools to understand better how Google views your site
3. Google Trends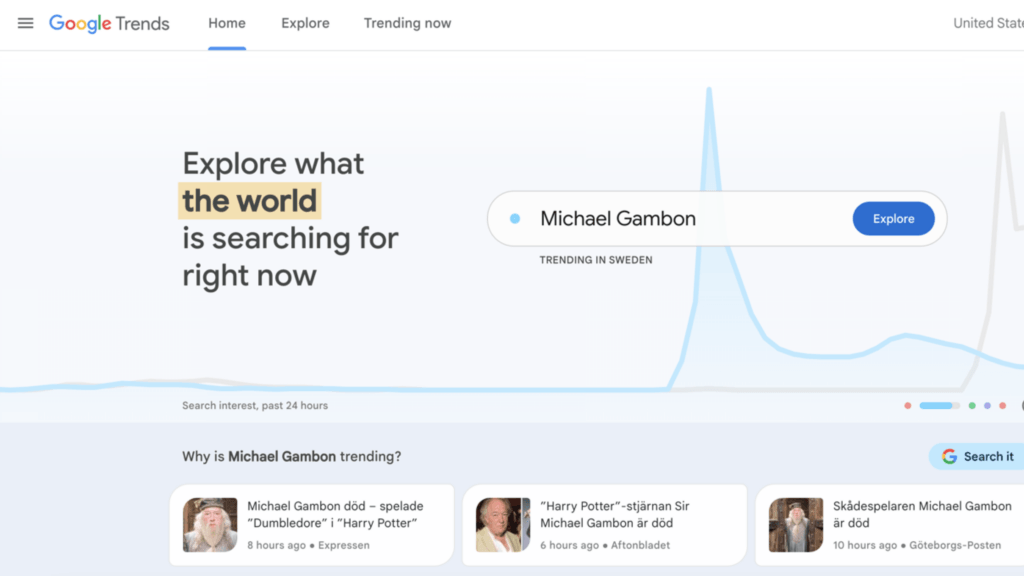 Pricing: Free
Google Trends makes it easy for your business to stay on top of what's trending on Google search pages. Why is this important for SEO? Google Trends helps you to identify and target trending keywords while they're still hot.
With Google Trends, you can explore trending search queries through capabilities such as:
Narrowing and expanding your search by language, country, and timeframe
Comparing groups of search terms to understand interest better over time
Discovering additional relevant keywords based on target keywords
4. Ahrefs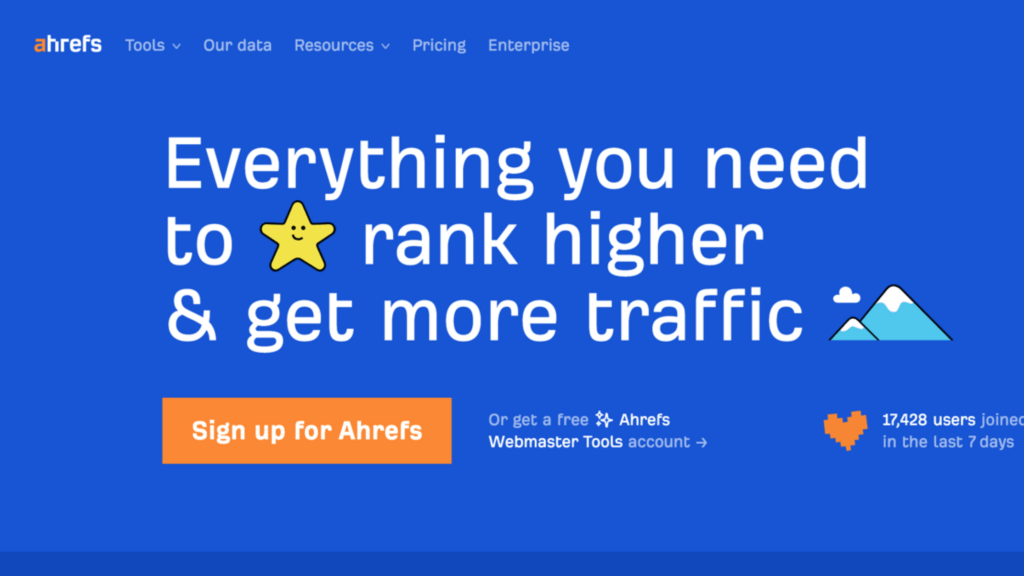 Pricing: Starting at $99 per month
With Ahrefs, you can dig into the nitty-gritty of your website's technical SEO performance. Ahref's all-in-one SEO tool set makes it possible to do everything from tracking your rankings to analyzing your competitors' performance and keyword targeting.
Ahrefs also helps you improve your online performance with tools like:
Keywords Explorer, which gives thousands of keyword suggestions complete with accurate search volumes and difficulty scores
Site Explorer, which tracks competitor keyword usage and how much organic traffic it brings them
Site auditing tools to monitor technical and on-page SEO
5. Semrush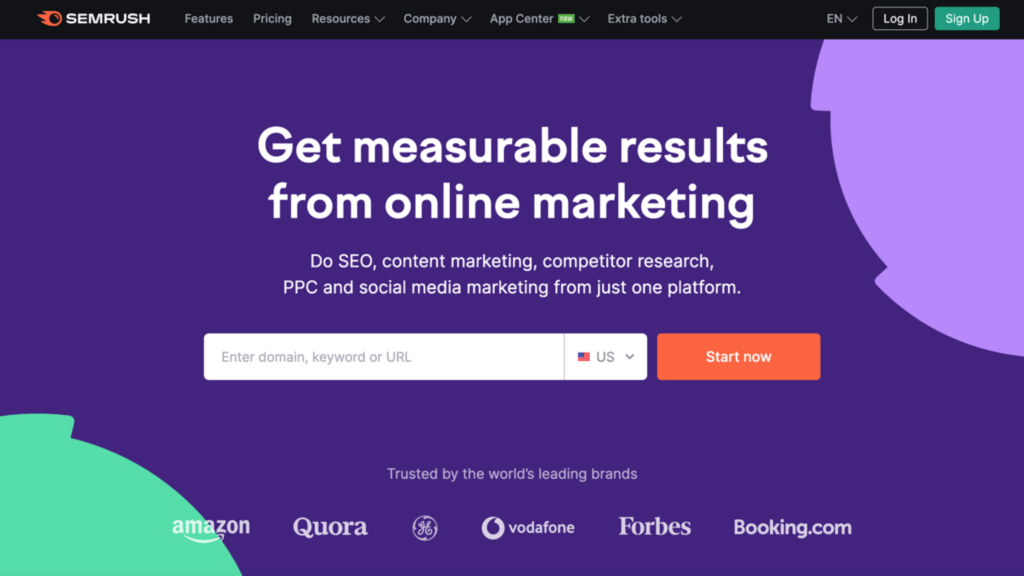 Pricing: Starting at $129.95 per month or a free trial
Semrush allows you to do digital marketing from a single platform. More importantly, Semrush makes SEO easy with its SEO Toolkit. Semrush's SEO Toolkit helps you grow your organic traffic with tools like SERP position tracking, technical SEO audits, and more.
Semrush's SEO Toolkit comes stocked with tools like:
On-page SEO checker and site auditing tool
Templates and writing assistant for content optimization
Backlink analytics and keyword gap research for further keyword optimization
6. Screaming Frog SEO Spider

Pricing: Free version available with 500 URL limit
The Screaming Frog SEO Spider is a leading SEO analytics tool for businesses looking to get an inside look at what's going on within their site and improve their on-page SEO. The SEO Spider crawls both small and large websites efficiently, gathering key onsite data to help you confidently make SEO decisions.
Screaming Frog's SEO Spider brings features with it, including:
XML sitemap generation, site visualization, and JavaScript rendering
Google Analytics and Search Console integrations
Identify duplicate content and low-content pages
7. Bing Webmaster Tools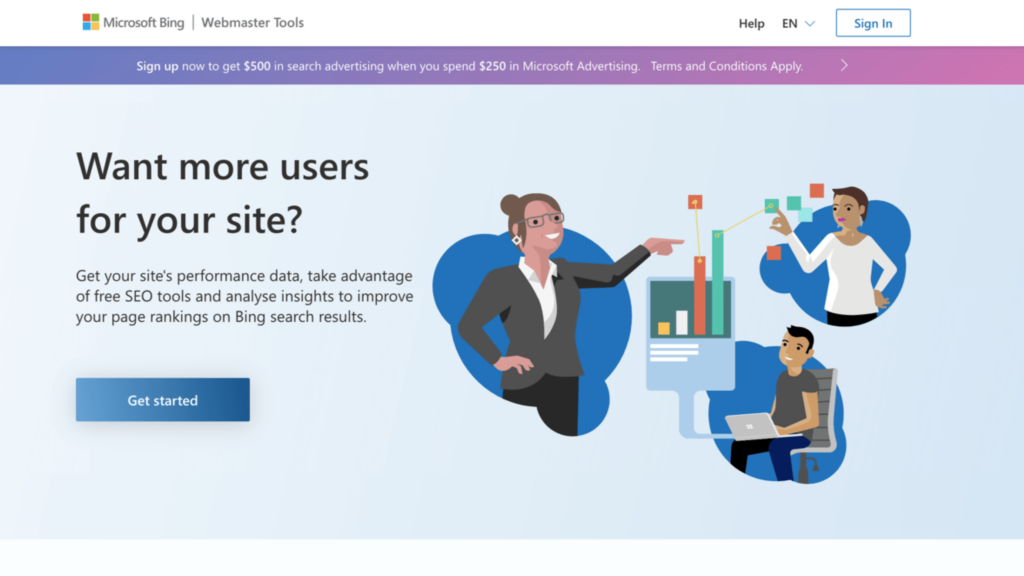 Pricing: Free
Bing Webmaster has several free SEO tools to help you gain valuable insights about your website's online performance, including technical SEO auditing and keyword evaluations. Learn what leads people to your website, what they're searching for on search engines, and more with Bing Webmaster's stocked library of SEO tools.
When you use Bing Webmaster, you'll have access to features like:
WordPress plug-in for URL submissions
SEO reporting and diagnostic tools
Site scanning to crawl your website and identify technical issues that may affect SEO
8. SpyFu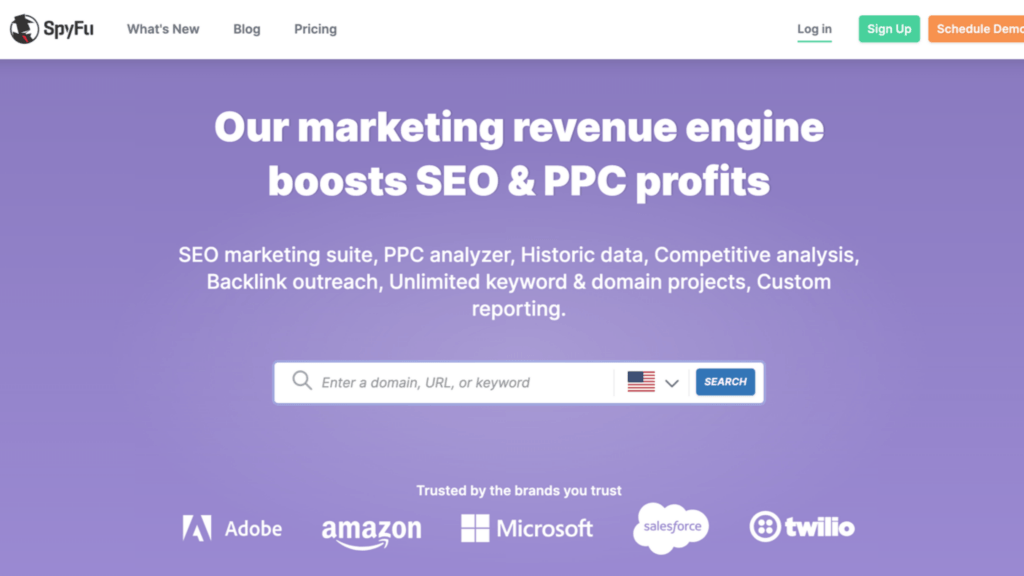 Pricing: Starting at $39 per month
SpyFu helps businesses take the guesswork out of keyword targeting by offering keyword analytics, tracking, and more. You can leverage SpyFu's SERP reports and gather competitive intel to fuel their SEO strategies and improve their online visibility.
Being an all-in-one platform, SpyFu also offers other SEO and digital marketing tools like:
SEO backlink builders
Domain comparison tools
Pay-per-click (PPC) analysis
9. WooRank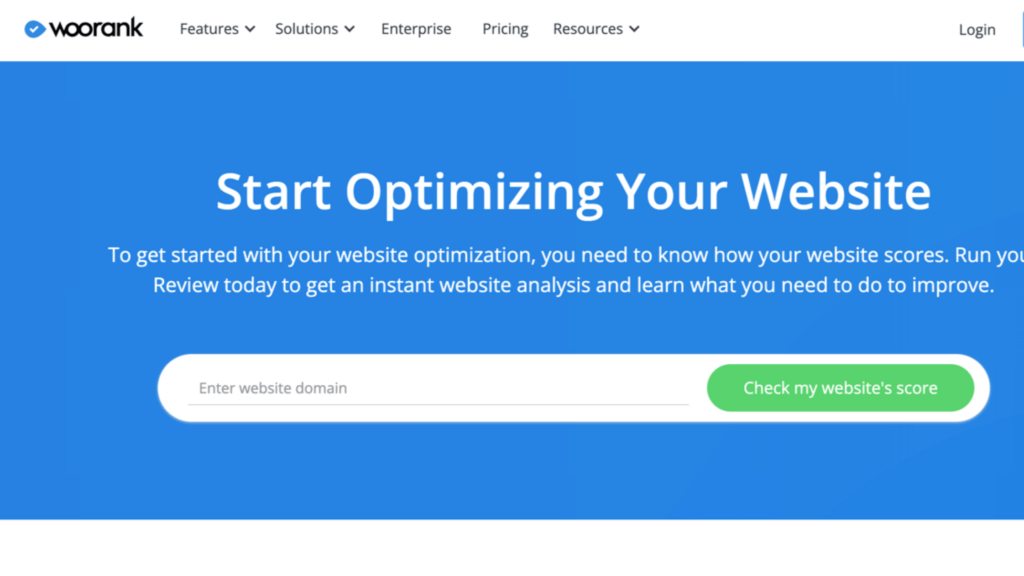 Pricing: Starting at $89.99 per month or try a three-day free trial
WooRank is a website optimization tool that leverages in-depth website reviews to help you understand when and where to optimize your site for SEO. WooRank offers actionable SEO optimization recommendations customized to your business's unique SEO efforts and keeps tips precise and focused for easy implementation.
Along with recommendations, WooRank offers:
Customized SEO reports and brand-focused templates for increased personalization
Competitive analyses to monitor your closest competitors and their SEO performance
Technical website auditing tools to improve factors impacting your online visibility
10. KWFinder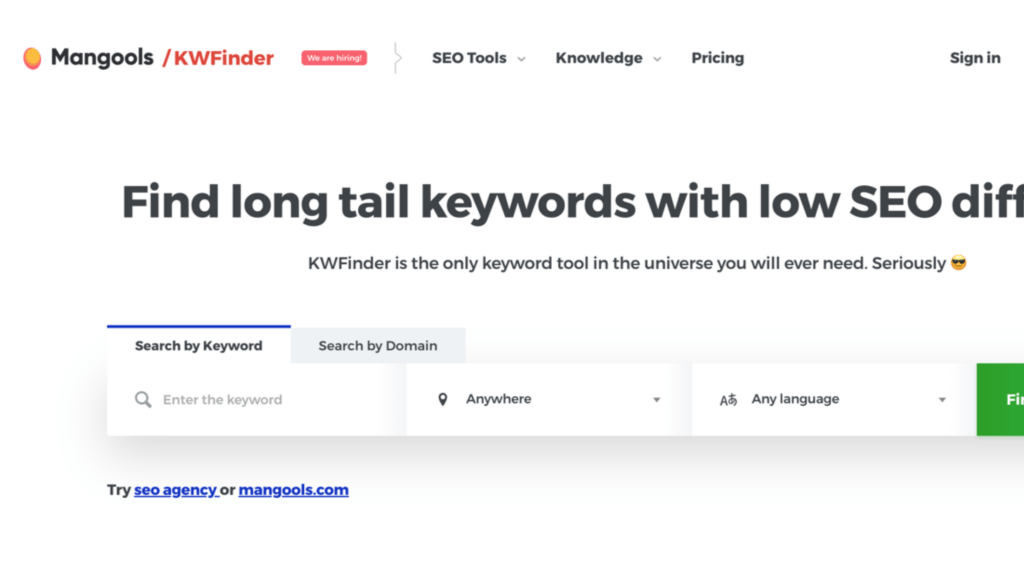 Pricing: Starting at $29 per month
KWFinder is a highly intuitive keyword research tool built to help you find and target relevant keywords to supercharge your website's SEO strategy. From local search terms to long-tail keywords, KWFinder uses data from SERPs to offer insights into keyword density, difficulty, search volume, and more.
When you use KWFinder, you can enjoy features such as:
Historical data to better understand search volume over time and seasonal keywords
Toggle between searching for terms by keyword or domain
SERP analyses to find and target local keywords
11. Majestic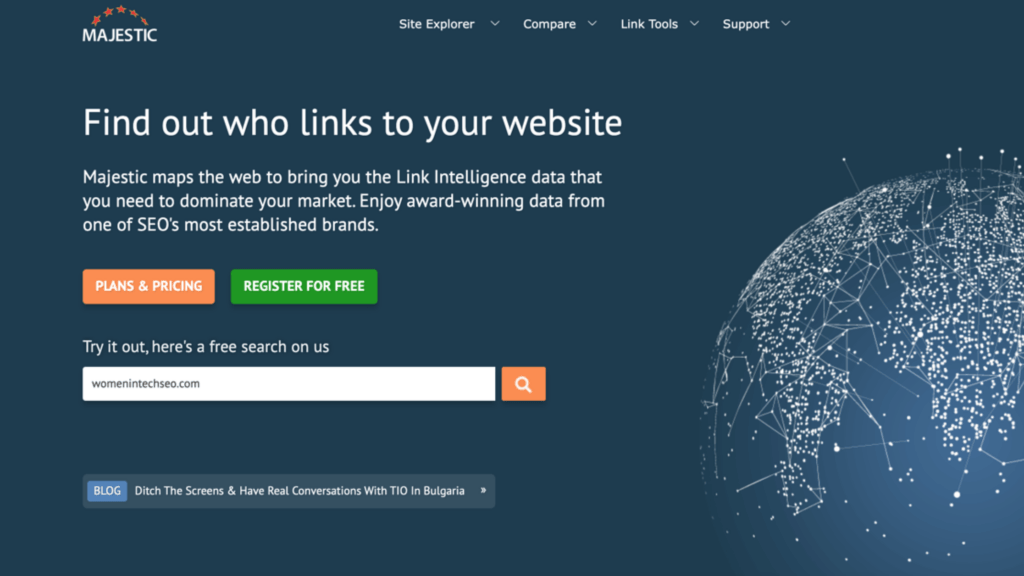 Pricing: Starting at $49.99 per month
Get into the technical aspects of your website's SEO with Majestic, an SEO backlink checker and link-building tool. Through this intuitive backlink checker, you can better understand the state of your linking strategy and uncover data to improve your backlink profile.
Majestic is the home of backlink tools like:
Link Context to help users identify relevant keywords to target
Topical Trust Flow, which helps measure the topical relevance of a page in relation to target keywords
Keyword generator that offers keyword suggestions based on millions of Internet data points
12. SEOQuake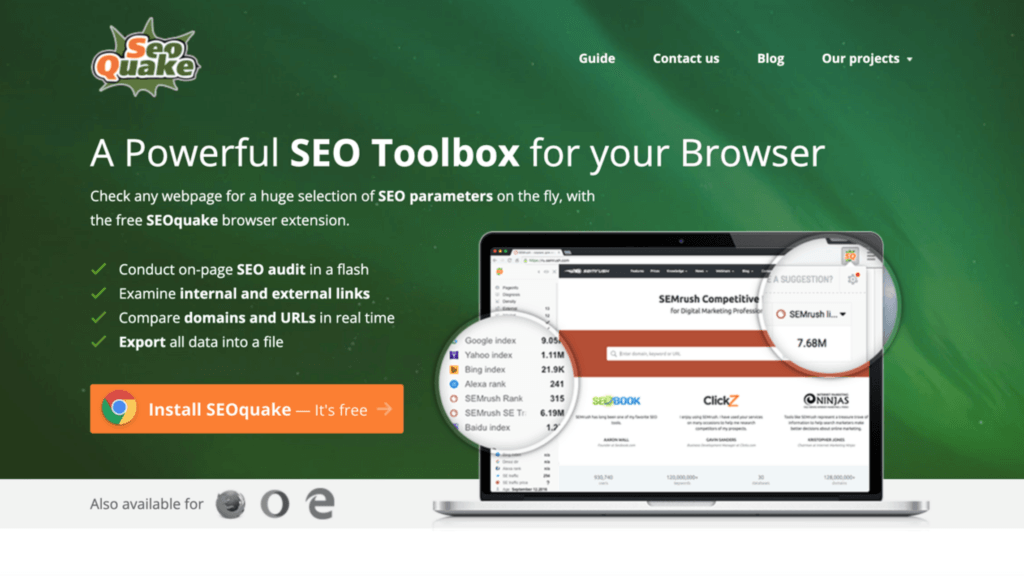 Pricing: Free
Looking for something simple? SEOQuake is a free browser extension that allows you to check SEO parameters for webpages while browsing the Internet. From on-page SEO audits to domain and URL comparisons, SEOQuake gives you the power to gain SEO insights from the Internet with just a few clicks.
The SEOQuake browser extension comes with features like:
Keyword density analysis tool
Export and print data or save as .csv files
SEO dashboard with an overview of page, domain, and rank details
13. Keywords Everywhere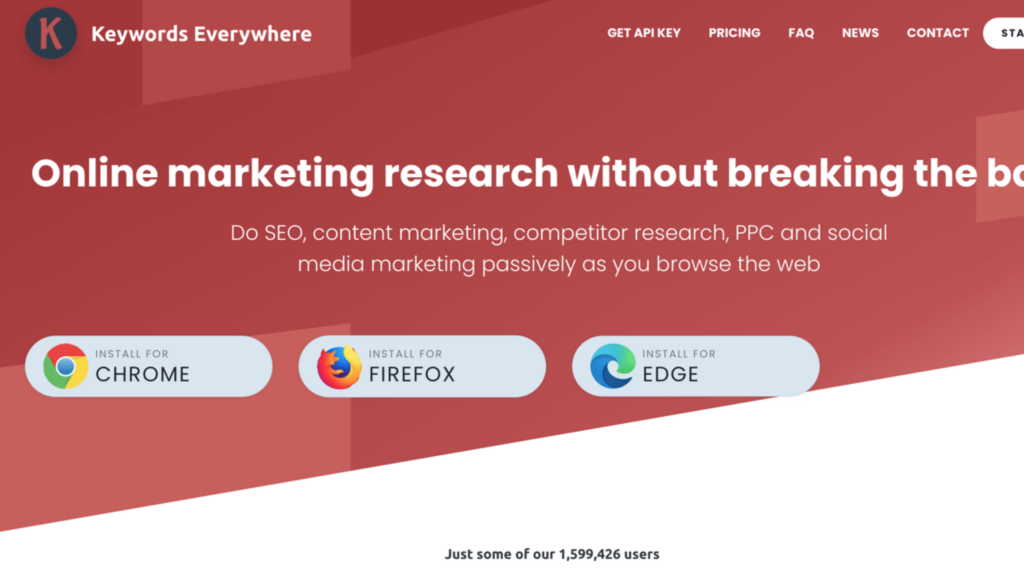 Pricing: Starting at $1.25 per month
Keywords Everywhere is an essential SEO analytics tool for finding and evaluating keywords. Available for Chrome, Firefox, and Edge, Keywords Everywhere allows you to pull insights about keywords like search traffic, related terms, and trend data while casually browsing the web.
With Keywords Everywhere, you can enjoy perks like:
Integrations with 15+ websites and platforms, including Google Keyword Planner
Exportable reports on keyword data
Amazon, Etsy, and eBay APIs
14. Serpstat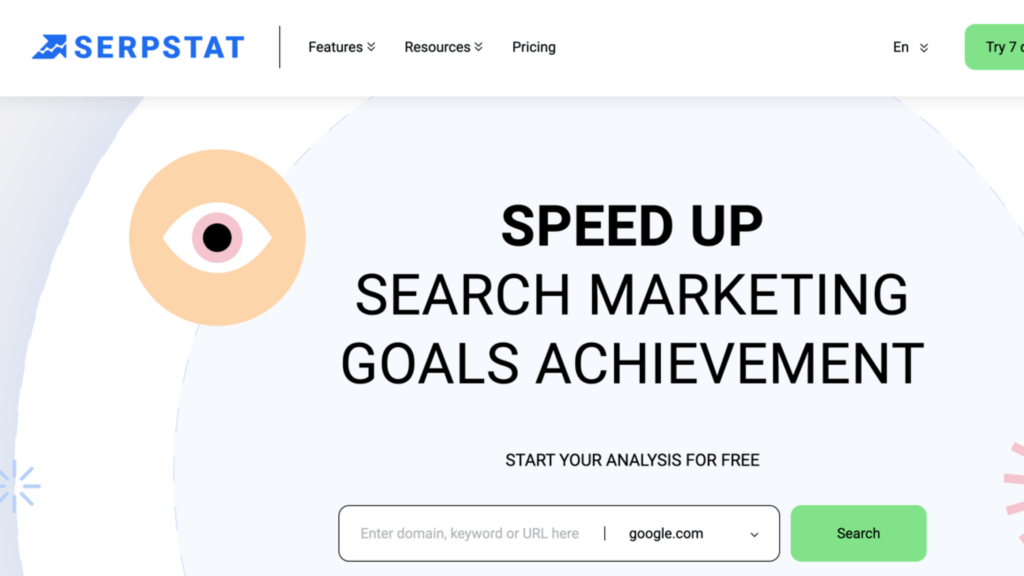 Pricing: Starting at $50 per month or a free trial
Serpstat helps you save time on marketing and SEO tasks with intuitive analytics dashboards that give you an inside look at what goes on within your website and how it affects your search engine rankings.
Keyword research, tracking, and clustering tools
Competitor analyses, including keyword opportunities and ad monitoring
Artificial intelligence (AI) tools to detect grammatical errors and misspellings, plagiarism checker, and AI-generated content detector
15. ContentKing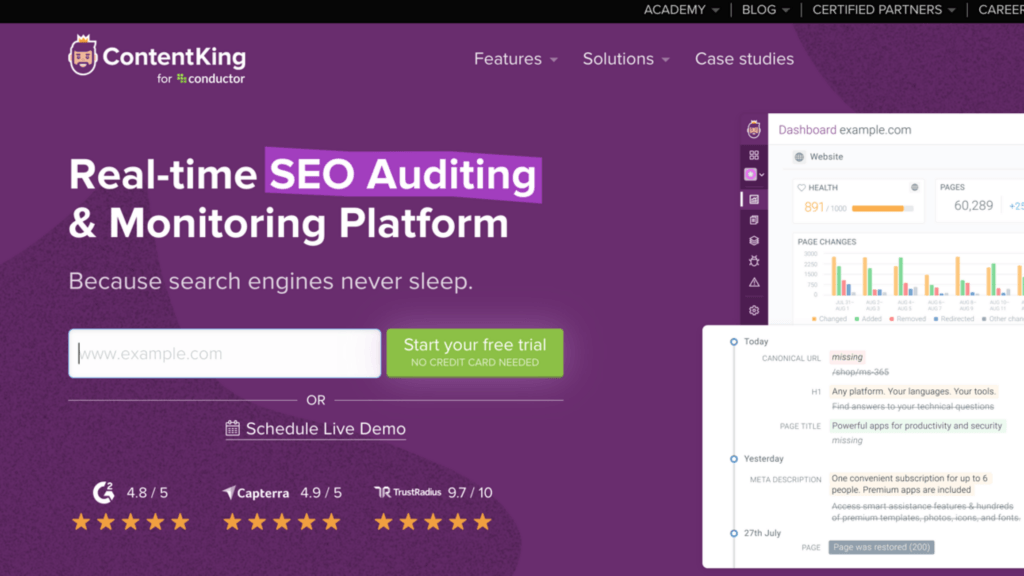 Pricing: Start a free trial or schedule a live demo for pricing options
Search engines never sleep, and neither does ContentKing. ContentKing is a real-time SEO auditing tool that offers 24/7 monitoring and alerting, so you're always on top of the latest changes your site undergoes — all before search engines know.
ContentKing features tools such as:
Integrations with Google Search Console and Google Analytics
Cloud-based reports for easy retrieval and data storage
Content change tracking for up-to-date performance analysis
16. SEObility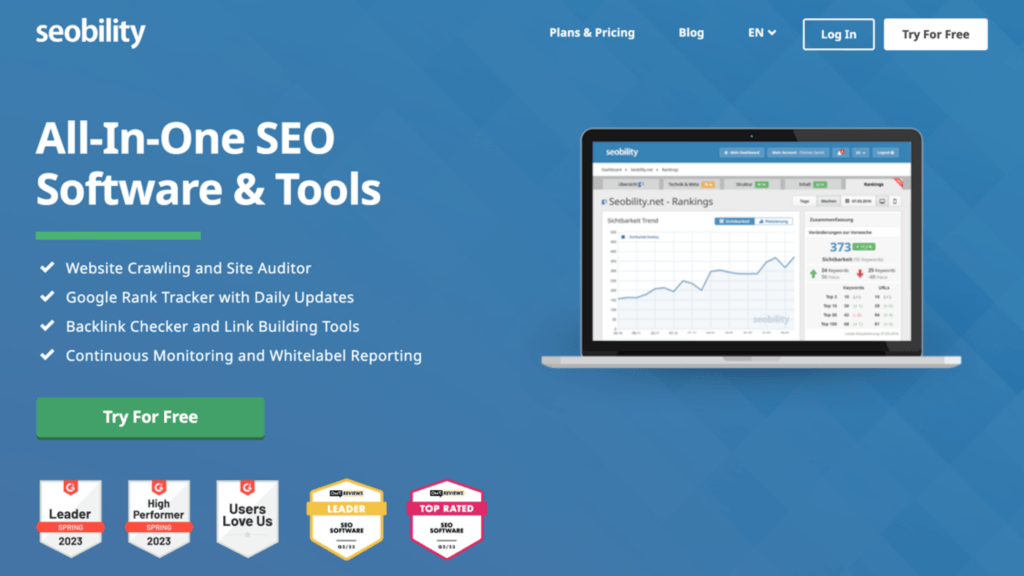 Pricing: Free Basic plan available, or starting at $50 per month
SEObility is an all-in-one online SEO software that offers comprehensive analyses of your website's on-page SEO. With auditing to rank tracking, SEObility provides the tools to monitor key SEO elements on your site and track their impact online in real-time with performance dashboards.
SEObility also comes with helpful tools like:
Backlink monitoring dashboards with competitor link analyses and link-building tools
Daily keyword ranking trackers that can be filtered based on search engine and location
Frequency-inverse document frequency (TF-IDF) analysis tool for content optimization
17. SEOptimer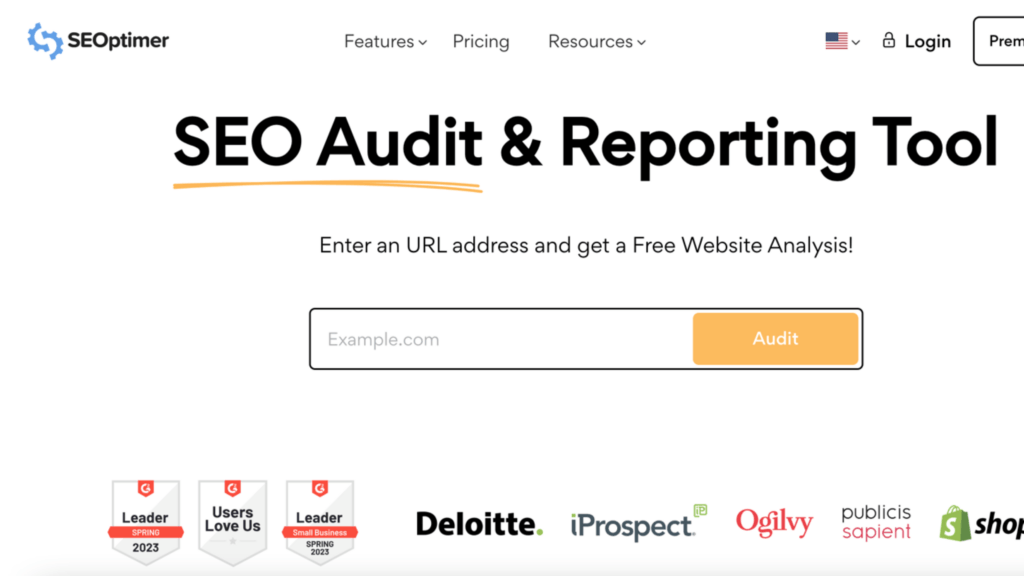 Pricing: Starting at $19 per month or a 14-day free trial
SEOptimer is a comprehensive website SEO auditing tool that makes website monitoring simple. Their SEO crawlers scan your site page by page, identifying problems and offering actionable recommendations on improving your site for better online visibility and performance.
SEOptimer offers tools like:
White label PDF reports for easy analysis and presentation
Embeddable Audit tool for 24/7 monitoring
An SEO toolbox with over 60 free SEO auditing tools like title tag checkers and SERP preview tools
18. Sitechecker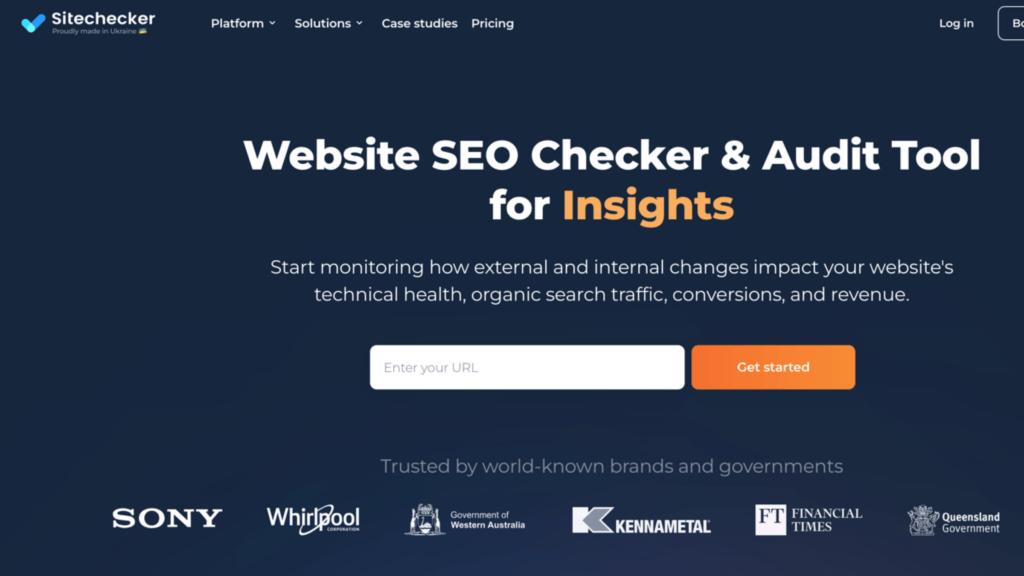 Pricing: Starting at $41 per month or a 14-day free trial
Finally, Sitechecker is a website SEO checker and audit tool for monitoring and reporting the internal and external changes that impact your website's technical SEO. Whether you're a brand, agency, government, or educational institution, Sitechecker monitors and analyzes all things SEO for your website.
Sitechecker's tools and features include:
Site, rankings, and backlink monitoring
Google Search Console and Google Analytics integrations
Analytics dashboards
Do more with your SEO analytics tool — partner with SEO.com
Looking for more ways to level up your SEO analytics? When you partner with an agency like SEO.com, you can't go wrong. SEO.com is home to over 500 team members ready to help you use the data and insights you collect from your new SEO tool to optimize your campaign for success.
Get started today by contacting us online to learn more about our SEO services.