Ranking in Google is one of the most important things your site can do. That's the idea behind search engine optimization (SEO) — getting your site into search rankings so users can find you. Thankfully, Google offers several different tools to help you optimize your SEO.
One of those tools is Looker Studio. This tool allows you to view a variety of different reports and dashboards, and while it's not specific to SEO, it can be put to good use in your SEO strategy. But what exactly is Looker Studio, and how can you use it?
That's the question we're here to answer. On this page, we'll cover:
Keep reading to learn more about how to use Looker Studio for SEO!
What is Looker Studio?
Looker Studio — which was originally known as Google Data Studio — is a tool that transforms your data into dashboards and reports.
Essentially, you import datasets into specific templates, and the templates then format that data into specific dashboards that make it more visually appealing and easier to digest. We'll see some examples of what that looks like further down on this page.
Looker Studio is offered by Google, and it's completely free to use. It can handle pretty much any type of data you can imagine, and that includes SEO data. That means there's no reason not to start using Looker Studio templates to help you visualize your SEO!
How to set up Looker Studio
Setting up an account in Looker Studio is simple: Just have a Google account. That's pretty much it! If you already have a Google account you can use for your business, all you need to do is go to Looker Studio and log in using that account.
Once you're in, you can get started with setting up reports. You have a couple of options here. One is to create them from scratch.
To do that, you can simply click "Blank Report."
This will open up a fresh, untitled template for you to begin working in. You can then pull in different data sources and begin formatting that data how you like. Google offers a guide that goes into this in a bit more detail.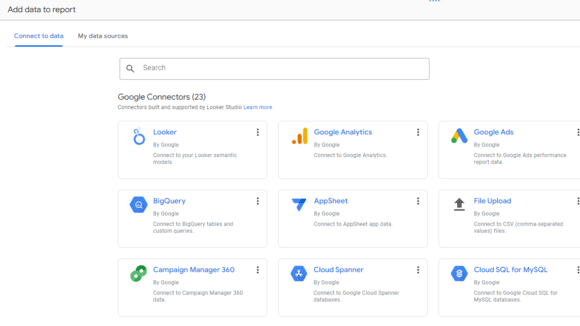 A far easier option, though, is to use premade templates. Looker Studio templates save you from having to do the hard work of building a dashboard from scratch. You can just pull up the template and import your data.
5 Looker Studio templates for SEO
There are a ton of different template options out there for Looker Studio. Many of them don't relate to SEO, but even amongst the ones that do, there are a lot. Some of these are offered by Google itself, but others come from third-party sources. You can often buy these templates online.
Here are five of the best Looker Studio templates:
Keep reading to learn a little bit more about each one!
1. Google Analytics audience overview
Price: Free
Use case: Monitor organic search performance by location, device, date, and more.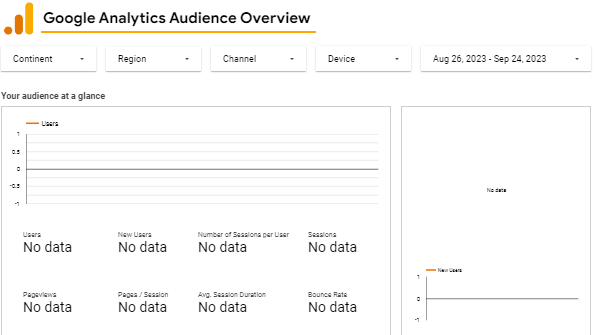 The Google Analytics audience overview should look rather familiar to anyone who has used Google Analytics. This Looker Studio template pulls data about your website visitors from Google Analytics and lays it out in this simple, clean dashboard that visualizes your SEO in Looker Studio.
Offered for free by Google, this template is an essential element for monitoring information about your website visitors. It tells you how many users are on your site, what languages they speak, where they're from, and which devices they use to access your site. This is helpful info for getting a clearer picture of your audience.
2. Google Analytics behaviors overview
Price: Free
Use case: Understand how users from organic search interact with your site.
As another free template from Google, the Google Analytics behaviors overview follows the trail left by the previous template, displaying data about your website visitors. This template, however, focuses on behavioral data — how many pages your site visitors view, how many of them bounce, which types of content they prefer, and so on.
This helps you learn how well-optimized your site is for your target audience. You can identify which content is most popular, for example, and then produce more content like that so as to appear in more Google rankings.
3. SEO keyword audit template
Price: Free
Use case: Resolve keyword cannibalization and prioritize SEO updates.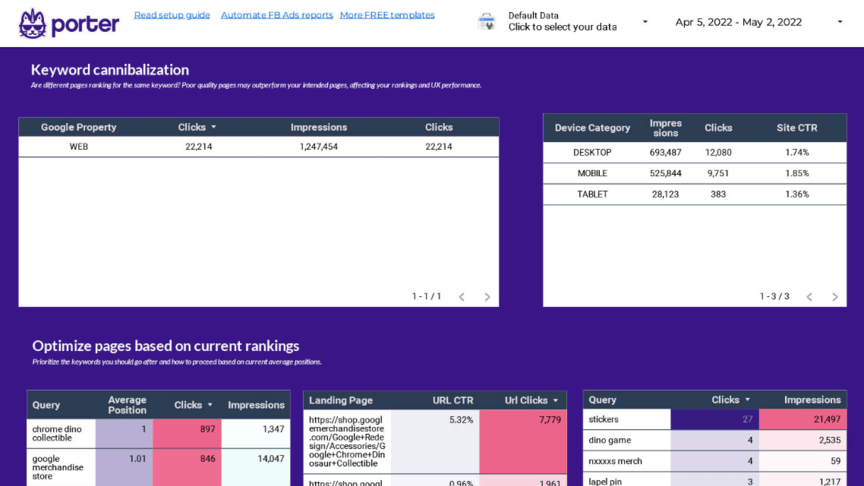 The SEO keyword audit template displays data related to your keyword performance, as you can probably guess from the name. In addition to letting you see keyword ranking opportunities and long-tail keyword analysis, you can also see if and where you're suffering from keyword cannibalization.
The design of this template is smooth and easy to navigate, making it a great choice. This template is created by Porter, and it's free, though there's a very short process you'll have to go through to access it. Then you can start gaining fresh insights about your SEO in Looker Studio.
4. GMB + GA4 + GSC template
Price: $30
Use case: Monitor search performance in local search results.
The next template on our list is the Google My Business + Google Analytics GA4 + Google Search Console template. As the name indicates, this template pulls data from your Google Business Profile (formerly Google My Business), Google Analytics, and Google Search Console.
That means you can see not only how much traffic your website gets, but also how much of an impact your Google Business Profile has in search results.
This is another template offered by Porter, though it costs $30 to purchase it.
5. Screaming Frog report dashboard
Price: $80
Use case: Summarize SEO audit findings for stakeholders.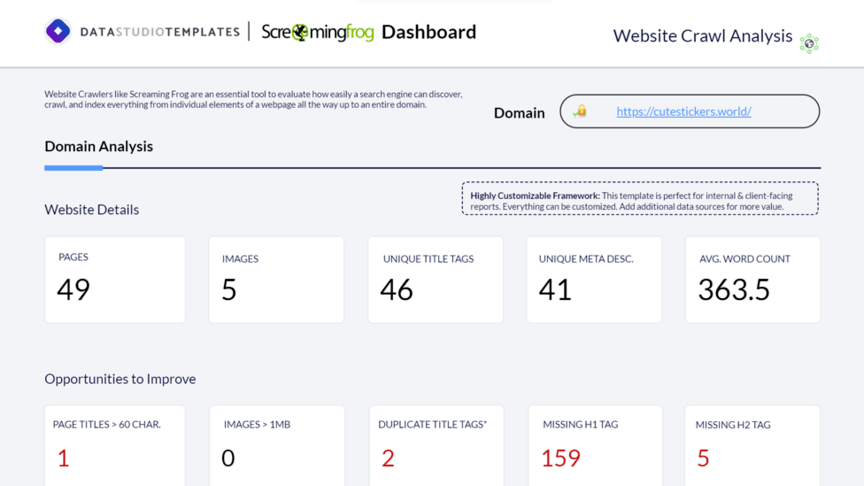 Finally, we have the Screaming Frog report dashboard. If you've never used Screaming Frog, you may want to consider it — it's a valuable SEO asset that crawls websites and performs SEO audits. This template displays audit data from Screaming Frog.
To get it set up, you'll first need to perform an SEO audit of your site using Screaming Frog. Then, import the Screaming Frog CSV file into a Google Sheet and connect that Sheet to the template. Just like that, you'll have your audit data presented in a clear and concise dashboard.
Learn more ways to boost your Google SEO on SEO.com
Now that you know how to visualize your SEO in Looker Studio, you can get to work creating dashboards of your own. Of course, then comes the task of actually improving your SEO based on what you learn. That's where it becomes important to learn about SEO tips and tricks.
To find out about some of those tips and tricks, you can check out some other helpful content right here on SEO.com!