While some ecommerce companies might have more success on Amazon, Etsy is the ideal place to for artists, crafters, and vintage purveyors. However, if you want your shop to stand out from the rest, you need to optimize it. That's where Etsy search engine optimization (SEO) comes into play.
Understanding Etsy SEO can help you optimize your shop to get the most attention from buyers. We will break down Etsy SEO through the following sections:
Keep reading for Etsy SEO tips, ideas, and more!
What is Etsy SEO?
Etsy SEO is the process of optimizing your Etsy shop and listings to appear in search engines like Google, Bing, and Etsy search. Since Etsy results can appear in Google, Etsy SEO makes it easy for search engines and the site to find and pull the best listings — ideally, yours!
Etsy search vs. Google search
Google and Etsy have unique search algorithms, but a lot of Etsy SEO tips cover both channels. This way, you can make sure you rank well on the site and on Google. Understanding both formulas can help you rank better.
Etsy ranking factors include:
Query matching
Relevancy
Listing quality score
Recency
Customer and market experience score
Shipping price
Language and translations
Shopper's habits
While Google's algorithm isn't public, there are many ranking factors that have been studied and confirmed over time by researchers. Some Google ranking factors include:
Search intent
Relevancy
Keyword usage
Backlinks
Google and Etsy have unique search algorithms, but a lot of Etsy SEO tips cover both platforms. This way, you can make sure you rank well on Etsy and on Google.
Why does Etsy SEO matter?
Being visible in the search engine results pages (SERPs) will help you grow your audience and attract more visitors to your shop. If you want people to buy from you, they need to be able to find you.
Etsy SEO has the following benefits for any business:
Better brand awareness: As more people start seeing your business in search results, they will recognize your shop name. Even if they don't buy immediately, they can follow your shop and come back to buy later.
Increased conversions: Many users start their search for products online before buying outright. When they see your products listed first, it will grab their attention and encourage them to buy.
More visibility: People can't buy from you if they can't find your shop. Even if you don't rank first, they will see your shop, which gives you more of a chance than you would have if you didn't have SEO.
8 ways to improve SEO on Etsy
So, how can you improve SEO on Etsy? Here are eight different steps to help you:
Do keyword research
Use keywords in your product descriptions and titles
Optimize your shop title
Apply all available product tags to every listing
Select categories and attributes
Use clear images and put the best image first
Work on your shipping prices
Update your listings regularly
These tips cover both Google and Etsy search to give your shop the best chance at ranking overall!
1. Do keyword research
Keywords are essential for helping your items appear in the SERPs on Google and Etsy. Your keywords should explain your product in short, concise phrases as well as long-tail terms.
For example, if you sell necklaces, your product keyword might be "silver chain necklace." A long-tail, specific keyword could be "silver chain with engraved heart pendant."
Here are some tips for finding keywords for Etsy:
Enter your term into the search bar and see what other listing terms come up.
Look at your competitors' listings and see what terms they use.
Describe your item's material, size, color, and any other defining features.
Ask yourself what other terms users could enter to describe your item.
Since there are often many competitor listings on Etsy, you want to set yours apart and be as specific as possible to match the search query. Using descriptors in your keywords can help you do just that.
2. Use keywords in your product descriptions and titles
Once you have a solid list of keywords, you must integrate them into your content. The first step is to create a title for your item, which is the first thing users will see as they browse: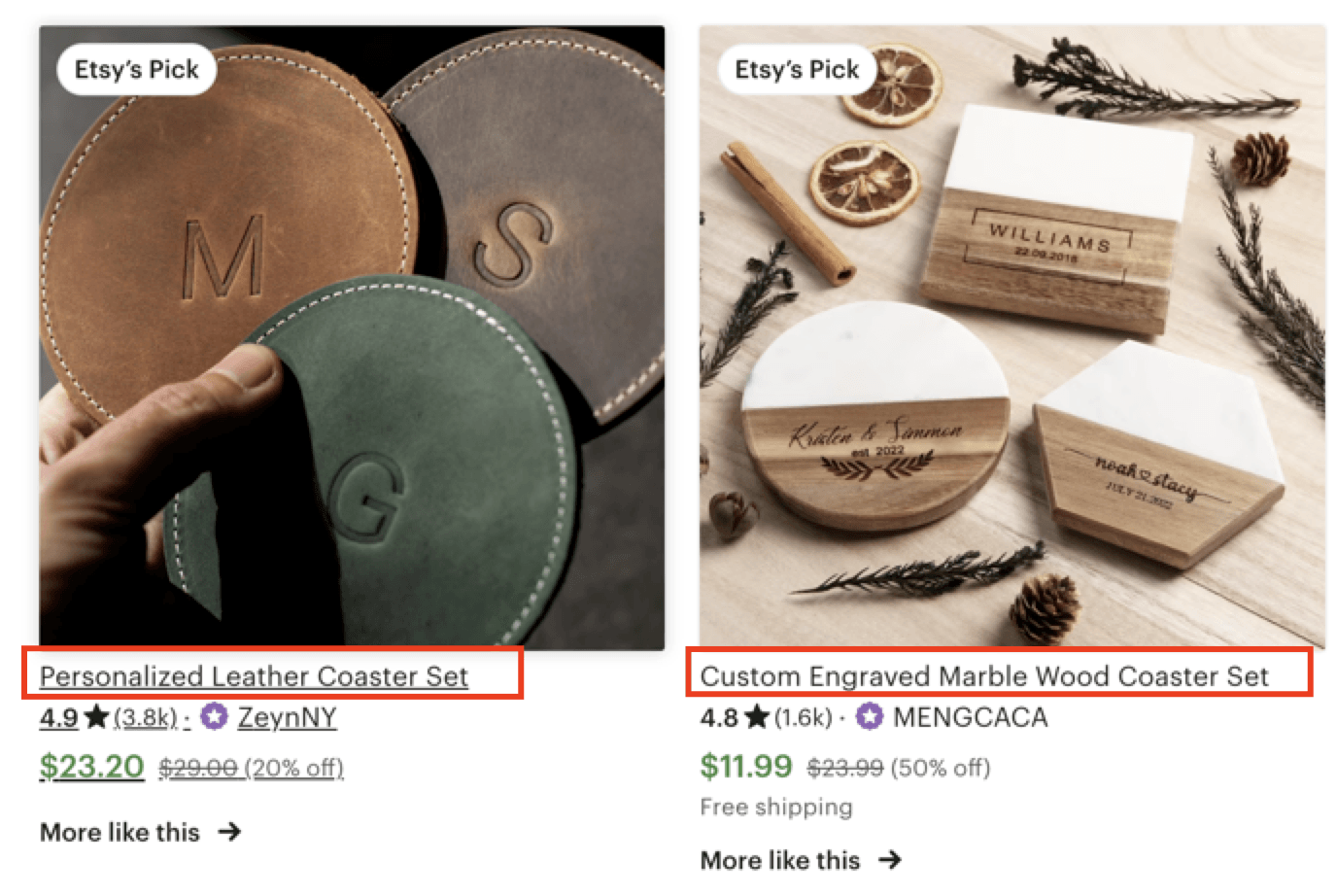 The product title should include your main keyword and descriptors to give a concise, clear vision of what your item is. Ideally, users should be able to imagine what your product looks like just form the title, without any images.
Your product description appears on your listing for desktop and mobile. You can make the description as long as you want, but try to only include necessary information that encourages users to buy: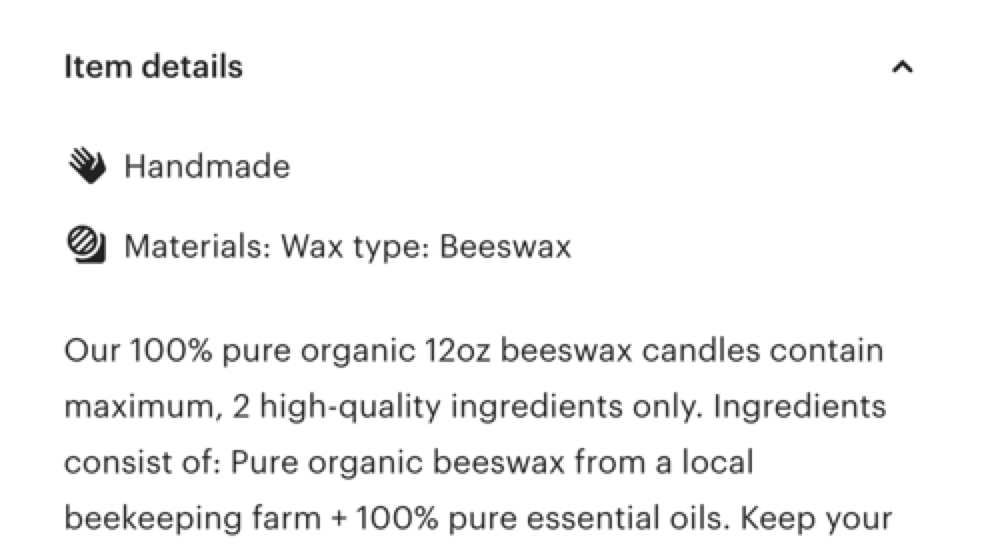 Your title and description will help Etsy and Google pull your product for relevant queries.
3. Optimize your shop title
You can also optimize your shop title to help improve Etsy SEO. If possible, try to include your primary offering in your shop title to make it easier for users and algorithms to recognize your relevance:

So, if you sell cookies, candles, or jewelry, they can gather that based on your shop title.
4. Apply all available product tags to every listing
Etsy lets you add up to 13 different product tags to your listing: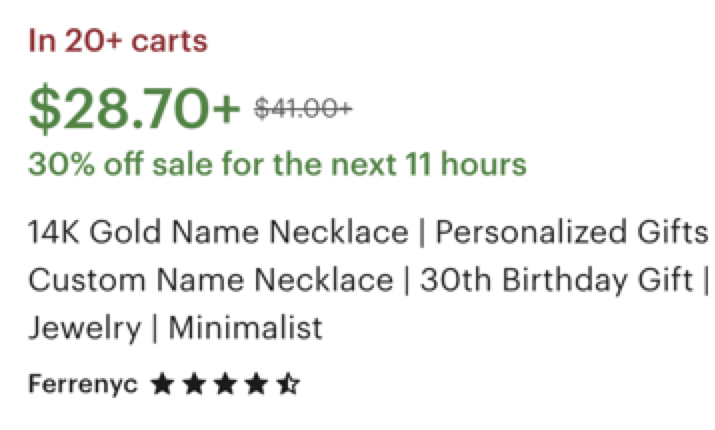 Take advantage of all the options available and add more details to your product listing. Not only will you have more chances to target keywords, but you'll also make your listing look more complete and fuller.
5. Select categories and attributes
Etsy lets you select a category for your listing on Etsy. However, you can only list each item in one category. So, if you make necklaces, you can't list them in multiple categories even if they technically fit:
Choose your categories and attributes based on the most prominent features. This will help your item rank and appear more relevant based on that category.
6. Use clear images and put the best image first
Your product images are crucial to helping users decide if your item is right for them. You can upload multiple pictures and videos to every listing: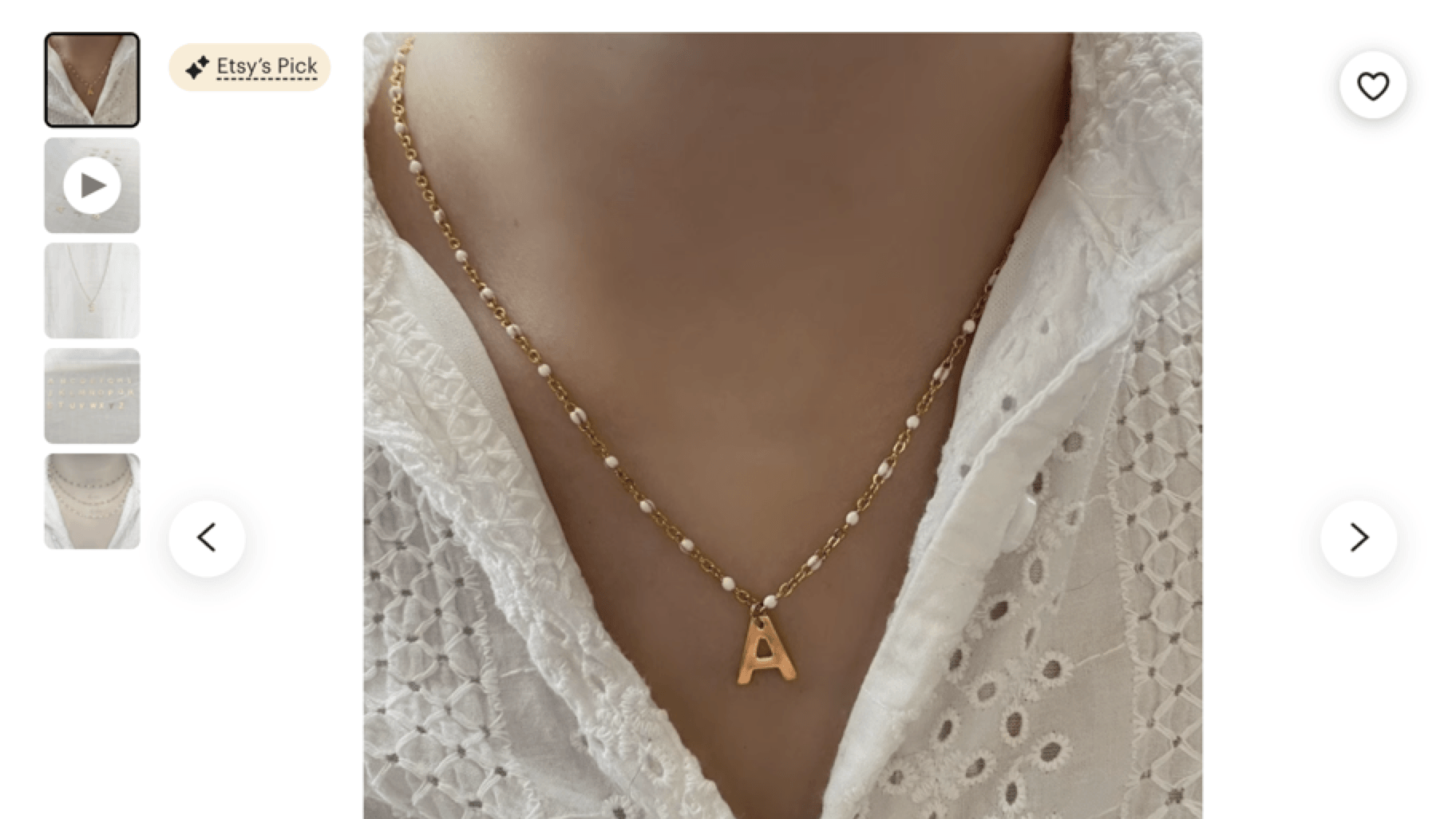 The first image in your listing should be the best one. You should have a clear image of the entire product, how it looks, and no other distracting elements. Unlike Amazon, for example, you don't need a blank background, so you can showcase the item in action.
If you have a size chart or reference, include that in your images to give users a better idea of how big the item is.
7. Work on your prices
Unfortunately, shipping prices do make a difference in your listing. If someone can get a similar item with a lower shipping cost, they will probably do so, which hurts your rankings:

If you can adjust your prices to include shipping so you still profit, your customers will be more content with their order. Or, you could offer specials every so often to give users a chance at free shipping.
8. Update your listings regularly
Since Google and Etsy both use timeliness as a factor, you should try to update your listing every so often. You don't have to redo all the work you've invested — refreshing the copy and images every so often can keep your shop fresh and up-to-date.
Drive steady traffic with ongoing SEO
Whether you want to attract new business to your Etsy shop or invigorate your website, SEO is a great tool that brings steady traffic over time. Explore our blog and resources to learn more about SEO for your business, and contact us today with any questions or to get started with professional SEO services!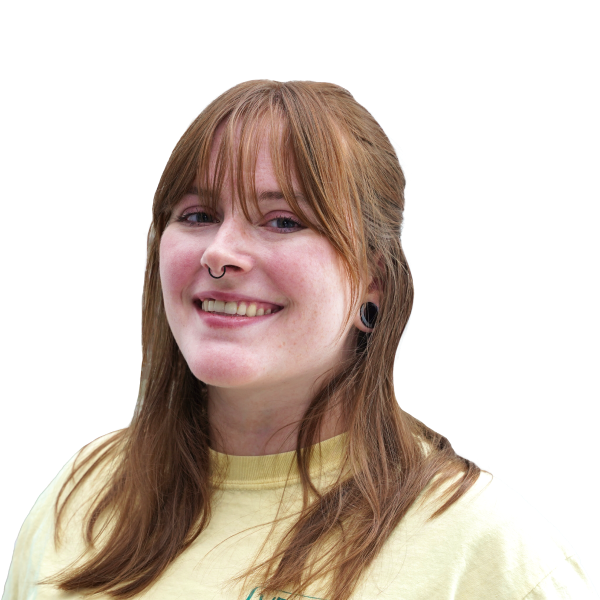 Abbey is a digital marketer, copywriter, and lead editor. She has worked on over 200 client campaigns and WebFX, and she specializes in marketing strategy analysis and industry-specific digital marketing plans. Outside of writing and editing, you'll likely find her taking pictures of her cat, making a new playlist, or tending to her houseplants.
What to read next
My Site Isn't Showing Up on Google! Discover 6 Reasons Why Your Site Isn't Ranking
Keep Reading