Artificial intelligence (AI) continues to take a more prominent role in our world daily. The marketing world is no exception –– more businesses rely on AI technology today to help them manage their marketing strategies. One of those tools is ChatGPT.
But can you use ChatGPT for SEO? Yes! On this page, we'll dive into how to use ChatGPT for SEO and answer all your burning questions.
Keep reading to learn more!
What is ChatGPT?
ChatGPT is an AI chatbot that converses with humans and provides them with information they need in a brief response. People can use this technology to have the chatbot write them an article, share a joke, answer questions, or solve problems.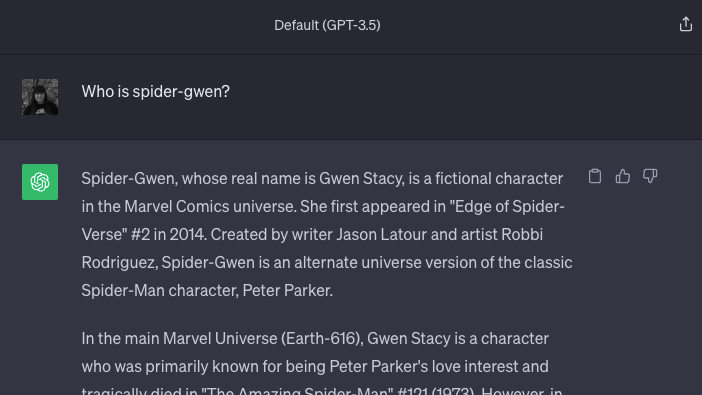 How to use ChatGPT for SEO
Here's how to use ChatGPT for SEO effectively:
1. Generate related keywords
One way of using ChatGPT for SEO is to generate related keywords. Keyword optimization is a critical component of SEO –– it's what gets your pages to appear in relevant search results. However, finding the right keywords is a difficult task that ChatGPT can make easier.
If you have your initial keyword, you can prompt ChatGPT to generate related keywords for you. In this example below, I asked for keywords related to "how to build a PC":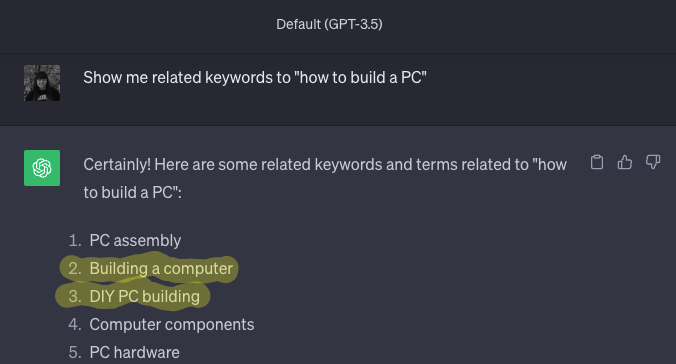 Keep in mind that, much like using a keyword research tool, not every keyword suggestion is a good one that will fit for your page. From this example, I highlighted keywords like "building a computer" and "DIY PC building" because they're great options for a page targeting how to build a PC.
2. Create title tags
If you want to do ChatGPT SEO, try using this tool to create title tags for your pages. Title tags are the first thing your audience sees when they search. They should be enticing and drive people to click on your page.

Since you need to make a title tag for every page on your website, you may struggle to create a new one each time. ChatGPT can help generate ideas for you, so you can write an interesting title tag.
In this example, I asked for title tag suggestions for the keyword "how to create a video game," and ChatGPT gave me multiple suggestions.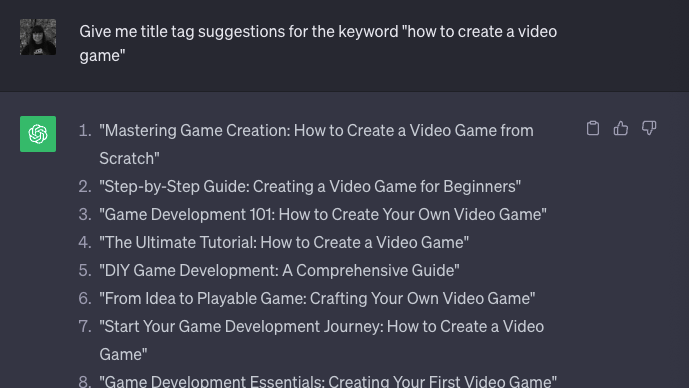 If you feel overwhelmed with all the options, you can instead ask for just one title tag suggestion, like I did below: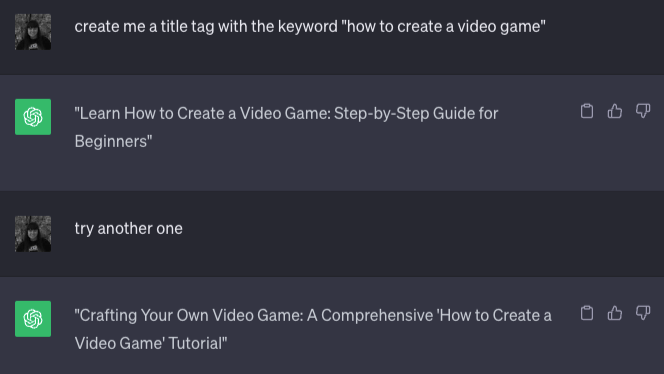 If you feel stuck with coming up with an appropriate title tag, using ChatGPT is a great option to help get the creative juices flowing.
3. Create meta descriptions
Using ChatGPT for SEO by creating title tags is one option –– you can also use it to develop meta descriptions. Your meta description is the piece of information that appears below the title tag. It provides a preview of what to expect on the page.

If you need help generating a meta description for your page, try using ChatGPT. Just ask it to generate a meta description for you to get ideas.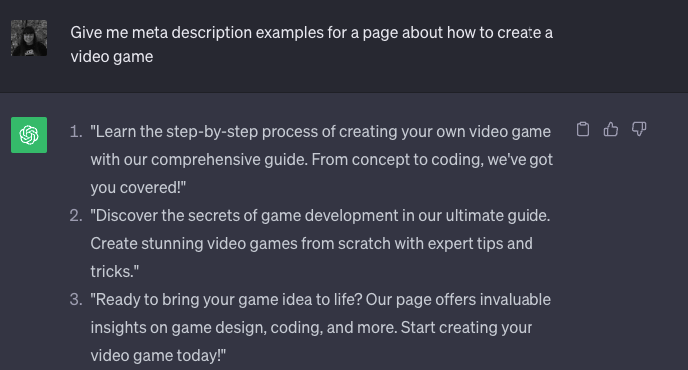 It's a great way for you to get ideas, especially if you're stuck on how to write a meta description that will generate clicks!
4. Get help with content planning
If you're still not sure how to use ChatGPT for SEO, try using it to help with content planning. This tool is especially helpful if you're just starting out with creating content, but you don't know where to start.
You can use ChatGPT to identify content clusters. Content clusters are like categories of content relevant to your business and industry.
In this example, I asked it for a content cluster for a video game company. It produced numerous ideas: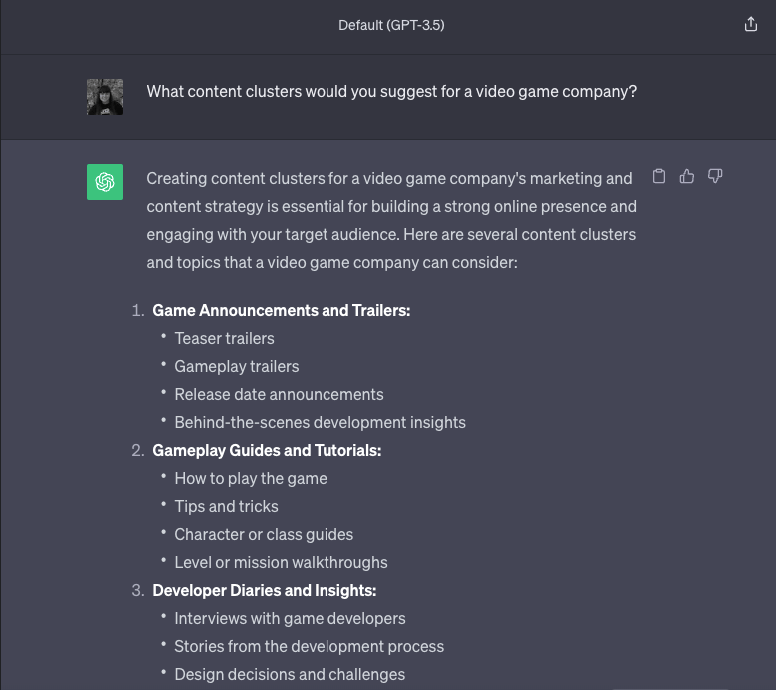 ChatGPT gave a range of ideas of content clusters I could use, from gameplay guides to Q&As with developers.
This tool is a great resource for helping guide your content planning. It can help you identify types of content to create on your website.
5. Identify content topics
When using ChatGPT for SEO, it's a great idea to have it help you identify content topics. ChatGPT can help you identify clusters of content, but also topics within those clusters.
As an example, I asked ChatGPT for suggestions of topics on video game development. It delivered a response that covered everything from principles of game design and art to animation and narrative: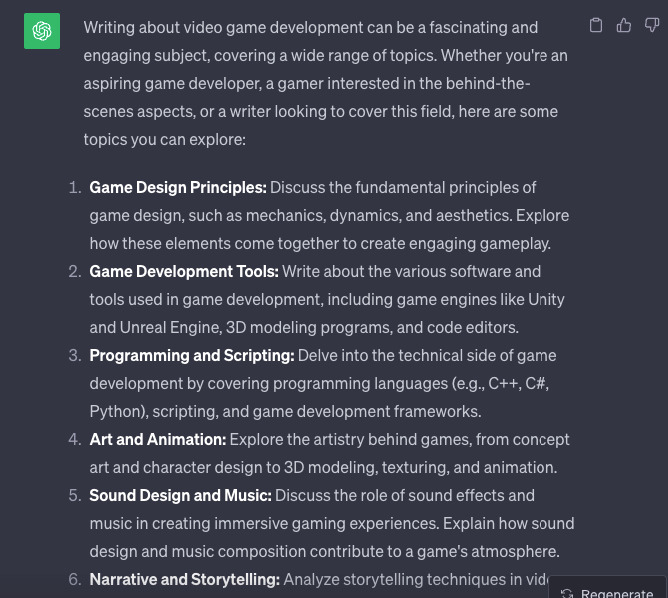 It's a great tool to use if you know you want to cover a certain area of information but aren't sure about the specific topics.
6. Create FAQ pages
Another great way to use ChatGPT for SEO is creating FAQ pages. There are always topics in your industry that people want to know more about, and you can provide the information to earn more traffic. The tricky part is knowing what questions they're asking about that topic.
While Google's People Also Ask section can be a good resource for question inspiration, ChatGPT is an even better option. You can ask it what questions people have about a topic and generate dozens of queries.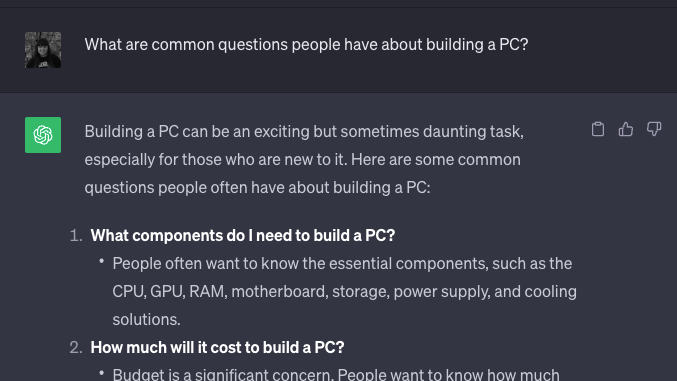 7. Understand search intent
If you're using ChatGPT for SEO, try using it to understand search intent. When you search a target keyword, you may feel unsure about what people want to know on that topic. You can put your keyword into ChatGPT and ask it what the search intent is for that term.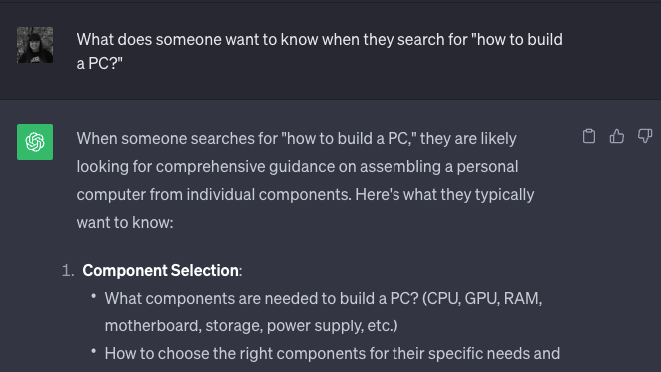 This query addresses that people want to know things like the tools and components they need to build the PC.
Always check the search intent on Google first, since that information is what ranks. ChatGPT can give you an idea of what these pages might be missing, so you can add it to your page.
8. Generate schema markup
Try using ChatGPT to generate schema markup. Schema markup is crucial for search engines –– it enables them to understand the information on your website.
Since schema markup can be confusing, ChatGPT is a great option. It can generate the coding for you, so you don't have to struggle with it.
Just input the information that needs the markup and let ChatGPT do the work!
You can generate schema markup for things like FAQs, reviews, and video information.
FAQ about using ChatGPT for SEO
Have some lingering questions about using ChatGPT for SEO? Check out this FAQ section!
Is ChatGPT free?
ChatGPT offers a free and paid version at the moment. You can use the free version to ask basic questions like the ones asked in the examples above.
Should I use ChatGPT to write my content?
You can use ChatGPT to help write your content, but use it with caution.
Truthfully, AI tools like ChatGPT are not a replacement for writing authentic content. AI tools can't showcase emotion or come up with original examples. It can't add that humanistic element that engages people while reading content.
This humanistic content is what keeps people reading your content, which sends positive signals to Google and gets your content to rank.
So, overall, ChatGPT is a good supplemental tool to use to aid your writing, but it's not a replacement for the real thing.
Is ChatGPT capable of doing keyword research?
Yes! ChatGPT can help you find relevant keywords for your pages. As mentioned above, you can take a keyword and find related keywords to include in your pages.
Keep in mind, though, that all ChatGPT does is find relevant keywords for you. It can't tell you the search volume of a keyword, the competitiveness, or the cost-per-click (CPC).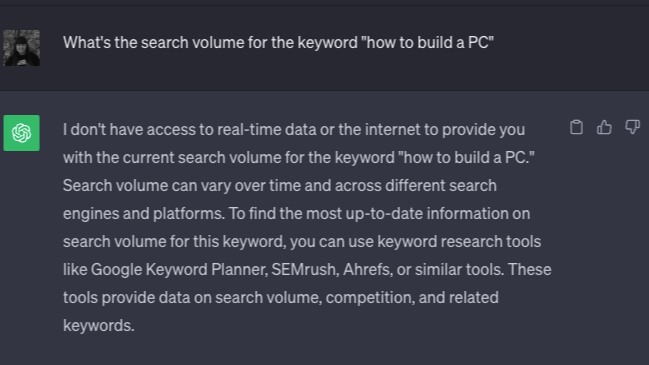 This tool is mainly for finding keyword ideas, so you'll still need a tool that tells you the value of those keywords once you find them.
Does ChatGPT generate unique content?
No. When using ChatGPT for SEO, keep in mind that this tool doesn't have the capability to generate unique content.
This tool pulls information from across the web and consolidates it. It can't generate anything new or unique for your business.
How accurate is the information ChatGPT provides?
ChatGPT doesn't use real-time data to generate information. In early 2023, ChatGPT was only using information from as early as 2021. So, anything that came out in 2022 was not factored into its responses.
So, if you need information that's current, ChatGPT can't provide it for you. You'll have to use a search engine like Google to find accurate and updated information.
Want to learn about more topics like how to use ChatGPT for SEO?
Looking to expand your knowledge beyond ChatGPT for SEO? Check out our blog to learn all things SEO, from technical SEO to on-page optimizations to content writing!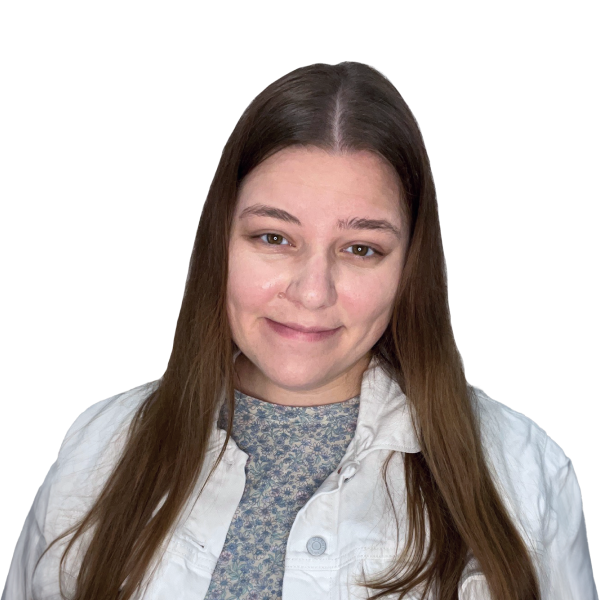 Macy is a marketing writer with over five years of experience creating content for dozens of industries including food and beverage, home services, and education. She also specializes in creating SEO and PPC content. Her work has been featured by Search Engine Journal, HubSpot, Entrepreneur, Clutch, and more. In her free time, Macy enjoys trying new crafts and reading comic books.