Understanding search engine optimization (SEO) can help give you an edge over competitors. If you want to learn more about SEO but aren't sure where to begin, this SEO FAQ is for you.
We will give answers to common SEO questions and answers in the following sections:
Scroll down for our FAQ on SEO and get the answers to all the questions you can think of!
Basic SEO FAQs
First up on our SEO FAQ we have these basic questions:
What is SEO?
What are search engine results pages (SERPs)?
Do I need SEO?
How does SEO work?
How long does SEO take?
What SEO factors affect rankings?
Read on to get started with SEO.
1. What is SEO?
SEO is the process of optimizing your website to appeal to search engines and users. SEO helps you rank higher in search engine results pages (SERPs) and find more users who would be interested in your business.
2. What are search engine results pages (SERPs)?
SERPs are the pages that Google shows whenever a user enters a query into the search bar. There are many different parts of the SERPs to target.
Google creates SERPs to give users the best experience possible, and as an SEO expert-in-training, it's your job to know how to rank amongst them so your website appears at the top.
3. Do I need SEO?
Yes. If you have a website for your company and you want to convert searchers, you must optimize your website for search engine algorithms.
Any company with a website needs SEO to rank and give your users an enjoyable experience. Even if your goal isn't ranking (even though it should be), you can use SEO optimizations to create a useful, interactive website that helps users learn more about your company and products.
4. How does SEO work?
SEO works by incorporating different strategies that target search engine algorithms. Google, for example, uses over 200 factors to rank websites. SEO helps you target those different factors to the best of your ability and gives your site a better chance at ranking for keywords.
SEO is also meant to help users find, browse, and convert on your site, which all reflects well to Google and other search engines. As you make changes to your site, you can track different metrics, like:
Traffic
Clicks
Conversions
Session time
Bounce rate
All of these can tell you what pages are working and which aren't, helping you optimize your site further.
5. How long does SEO take?
It can take anywhere from six months to a year to start seeing SEO results as long as you don't stop your SEO efforts. Since SEO is an ongoing process, you should think of it as an investment. You put in a lot of work and budget upfront to get your site up to speed, and then you can see more revenue return over time.
6. What SEO factors affect rankings?
While no search engine algorithm is completely public, there are a few different factors that we suspect impact rankings, like:
Advanced SEO FAQs
These questions cover more advanced, in-depth SEO topics:
What are the types of SEO?
How do I find keywords?
What are the different types of traffic?
Why isn't my website converting?
What is a Google penalty?
How does Google's algorithm work?
Let's dive a little deeper into SEO.
7. What are the types of SEO?
There are five types of SEO — on page, off page, technical, enterprise, and local. These types of SEO encompass all the techniques and strategies that exist to improve your website.
Here's a brief definition of each:
On page: Changes you make on your website to improve SEO.
Off page: Changes outside of your website that improve SEO.
Technical: Backend technical changes that impact SEO.
Enterprise: SEO focused on large companies that span a region or nation.
Local: SEO focused on companies that only serve a specific area.
8. How do I find keywords?
To find keywords, you can look at the SERPs, use a tool, or view your competitor's websites.
Looking at the SERPs, you can start with a base term and use the "People Also Ask" section to see what other questions and terms are popular. This tactic helps you find relevant related terms and ideas for your page.
Tools like Keywords Everywhere and Ahrefs can help you find related keywords for your page. And, with Ahrefs, you can analyze competitor sites and see what keywords they are ranking for.
9. What are the different types of traffic?
The two types of traffic are paid and organic. Paid traffic is what it sounds like — sponsored content that businesses pay for. These results are at the top of the SERPs with a tag distinguishing them: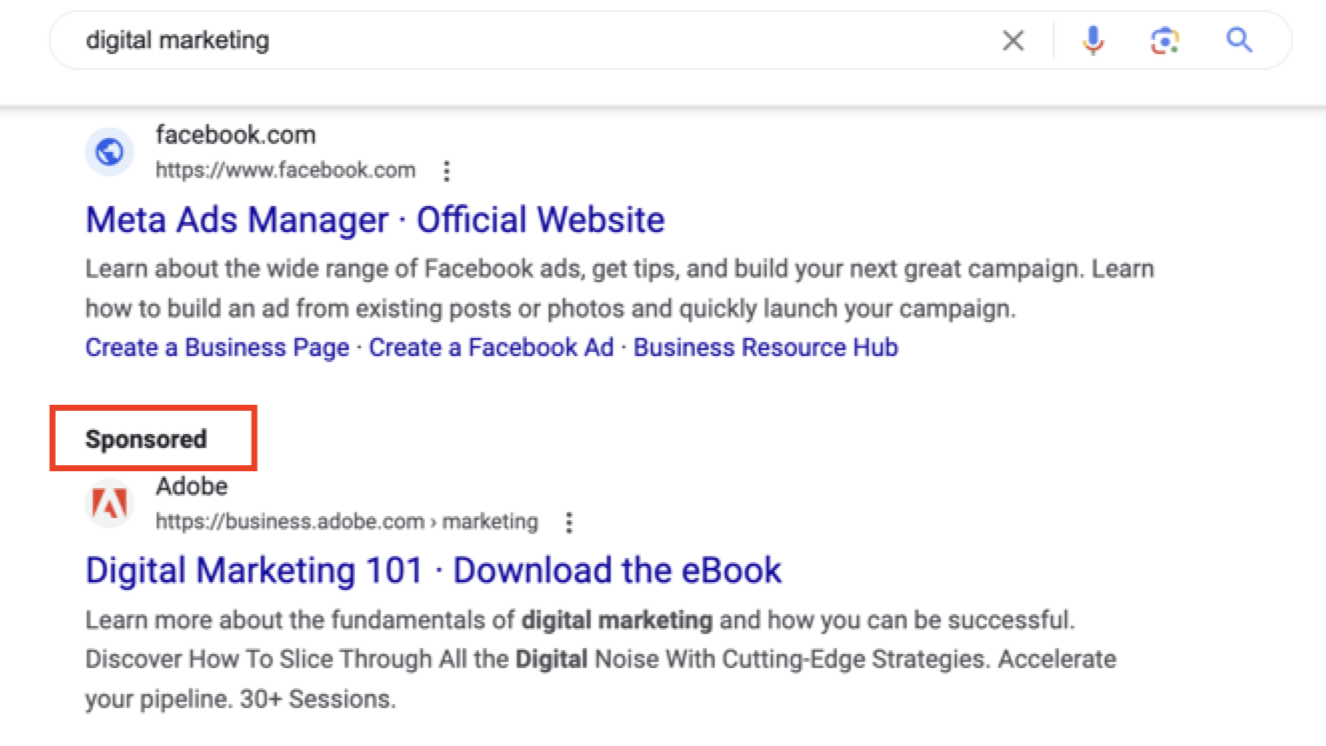 Organic traffic – the main target of SEO — comes unpaid from Google's algorithm.
10. Why isn't my website converting with SEO?
Your website could be missing conversions for a number of reasons, including:
Your landing pages aren't effective
Your site is hard to navigate
Your web design is hard to look at
You don't explain your products/services through copy
You don't use direct call to actions (CTAs)
SEO can help you improve all these issues over time.
11. What is a Google penalty?
A Google penalty (manual action) is a negative consequence inflicted on a website based on Google's search algorithm. If you don't meet Google's standards, you will get penalized, which negatively affects your website and its rankings.
12. How does Google's algorithm work?
Google's algorithm works by looking at many factors and signals to determine which sites are the most relevant for the search. Some factors include the query's words, page relevance, expertise of the source, and the searcher's location.
Google's algorithm is not public information, but SEO experts have studied what works and doesn't over the years to help users create sites that rank well.
Technical SEO FAQs
SEO also includes technical aspects of your website. Here are some basic questions to get started:
What is technical SEO?
What is a good page speed?
What is domain authority?
What is a sitemap?
What is meta data?
Read on below!
13. What is technical SEO?
Technical SEO involves optimizing the backend technical parts of your website to help it rank higher in search engines. This process ensures that your pages render and load correctly, are easy to navigate, and have proper link structure, to name a few factors.
14. What is a good page speed?
A good page speed is loading in under two seconds. Ideally, when using Google's PageSpeed Insights, you want to score a 90 or above.
15. What is domain authority (DA)?
DA is a search engine ranking score developed by Moz that predicts how likely a website is to rank in the SERPs. This score is not affiliated with Google's algorithm, but it can be helpful to know your DA to see how much you can improve your site in general.
16. What is a sitemap?
A sitemap is a map of all the pages on your website. There are two types — HTML and XML. HTML sitemaps are pages of links that direct users to other areas of your site: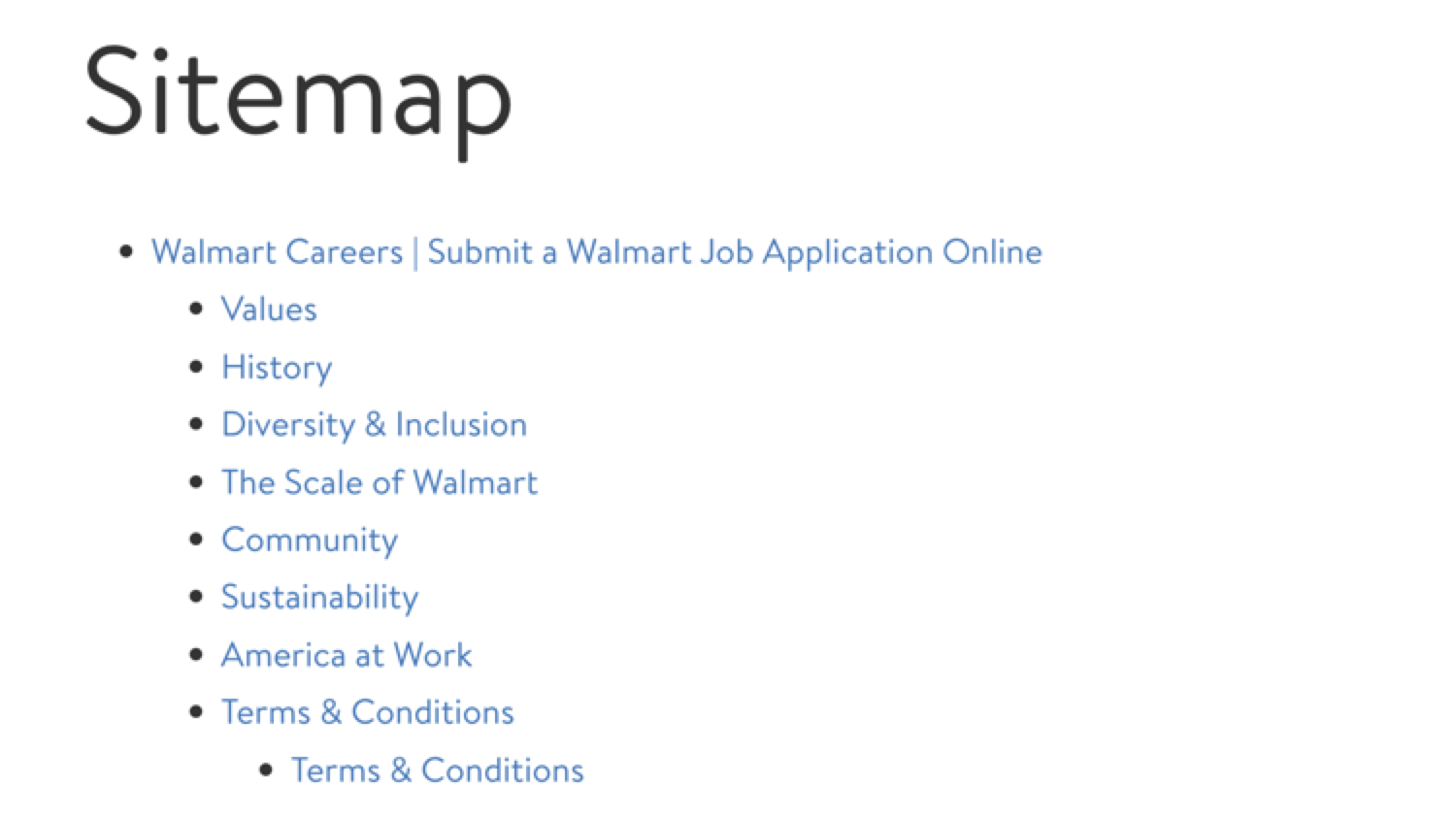 AN XML site is a piece of code you submit to Google to help index your pages and increase their chances of ranking. This page breaks down how to create and submit a sitemap to Google.
17. What is meta data?
Meta data is data that describes other data. In reference to your website, it's snippets of code that tell search engines information about your page. This includes the title, target keyword, and description, all of which appear in the SERPs when users browse the results.
Local SEO FAQs
There are different kinds of SEO, like local SEO, which can make a big impact on your business. These SEO questions and answers will help you learn more about local SEO:
What is local SEO?
What keywords should I use for local SEO?
Do I need local SEO?
18. What is local SEO?
Local SEO is a type of SEO that targets users within a specific geographic area. Businesses use local SEO to find users in their area, specifically if they have a specific service area or don't work outside of a particular region.
Local SEO also helps you target local search results: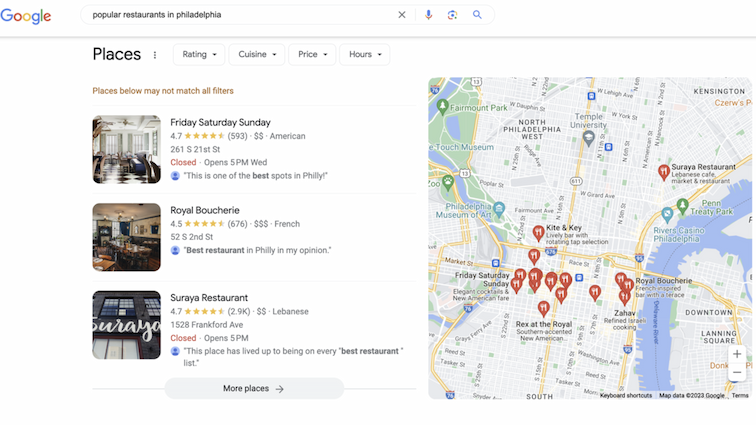 Creating a Google Business Profile and using local keywords can help you find users in your area and land on the map.
19. What keywords should I use for local SEO?
You should use keywords for local SEO that include your location, services, and related terms. Local keywords aren't different from regular keywords except that they focus on your location.
20. Do I need local SEO?
Businesses that serve a particular region or location could benefit from SEO. However, if you operate strictly online or have no geographical limitations, you can benefit from enterprise SEO instead.
Link building SEO FAQs
This section covers all things to do with linking:
What are the different types of links?
How do I earn backlinks?
Is linking good for SEO?
How do I add internal links?
What is anchor text?
21. What are the different types of links?
There are three different types of links — internal, eternal and backlinks. You can use them to grow your SEO and boost your chances of ranking.
Here's an overview of each:
Internal links: Lead from one page on your site to another page on your site.
External links: Lead from a page on your site to a page on another site.
Backlinks: Lead from another website to a page on your website.
22. How do I earn backlinks?
You can earn backlinks by asking for them, writing content that earns them naturally, writing guest content, or finding areas on websites that could benefit from a new link.
All of these options are white-hat, acceptable ways of earning backlinks. Avoid buying backlinks or working with spammy websites — this could negatively impact your SEO.
23. Is linking good for SEO?
Linking is good for SEO because it shows how pages are connected (internal links) and shows Google that your page is a reputable website (backlinks). Whether you have a small site or a large one, having a solid linking system and reputable backlinks can help grow your SEO.
24. How do I add internal links?
Internal links are hyperlinks that you add to text. Highlight the text you want to add a link to and add the link to an appropriate page. Depending on your hosting platform, the process might change, but the overall steps are the same.
25. What is anchor text?
Anchor text is the word or phrase that you attach a link to. So, when you link out to a page, the text that holds the link is the anchor text.
Here are some anchor text best practices:
Don't use keywords as anchor text
Keep it short, about 4-6 words
Spread out your links and only add them if they could benefit the user
Add links to quotes or statistics
SEO content FAQs
To round out this FAQ on SEO, we will answer a few questions on SEO content:
What is content marketing?
How does content marketing work?
What are examples of content marketing?
Does content help SEO?
Can I use artificial intelligence (AI) for SEO content?
26. What is content marketing?
Content marketing is the process of creating online material to boost brand awareness and generate interest.
Content can include anything from infographics and videos to newsletters and blogs. Your content can help you integrate keywords, build authority, and grow your audience naturally.
27. How does content marketing work?
Content marketing works by showing customers your expertise, personality, and brand in a non-sales-oriented context. With content marketing, you can share your voice and be more personable to users, with the ultimate goal of converting them down the road.
28. What are examples of content marketing?
Some examples of content marketing include Spotify's Wrapped program, which the company does at the end of the year. Spotify creates personalized playlists and graphics based on individual user data:

29. Does content help SEO?
Yes, content helps SEO, especially when you publish it regularly. Content helps SEO through the following benefits:
Growing visibility on search engines
Improving keyword integration
Improving your authority and expertise
30. Can I use artificial intelligence (AI) for SEO content?
While AI can help you with outlining or research, it is best to avoid relying on it for content. Regardless of how much you use it, you will always have to edit the content to give it a human touch. Plus, you want your content to read naturally, and that doesn't always happen with an AI tool.
Get more answers to your questions on SEO.com!
These questions are just the start of everything there is to do with SEO. If you want to learn more, keep reading and learning from SEO.com!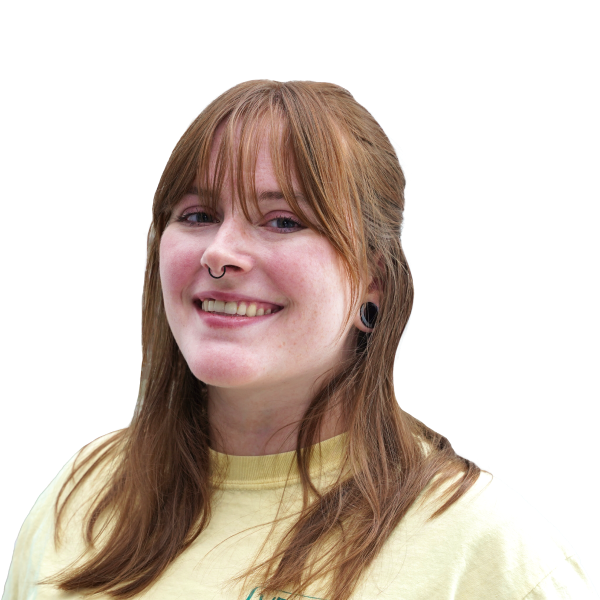 Abbey is a digital marketer, copywriter, and lead editor. She has worked on over 200 client campaigns and WebFX, and she specializes in marketing strategy analysis and industry-specific digital marketing plans. Outside of writing and editing, you'll likely find her taking pictures of her cat, making a new playlist, or tending to her houseplants.
What to read next
My Site Isn't Showing Up on Google! Discover 6 Reasons Why Your Site Isn't Ranking
Keep Reading