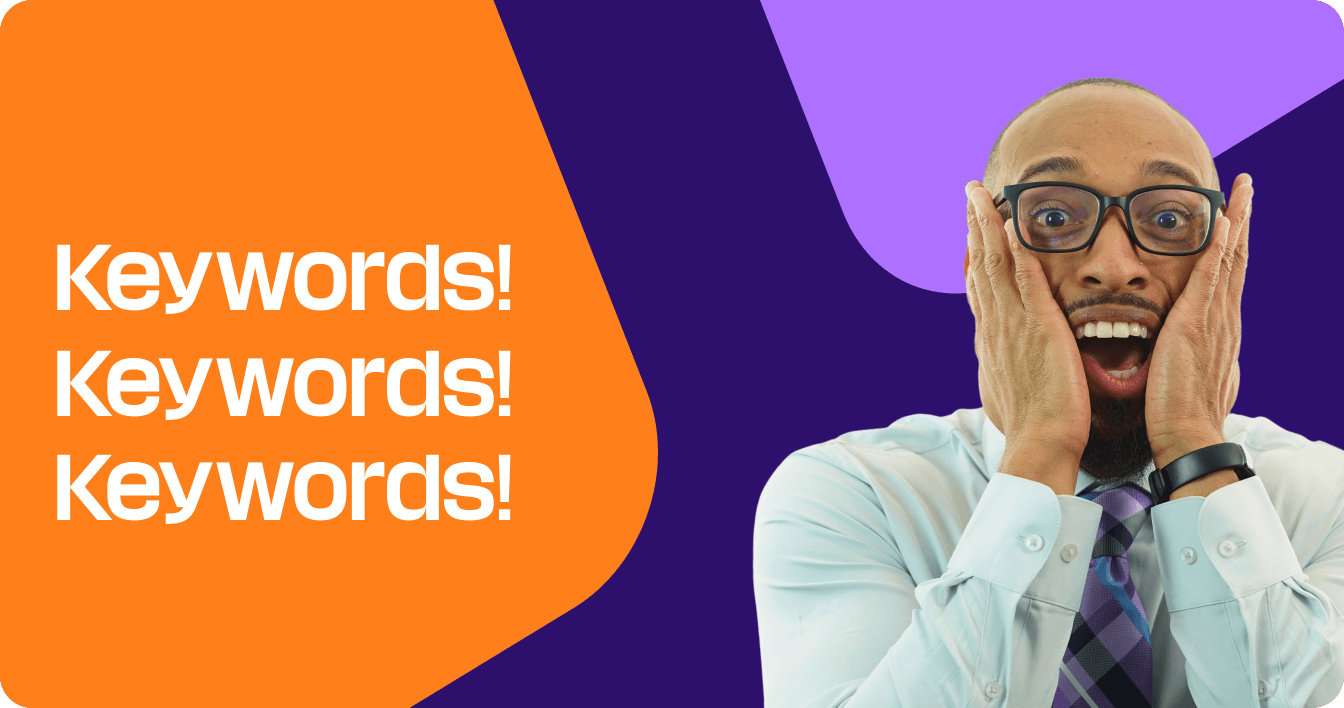 Alongside search volume, keyword difficulty (or keyword competition) is one of the most important metrics in keyword research. With this metric, you can make informed decisions about your keyword targeting strategy by understanding which keywords your site can realistically rank for in search.
Learn more about keyword competition in search engine optimization (SEO) now!
What is keyword difficulty?
Keyword difficulty is the estimated ranking difficulty for a keyword. Keyword difficulty is measured manually through domain, backlink, and SEO analysis or automatically through tools like Ahrefs and Semrush, which score a keyword's difficulty from 0-100, with 0 being easiest and 100 being hardest.
Why is keyword difficulty important in SEO?
Keyword difficulty is important in SEO for a few reasons, including the following:
Build a data-driven SEO strategy: With keyword difficulty, you base your SEO strategy on data. You target keywords your website can realistically rank for that are relevant to your audience and have an attractive search volume.
Optimize SEO resources: Focusing your strategy on viable keywords also optimizes your in-house resources. For example, you don't spend hours producing a 2000-word guide for a keyword with a high difficulty score that your site doesn't have the power to target.
Achieve results: Keyword difficulty builds on its importance by helping you achieve results. Since keyword difficulty helps you focus on the most viable and valuable keywords for your business, it also enables you to achieve results, from rankings to traffic to conversions.
When it comes to SEO, keyword difficulty is critical to a successful strategy.
What is a good keyword difficulty?
What makes a "good" keyword difficulty score is relative to your site. Keyword difficulty depends heavily on your site's backlink profile, which is why websites with stronger backlink profiles can target keywords with greater difficulties.
How do you use keyword difficulty in SEO?
You can use keyword difficulty in SEO a few ways, including the following:
Help your keyword research efforts
Analyze your competitors' keyword targeting strategy
Support your pay-per-click (PPC) team with additional insights
You'll usually use keyword competition in SEO for keyword research.
What determines keyword difficulty in SEO?
Keyword difficulty in SEO is determined in several ways, including by tool. Learn more below:
Ahrefs
Ahrefs scores keyword difficulty on a 0-100 scale, with 0 being easiest and 100 being hardest.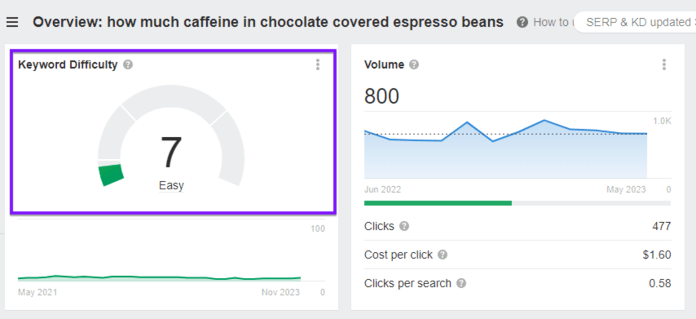 The platform calculates keyword difficulty by counting the number of sites linking to each of the top 10 search results. The higher the number of sites, the higher the keyword difficulty score. Ahrefs uses just backlinks because it's a confirmed, easy-to-measure metric.
Semrush
Semrush scores keyword difficulty on a 0-100 scale, with 100 being hardest and 0 being easiest.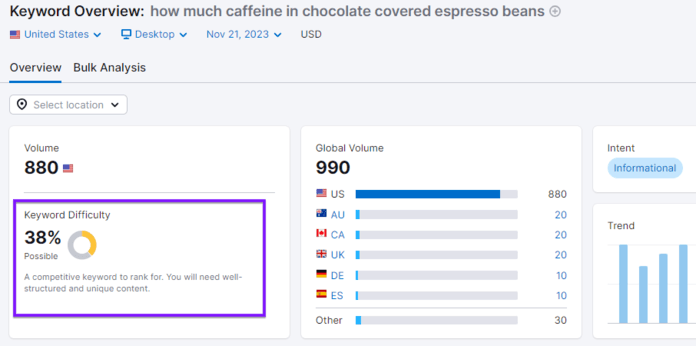 The platform calculates keyword difficulty by evaluating a keyword's top 10 search results':
Median number of referring domains
Median ratio of dofollow and nofollow links
Median Authority Score, which measures overall SEO performance, of URLs
Semrush also analyzes elements specific to the search result, like search volume, People also ask, sitelinks, local pack, knowledge panel, and more, to generate its keyword difficulty score, which separates it from Ahrefs' approach.
Manual
Manual scoring or evaluation happens by reviewing the following (which we'll explore in-depth next!):
Ads
Domains
Backlinks
Content
SEO
In some cases, SEO teams will develop an automated scoring system based on these methods.
How to check keyword difficulty
If you're looking to check keyword difficulty manually (vs. using a tool), follow this checklist:
Ads
While separate from keyword competition in SEO, ads are also a viable way to evaluate keyword competition. That's because paid search ads indicate the keyword has a significant search volume, which can mean greater keyword difficulty.
Look at the advertisers displayed in the paid search results.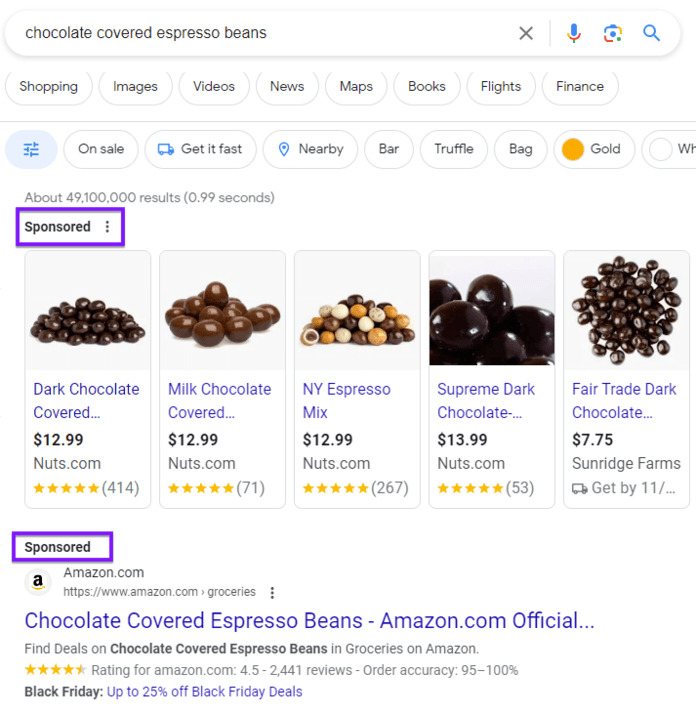 If you see well-known brands, their presence can indicate a keyword with a higher keyword difficulty score. In comparison, the keyword likely has a lower difficulty score if you don't see any ads or lesser-known brands.
Domains
While SEO platforms like Ahrefs have designated metrics for measuring a domain's power, like Domain Rating (DR), you don't need an SEO tool to analyze a domain's power. If you see well-known brands ranking on the first page of search results for a given keyword, the keyword is likely high competition.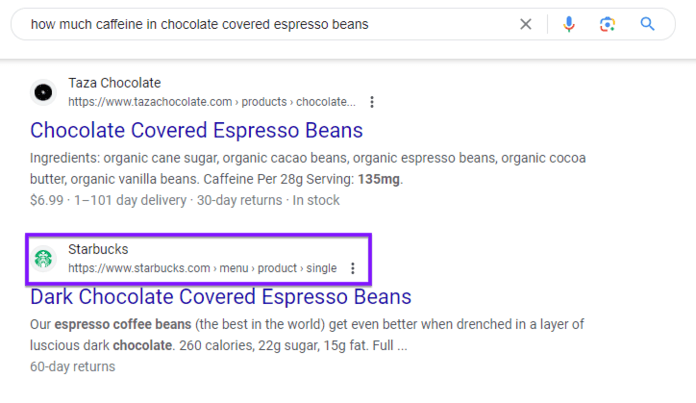 That's because well-known brands often have powerful backlink profiles due to their reputation.
You can experiment with this manual evaluation factor by checking the corresponding keyword difficulty score in Ahrefs or Semrush. You'll likely find a higher keyword difficulty rating corresponds with top-ranking pages that have a higher Domain Rating or Domain Authority Score, respectively.
Backlinks
Backlinks are one of the most effective methods for analyzing SEO keyword difficulty — even Ahrefs and Semrush credit backlinks with powering their keyword competition scores. Within either of these platforms, you can evaluate the top-ranking pages and their backlink profiles.

Here, you can analyze backlinks at the page- or site-level.
While you'll want to consider the site's overall backlink profile, it's also worth analyzing the page's backlink profile. A site and page with a strong backlink profile are competitive and can indicate you'll need an equally strong overall backlink profile to compete for a page-one spot.
Content
Content is challenging to measure, even though platforms like Semrush try with their keyword difficulty metric. That's why reviewing the top-ranking pages and their content's quality, usability, and helpfulness is worth your time.
In most cases, you'll need to produce content on the same level (but preferably better).

For example, if you're looking to target a keyword with interactive content, you might realize it's too competitive from a design, development, and implementation standpoint. However, if it's a text-based page, you might have found a viable keyword to target.
SEO
Surprisingly, not all websites practice search engine optimization.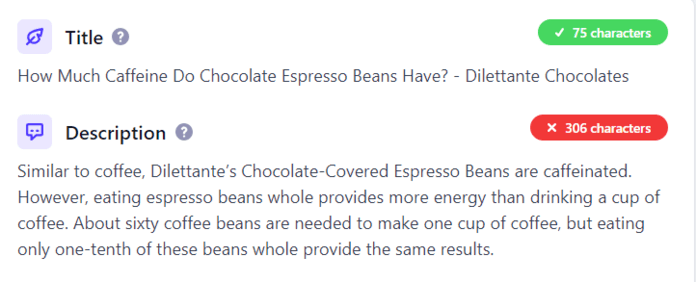 Analyzing the top-ranking pages and their on-page SEO can help you better understand the keyword's competitiveness. You might have found a low competition keyword if the pages aren't optimized for the specific keyword or show poor SEO.
Areas you can check for SEO include:
Title tag
Meta description
Keyword insertion
Keyword targeting
You'll get a baseline for the URL's SEO optimization from these key elements.
Learn more about keyword difficulty in SEO
Congrats, you've learned the basics of keyword difficulty in SEO! If you want to learn more about keyword competition in SEO, follow the SEO.com blog to hear from our search engine optimization experts on their keyword research tips and tricks!
Don't fail your website's
most important test
Get an SEO scorecard of your website for free in less than 30 seconds.
---
FAQs about keyword difficulty
Get answers to common FAQs about keyword SEO difficulty now:
Should keyword difficulty be high or low?
Whether keyword difficulty should be high or low depends on your site and its backlink profile. The stronger the backlink profile, the more freedom you have in choosing between keywords with a high or low keyword competition score.
Is a high keyword difficulty bad for SEO?
A high keyword difficulty is not bad for SEO.
As your site becomes more authoritative, you'll likely target keywords with greater keyword difficulty because you'll have a better chance of ranking on page one for those keywords. A high keyword difficulty is bad for SEO when your site can't realistically rank for the term.
What is the best tool for measuring keyword difficulty?
In our experience, preference varies between Ahrefs and Semrush for measuring keyword difficulty.
If you compare the two, you will notice differences in keyword competition scores, which makes sense since Ahrefs uses a single factor and Semrush uses multiple factors to measure keyword difficulty. We recommend considering the platforms overall when choosing one for keyword research.