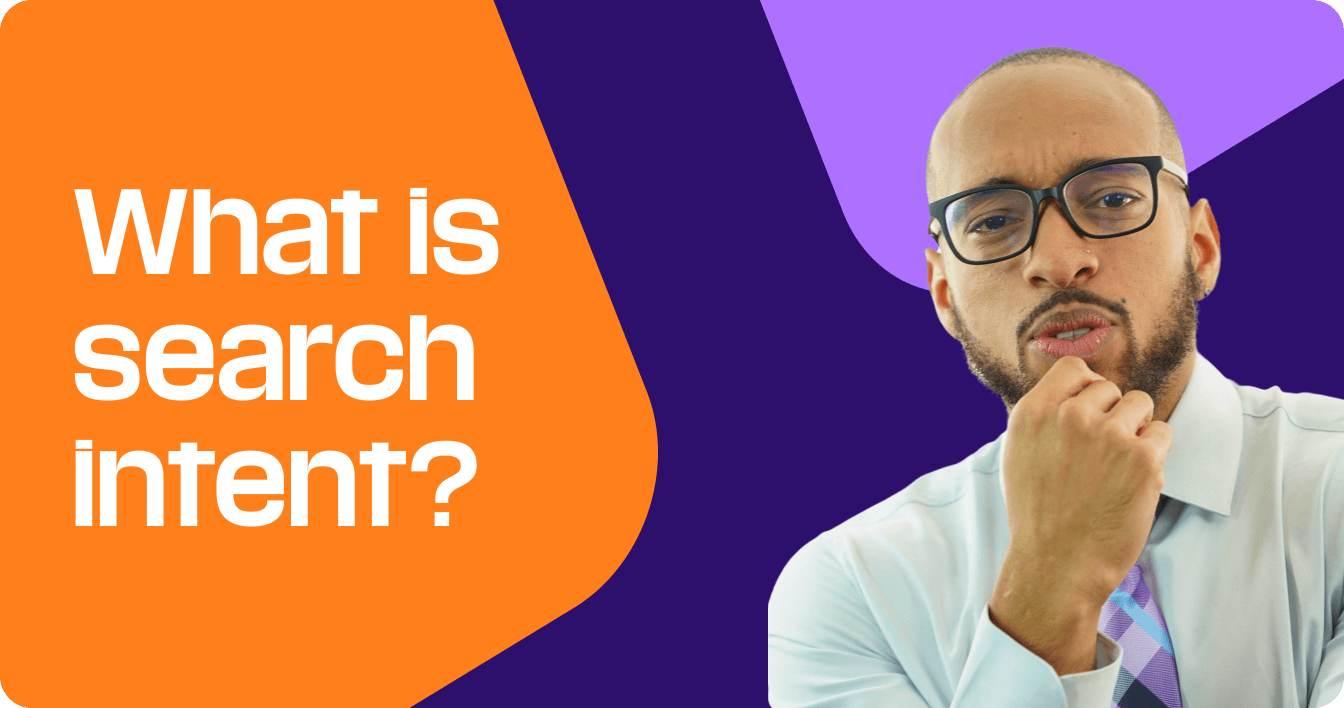 Search intent is the blueprint for content. Understanding search intent is the first step to creating good search engine optimization (SEO) content. Below, we'll explore search intent's definition, how to determine it, and more. Keep reading to get started!
What is search intent?
Search intent is the reason why a user enters a query into a search engine. Also known as user intent, search intent describes what users want to see, know, or learn whenever they enter a term into a search engine.
Why does search intent matter?
Search intent is the backbone of SEO, and really, the search algorithm. Google's goal is to answer search intent and give users the results they want. Their algorithm gets better and better at understanding intent to craft better search engine results pages (SERPs).
Without intent, it's impossible to know what searchers are looking for when they enter terms.
For example, if a user enters "chocolate chip cookie recipe," it's likely they want a step-by-step breakdown of how to make chocolate chip cookies. However, if they search "chocolate chip cookie bakeries," they're likely trying to buy cookies that someone else made.
Without intent, it's impossible to know what searchers are looking for when they enter terms. From a business perspective, that means you must recognize intent to create pages deliver helpful content, which Google uses in its Helpful Content ranking system.
Expert Insights From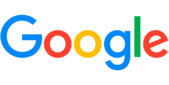 "We recommend that you focus on creating people-first content to be successful with Google Search, rather than search engine-first content made primarily to gain search engine rankings."
If you want your pages to attract customers, you need to match search intent.
If you create content that resonates with users and their needs, that will send positive signals to search engines like Google, and customers will see you as a knowledgeable source.
Higher rankings lead to more traffic, which can turn into leads and revenue.
Types of search intent
Not all searches have the same intent behind them, just like not all users need the same information. There are a few types of search intent to know if you want to target it.
The four types of search intent are as follows:
Navigational: These searches are direct or branded searches that take a user exactly where they want to go online. Examples include "Facebook login" or "amazon.com."
Informational: These are more general, top-of-the-funnel (TOFU) searches that start with a user wanting to learn more about something. Examples of terms could be "red shoes" or "music festivals."
Commercial: These searches are more specific informational searches. They align with more middle-of-the-funnel (MOFU) users directing their search to a narrower market. Examples could be "red platform heels" or "music festivals in Berlin."
Transactional: These searches are from users looking to make a purchase or conversion. Bottom-of-the-funnel (BOFU) searches like this could include "Berlin music festival tickets for sale" or "red vintage heels prices."
Informational to transactional searches follow the traditional sales and marketing funnels. That means if you want to target users at different stages of the funnel, you should create content that satisfies all types of intent.
How to determine search intent
To make the most impact with your website, you need to understand search intent for your pages and industry. Here are a few tips to help you determine and target search intent:
Look at the SERPs
Consider your analytics
Target the sales funnel
Let's dive in.
1. Look at the SERPs
The best way to figure out search intent is to look at what's currently ranking. These pages are those that Google has deemed the most useful and accurate for users who enter your target keyword.
Let's say your term is "types of tires." The SERPs might look like this: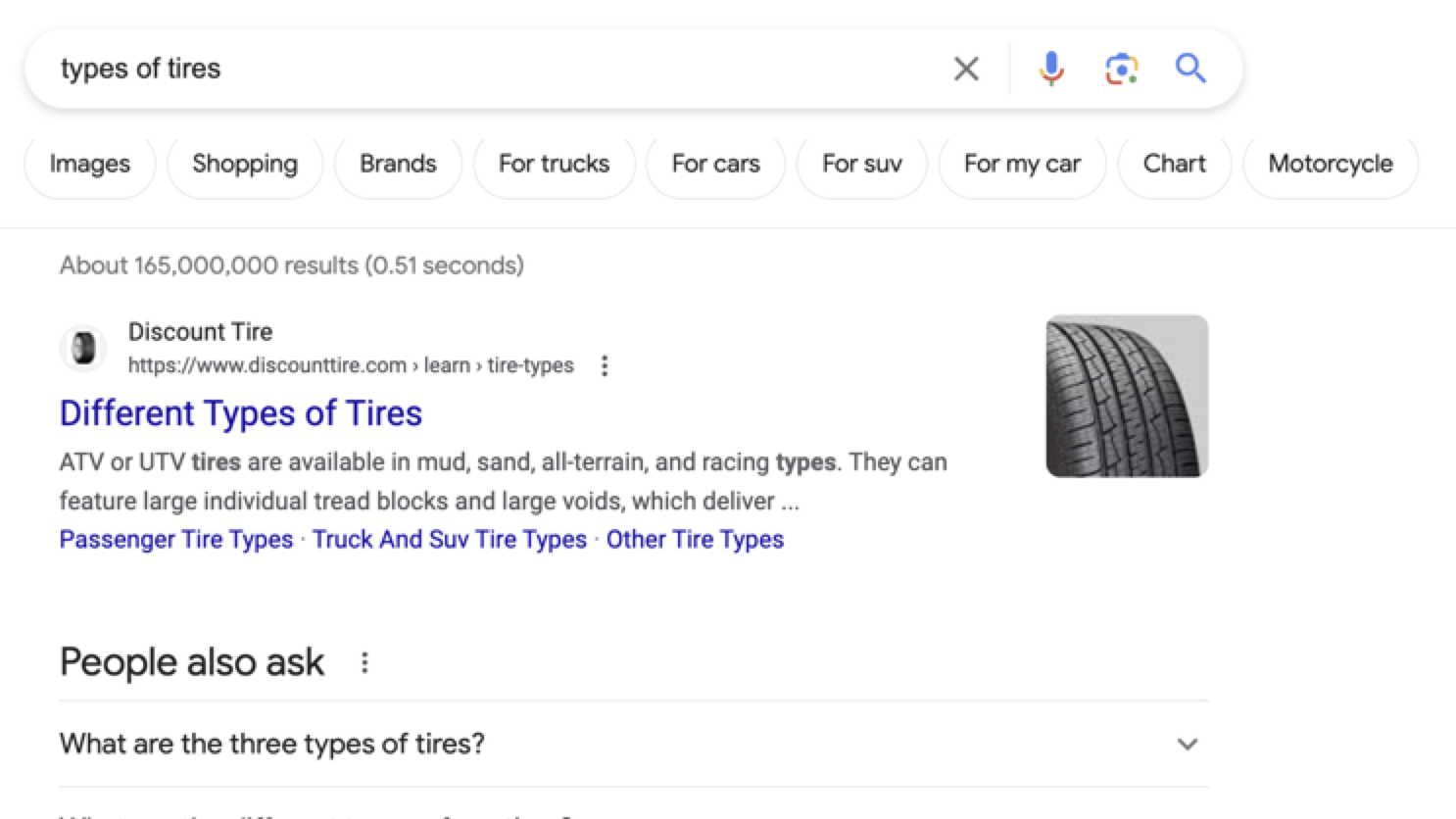 From these SERPs, we can see that the intent is types of tires in terms of various vehicles. Google even has added terms at the top to help narrow the search, like "types of motorcycle tires," for example.
If you were to write a page based on these SERPs, it might be best to write across the board about different vehicles, and then break down those topics into smaller sections.
2. Consider your analytics
This tip works if you aren't sure whether your content currently meets the search intent. If you've done the steps above and still want to learn more, you can look at your own analytics to see how your pages are doing.
A big indicator that your page doesn't match intent is bounce rate — how many people land on your page and then click away. If your content doesn't match search intent, people won't want to read it.
Of course, bounce rate could point to other issues, but it can also help you find underperforming pages and address the search intent.
3. Target the sales funnel
Finally, if you want to think about search intent for your business, you need to outline your sales funnel. This practice will help you not only make content for all users, but aim each page at their needs.
For example, let's say that you own a plumbing company. Not everyone will jump to calling a plumber when they have an issue — lots of people might turn to Google first. That means you should be creating content for those users as well.
Here are some examples of content that could match intent from all users:
TOFU: Informational blog posts, how-to posts
MOFU: Product comparison posts, service explanation pages, Q&As, pricing pages
BOFU: Product pages, service pages, contact pages
By using content across the funnel and understanding the intent behind searches, you can gradually nudge users toward converting.
Perfect your SEO content with expert advice
If you want to master search intent, you've come to the right place. SEO.com has tons of free articles on all things SEO related to help you get started. Or, you can contact us online to speak with an expert about your SEO campaign!
Don't fail your website's
most important test
Get an SEO scorecard of your website for free in less than 30 seconds.