Screaming Frog is one of the most useful tools to have in your back pocket when it comes to search engine optimization (SEO).
In this guide, we're diving into how to use Screaming Frog for SEO, along with more info about the tool itself and how you can get started.
Ready to learn all about how you can use Screaming Frog to improve your site's SEO performance? Keep reading!
Using Screaming Frog for SEO 2023 Guide Overview
What is Screaming Frog?
Screaming Frog is a popular SEO agency based in the United Kingdom. They developed the Screaming Frog SEO Spider, commonly referred to as Screaming Frog, trusted by thousands of SEO experts and agencies around the world to complete technical SEO audits.
The Screaming Frog SEO Spider is a website crawler that can help you improve your SEO performance by auditing your site for common SEO issues.
Installing and getting started with Screaming Frog
So, how do you install and start using the Screaming Frog SEO Spider? We'll explain below!
Installing Screaming Frog
First, you'll need to download and install the Screaming Frog SEO Spider tool to get started.
Just head on over to Screaming Frog's website and click on the "Download" tab.

Once the file is downloaded, click on it and follow the instructions in the installer to get everything set up and running.
Activating your license
It's completely free to download and use Screaming Frog. However, you'll need a license to crawl more than 500 URLs and access important features and reports.
If you only want to use the free version, you can skip this step.
To buy a license, navigate to Screaming Frog's license page and purchase a license.

Once you've purchased your license, you'll receive a username and license key. To activate your license and start using it, open the Screaming Frog SEO Spider application, and enter your username and license key under "Licence > Enter Licence."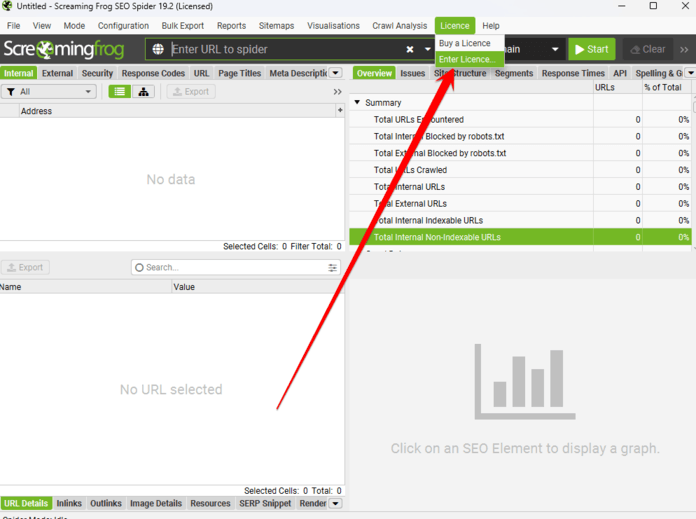 If you've entered everything correctly, you'll see a message that says your license is valid and prompts you to restart the application to access your new features and remove the crawl limit.
Setting up memory and storage
If you're using the free version, you can skip this step, too. But if you're using a license, Screaming Frog recommends setting up your memory and storage settings right away.
The settings you choose will depend on whether you have an SSD or not.
If you have an SSD, you'll want to change the settings to database storage mode. Database storage mode allows you to crawl more URLs, automatically store crawl data, and more.
To change your settings, go to "File > Settings > Storage Mode" and then select "Database Storage Mode."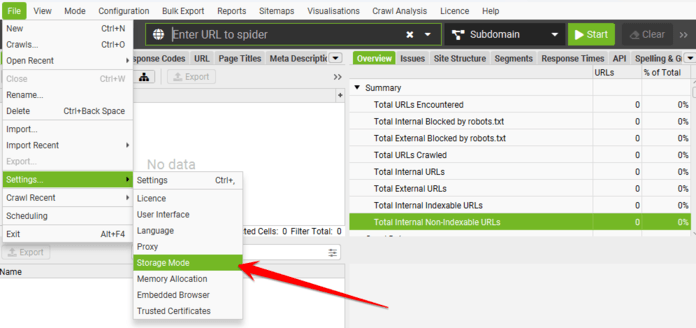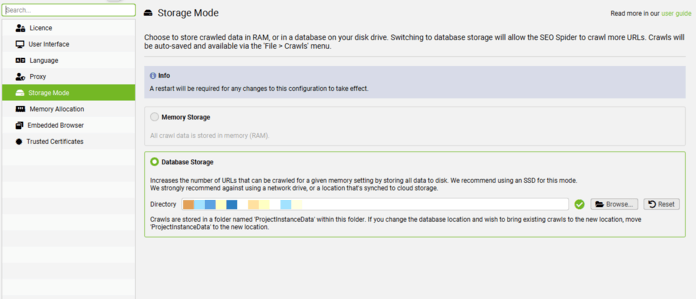 If you don't have an SSD, it's a good idea to keep the RAM storage mode setting. As long as you have RAM available, you can still crawl lots of URLs and save crawls.
Congratulations! You're ready to start crawling and using Screaming Frog for SEO!
How to use Screaming Frog for SEO tasks
Here's how to use Screaming Frog for SEO and accelerate your site's performance to earn those higher rankings in the search results!
1. Conduct a website SEO audit
When it comes to using Screaming Frog for SEO, one of the main purposes of the tool is to perform an SEO website audit.
This audit helps you get a grasp of your site's current SEO performance and identify critical issues that hold your website back from earning that top spot in the search results.
To conduct an audit, just follow these steps:
Enter your website URL at the top of the application
Click "Start"

Wait for the crawl to finish and check its progress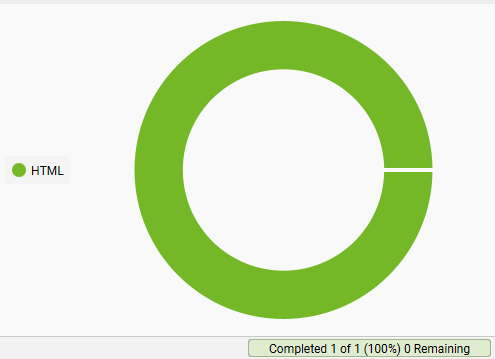 Read your report
Once the crawl is complete, your reports will be ready to view. You can find your reports by heading over to the "Reports" tab at the top of the application.
There, you can find a complete overview of your crawl as well as an issues overview report that will highlight key SEO problems on your site.

2. Find broken links
Next on our list of tips on how to use Screaming Frog for SEO is finding broken links.
Not only do broken links negatively impact your site visitors who look for information, but it can also hurt your SEO performance and rankings.
To find those pesky broken links, head over to the "Response Codes" tab.

There, you'll want to look for Client Error [4xx] results to bring up a list of all the broken links on your website.
Click on one of the broken link results in the top left of the application, and then click on "Inlinks" at the bottom left to bring up a list of all the pages where the broken link was found so you can update or remove it.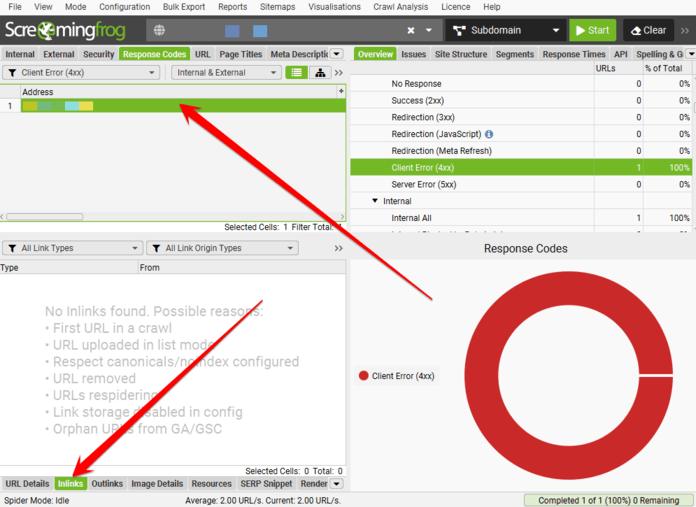 3. Review page titles and meta descriptions
It's no secret that page titles and meta descriptions can greatly impact your SEO performance and the amount of traffic to your website.
Luckily, it's easy to review your page title and meta descriptions with Screaming Frog so you can optimize them.
Simply click on either the "Page Titles" or "Meta Descriptions" tabs to see a list of all the titles and metas on your site.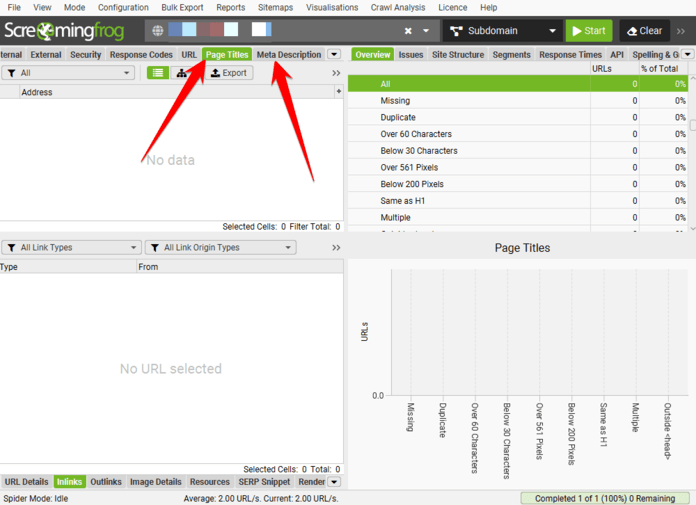 From there, you can filter the results on the right side of the application to identify URLs with missing, duplicate, too long, or too short titles and meta descriptions.
4. Find missing alt text
You can also use the Screaming Frog SEO spider to identify images with missing alt text. Alt text is a text description of an image that appears if a user's device cannot load the image and is essential to comply with website accessibility.
It can also help search engines better understand your image to rank it in relevant image search results.
To find images with missing alt text, navigate to the "Images" tab and filter the results by "Missing Alt Text."

Select one of the results and click on the "Inlinks" tab at the bottom left of the application to locate where that image is on your website so you can add the alt text.
5. Identify duplicate content
Duplicate content can also hurt your SEO performance by confusing search engine crawlers and users as to which page is the "master" page. It's important to find and remove duplicate content as soon as possible to keep your SEO performance in tip-top shape.
Export a report of all the duplicate content on your website by navigating to "Bulk Export > Content > Exact Duplicates or Near Duplicates"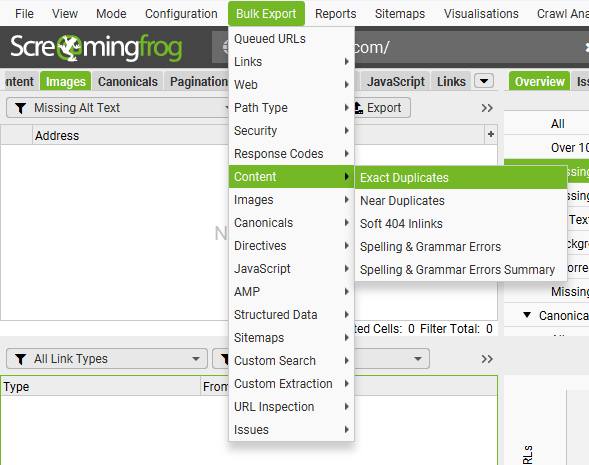 Once you've found duplicate content, you can work on targeting new keywords on those pages and creating unique content for your visitors.
6. Submit a sitemap
Sitemaps help search engines discover all the URLs on your website so they can index those URLs and display them in relevant search results.
The Screaming Frog SEO Spider helps you generate XML sitemaps and image sitemaps that you can submit to Google and other search engines.
To do so, navigate to "Sitemaps" at the top of the application. Click on either XML or image sitemap and follow the instructions to generate your sitemap.

Screaming Frog pricing
The Screaming Frog SEO spider has two pricing plans — free and paid. The paid plan costs $259 per year for one license.

While the free plan doesn't require you to dig into your marketing budget, it does have a crawl limit of 500 URLs and lacks several features and reports, like structured data validation errors, and spelling and grammar checks.
The paid version allows you to crawl an unlimited number of URLs, along with giving you access to each and every feature alongside free technical support whenever you need it.
Improve your SEO performance with SEO.com
While Screaming Frog is a powerful tool for improving your rankings, it can be tricky and time-consuming to use and leverage it to successfully improve your SEO performance.
Our SEO specialists at SEO.com spend their days helping companies like yours create, implement, and manage SEO strategies that power incredible results and business growth.
If you want to chat with one of our strategists about our SEO audits or services and how we can help improve your bottom line, just get in touch online!