Google vs. Bing: A comparison
While Google is the more popular search engine, utilizing more search features along with using mobile-first indexing to determine rankings, Bing offers a less competitive experience for smaller businesses and a more visual search experience.
Google and Bing are two of the most popular search engines. Having nearly an 83.5% desktop market share, Google is the dominant player.
Bing is the smaller of the two, owning almost 9.2% of the desktop market share. Microsoft's search engine is not to be dismissed, though. In February 2023, Microsoft announced an AI-powered Bing, which uses Bing Chat, ahead of search engine giant Google's announcement of Bard.
Should digital marketers focus solely on one over the other? Let's go through these topics to answer this question and tackle the differences between Google and Bing:
The table below provides a quick overview of Google vs. Bing.
| | | |
| --- | --- | --- |
| | Google | Bing |
| Year founded | 1998 | 2009 |
| Headquarters | Mountain View, California | Redmond, Washington |
| Previously called | Backrub | MSN Search and Windows Live Search |
| Market share of desktop search engines (as of July 2023) | 83.49% | 9.19% |
| AI tool | Bard | Bing Chat |
A brief history of Google and Bing
First off, let's look at how Google and Bing started:
Google: The search engine initially called Backrub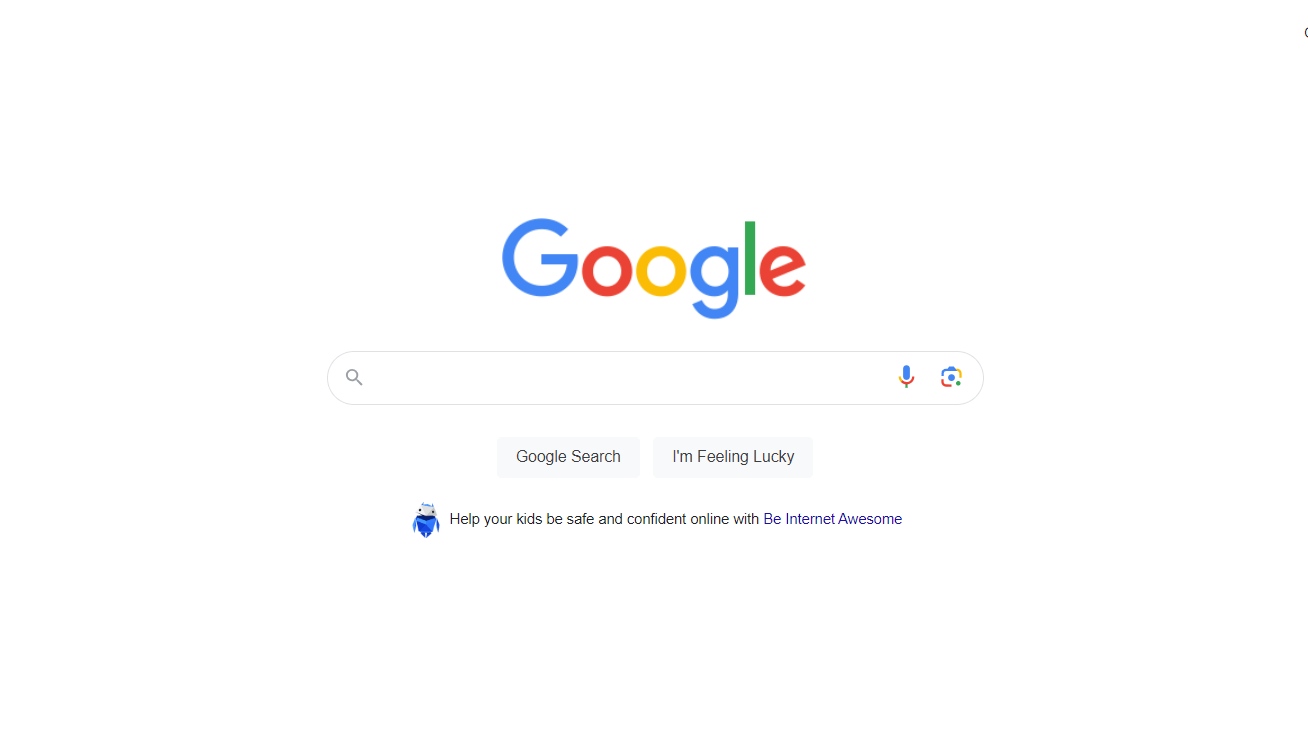 Google was founded in 1998 by Sergey Brin and Larry Page. The duo created a search engine that ranked webpages' importance based on the backlinks the pages received. They initially called this search engine Backrub.
Backrub was eventually renamed to Google, derived from the mathematical expression googolplex. Googolplex is 1, followed by 10100 zeroes, which reflected the search engine's goal to organize the world's information to make it "universally accessible and useful."
Headquartered in Mountain View, California, Google has an 83.49% market share of desktop search engines globally as of July 2023.
Bing: The grandchild of MSN Search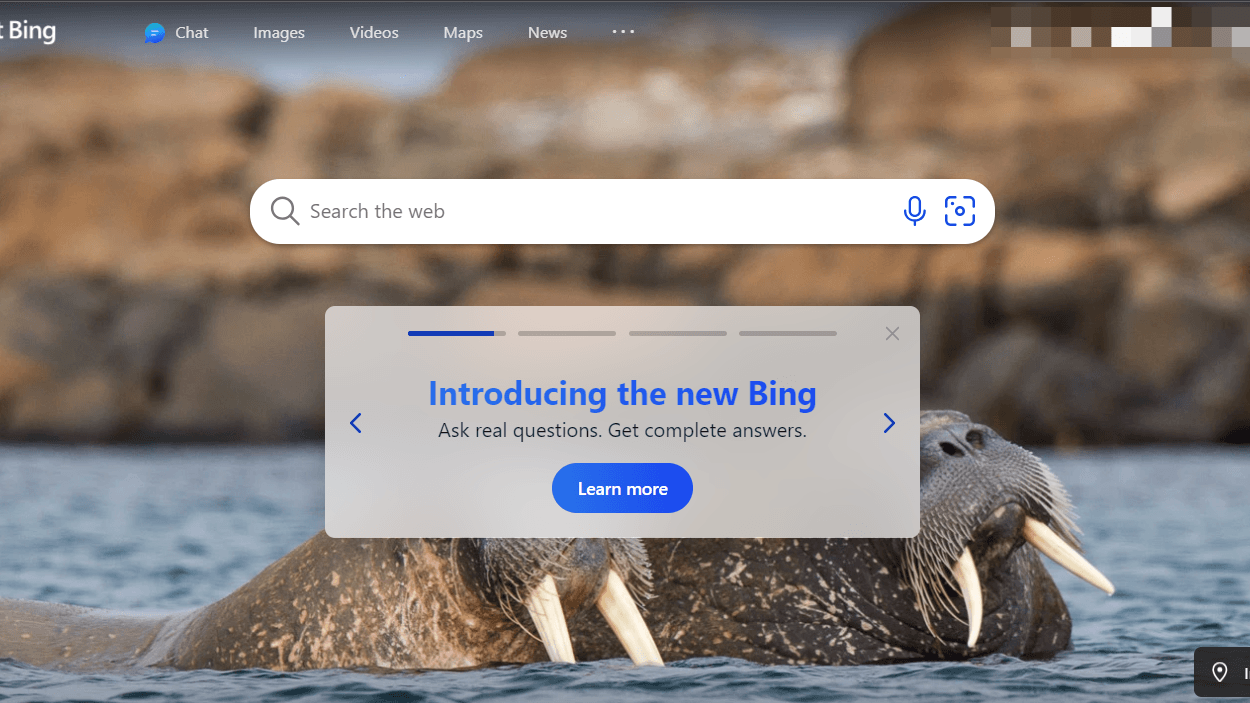 A descendant of MSN Search and Windows Live Search, Bing was launched by Microsoft in 2009. Microsoft picked the new name Bing through focused groups and because it was "the sound of found."
In February 2023, Microsoft launched an artificial intelligence (AI)-powered Bing and Edge browser. The company considers these versions of Bing and Edge as users' "AI copilot for the web."
Today, Bing takes a global desktop search market share, second to the leader Google.
Google vs. Bing: The main differences
The main differences between Google and Bing are their ranking factors, user interface, image search, and paid advertising capabilities. For example, Google uses mobile-first indexing while Bing doesn't. Bing also provides lower paid advertising costs and less competition while Google Ads carry higher costs-per-click and more competitive bidding.
Google vs. Bing: Ranking factors and optimizing for search results
Google and Bing share similar SEO ranking factors. They have differences, though.
For one, Google uses mobile-first indexing, while Bing doesn't. But Bing uses social signals as important ranking factors, while Google doesn't.
What are the other ranking factors that Google and Bing share? Let's go through them in this section. The table below provides a summary:
Google
Bing
Mobile indexing?
Yes
No
301 and 302 redirects
302 redirects may result in indexing issues
302 redirects are interpreted as 301 after a few more crawls
Off-page SEO signals
Backlinks from authoritative websites
Social signals
Optimizing pages
E-E-A-T guidelines
· Create useful content for human searchers and not just search engines

· Pages must be working in the Microsoft Edge browser
Technical SEO
Both Google and Bing use several technical SEO factors to determine a page's rank in the results pages. However, each search engine has different priorities:
301/302 redirects
Using 302 redirects may result in indexing issues with Google, while Bing can interpret 302 redirects as 301 after a few more crawls. It is still good SEO practice to use 301 instead of 302.
Page speed, popups, and mobile responsiveness
Google's Core Web Vitals metrics emphasize the importance of providing a seamless user experience to users across different devices and browsers to rank in SERPs. As such, a mobile-responsive website that loads quickly gets good points from the search engine.
In fact, Google uses mobile-first indexing, meaning it ranks a website based on its mobile version instead of its desktop version. Intrusive popups that ruin a user's experience may also negatively affect a page's ranking.
Official domains
Bing favors pages with official domains of .gov and .edu, while Google considers commercial websites to be just as valuable.
Off-page SEO
Backlinks are important ranking factors for Google and Bing. But neither of these search engines simply looks at the quantity of a site's backlinks — they both consider quality.
To establish your site's authority, your backlinks must come from reputable websites. Backlinking is more critical for Google, though. After all, it's not formerly known as Backrub for nothing!
Meanwhile, Bing considers social signals as a page ranking factor. This means that pages with more likes and shares on social media may rank high on Bing's search results. If you want to conquer the results pages of Bing, ensure your social media marketing strategies are aligned with your SEO efforts.
Optimizing webpages for Google vs. Bing
Google's quality rater E-E-A-T evaluates whether a site provides helpful and relevant information to human searchers. E-E-A-T stands for experience, expertise, authoritativeness, and trust.
This guideline is meant to emphasize the importance of high-quality content that addresses the search intent of human users instead of creating low-quality content to beef up the number of pages of a site.
On the other hand, Bing states in its guidelines that your site must be working in the Microsoft Edge browser. Microsoft's guidelines also underscore the importance of creating content for users and not for search engines.
As such, creating high-quality and helpful content for your target audience is at the core of both search engines.
The differences between Google and Bing's user interface
Google features a minimalist results page with relevant images.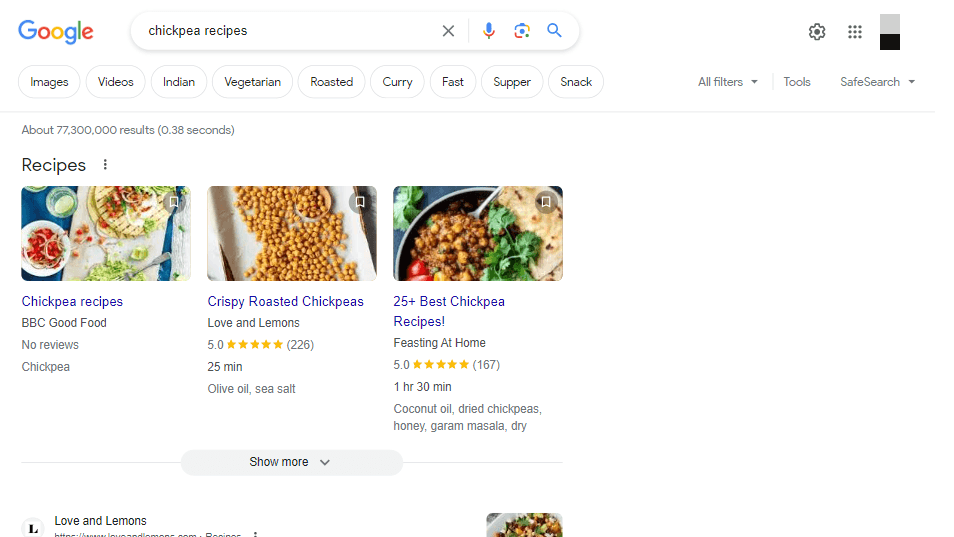 On the other hand, Bing provides a visual experience in its SERPs.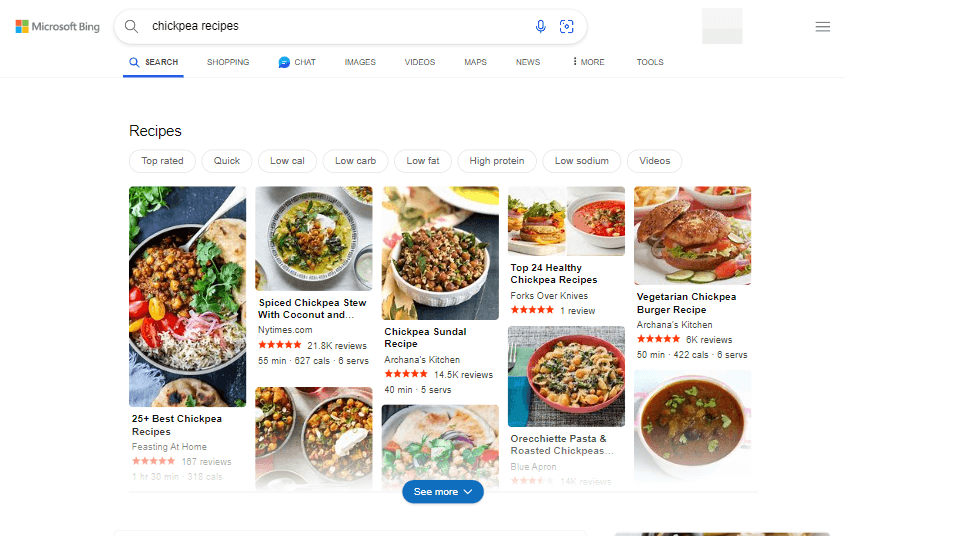 Both Google and Bing have other SERP features. They share most SERP tools—from ads and local packs to shopping and flights.
Bing has an Ask Bing AI section in its SERPs. On the other hand, Google's SERP has books and scholarly articles.
| | | |
| --- | --- | --- |
| SERP Features | Google | Bing |
| Ads | Yes | Yes |
| Featured snippets | Yes | Yes |
| Related searches | Yes | Yes |
| Local pack | Yes | Yes |
| Knowledge cards/graphs | Yes | Yes |
| Images | Yes | Yes |
| Videos | Yes | Yes |
| News | Yes | Yes |
| Sitelinks | Yes | Yes |
| Recipes | Yes | Yes |
| Shopping | Yes | Yes |
| Flights | Yes | Yes |
| AI-powered search | No (yet) | Yes (Ask Bing AI) |
| Books | Yes | No |
| Scholarly articles | Yes | No |
Google vs. Bing: Image search
Both search engines can search for information based on a user-uploaded image. They can also search the web for images you're looking for.
Using Google Lens, Google's image recognition technology, the search engine successfully identified the dog breed in the photo, a Jack Russell Terrier. It also provided a link to the SERPs for more information about the breed.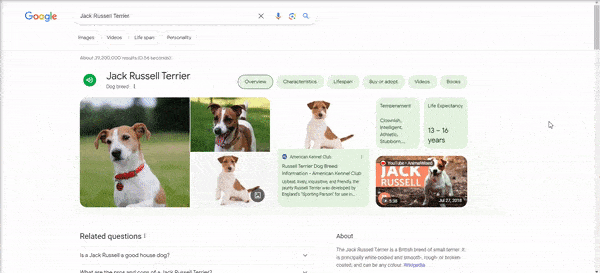 Bing can also search the web for information when you upload an image. It shows you three tabs:
All: A summary of what the image looks like and links to relevant SERPs. It also shows related photos from Pinterest, Facebook, and other websites.
Looks like: A tab that identifies the image and links to relevant SERPs.
Related content: A tab showing other photos like the user-uploaded image and other related searches.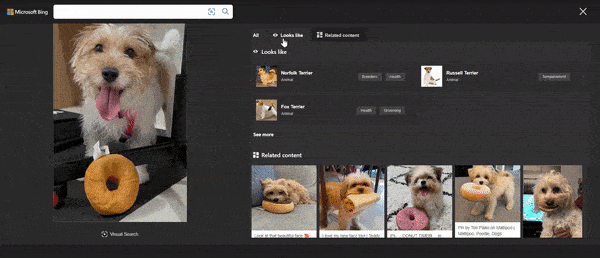 Google vs. Bing: Paid advertising
Google and Bing both have pay-per-click advertising (PPC) platforms: Google Ads and Bing Ads, respectively.
Google Ads has two ad networks. One is its search network, where ads appear in SERPs. Meanwhile, its display network shows ads to users in more than 2 million sites in the Google Display Network (GDN).
On the other hand, Bing Ads has three search engines: Bing, Yahoo, and AOL. When you advertise on Bing, your ads appear in the SERPs of these search engines and their partner sites.
While brands may be tempted to prioritize advertising on Google, which has the largest search engine market share and the most users, advertising on Bing also has its advantages.
Individual keywords' cost per click (CPC) may be lower on Bing Ads. In addition, if you're targeting an audience under the following demographics, they may be Bing users and it makes sense for you to reach them with Bing ads:
Married
Ages between 35 to 54 years old
Above $100,000 annual income
Settling the Google vs. Bing debate
It's undeniable that Google is the search engine leader. However, Bing has its strengths and has made progress on several fronts.
If you want your target audience to find your business, it's worth optimizing your website for both search engines. While the competition isn't saturated in Bing yet, you can optimize your pages for Microsoft's search engine.
Bing places value on useful content written for human users, which is also important for Google. By pairing your SEO efforts with social media marketing strategies that up your social ranking, you're giving Bing the signal that your website and business provide real value to users.
Is your target audience older, married, and with higher income? Bing users fit this demographic, so a Bing-optimized site and PPC campaign can reach your target customers.
Digital marketing changes every day. That said, Bing is in second place today, but it can potentially grow and grab more market share. It's best to start optimizing your website to conquer its SERPs and appear in its local search, image search, and featured snippets results today!
Writers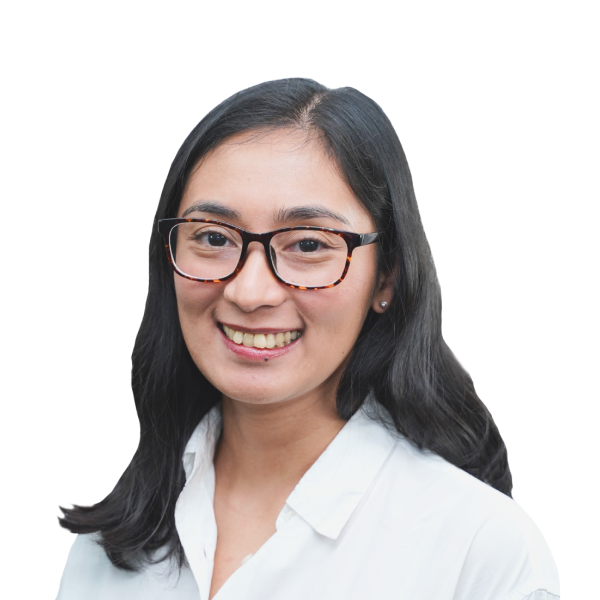 Maria Cecilia Carpena Lo
Emerging Trends & Research Writer