Many industries use search engine optimization (SEO) to gain visibility online, find more customers, and grow their brands. In fact, many manufacturers, distributors, and related companies use SEO for industrial companies to accomplish these goals.
But what is SEO for industrial businesses? What makes it different from regular SEO?
This page will break down the following topics regarding industrial SEO:
Read on to learn more!
What is SEO for industrial companies?
SEO for industrial companies is the process of improving your company website to appear higher in search engine results pages (SERPs). SEO also ensures you give customers the best experience possible with your website, earning you more leads and revenue.
There are many companies that fall under the "industrial" umbrella, but they all likely have the same goal — to generate the most business. Here are a few examples of companies that could use industrial SEO:
Manufacturing facilities
Distribution and storage centers
Made-to-order (MTO) facilities
Warehouses
Why does industrial SEO matter?
Without SEO, your website will not appear in search results. Or, if you do rank, your website won't be best suited for users, which will cause them to click away and not come back. You need a way to find and capture your audience's attention, especially in a competitive market.
With SEO, you can enjoy the following benefits for your business:
Competitive content: Even though SEO might seem outside the industrial world, many companies are already using it to get ahead. If you want to give yourself a chance at intercepting customers, you need to optimize your site.
Better rankings: As mentioned above, SEO helps you rank higher in the SERPs. That means when people are looking for your services, your company will appear at the top of the list, encouraging more clicks and conversions.
Satisfied customers: Part of optimizing your site is ensuring your users have the best experience, which can encourage more conversions and long-term satisfaction. By creating a seamless transition from lead to customer, you can show them you care and respect their business.
Examples of SEO for industrial businesses
As you can imagine, there is no one-size approach to SEO. With so many different companies, goals, and needs to account for, there's no way to have the same success with one approach.
Let's look at manufacturers and distributors as an example of SEO and how it differs depending on your goals.
Manufacturers
First, let's look at how manufacturers use SEO. When users search for manufacturing companies, they will get sponsored results but also local search answers since most people want to work with local manufacturing options: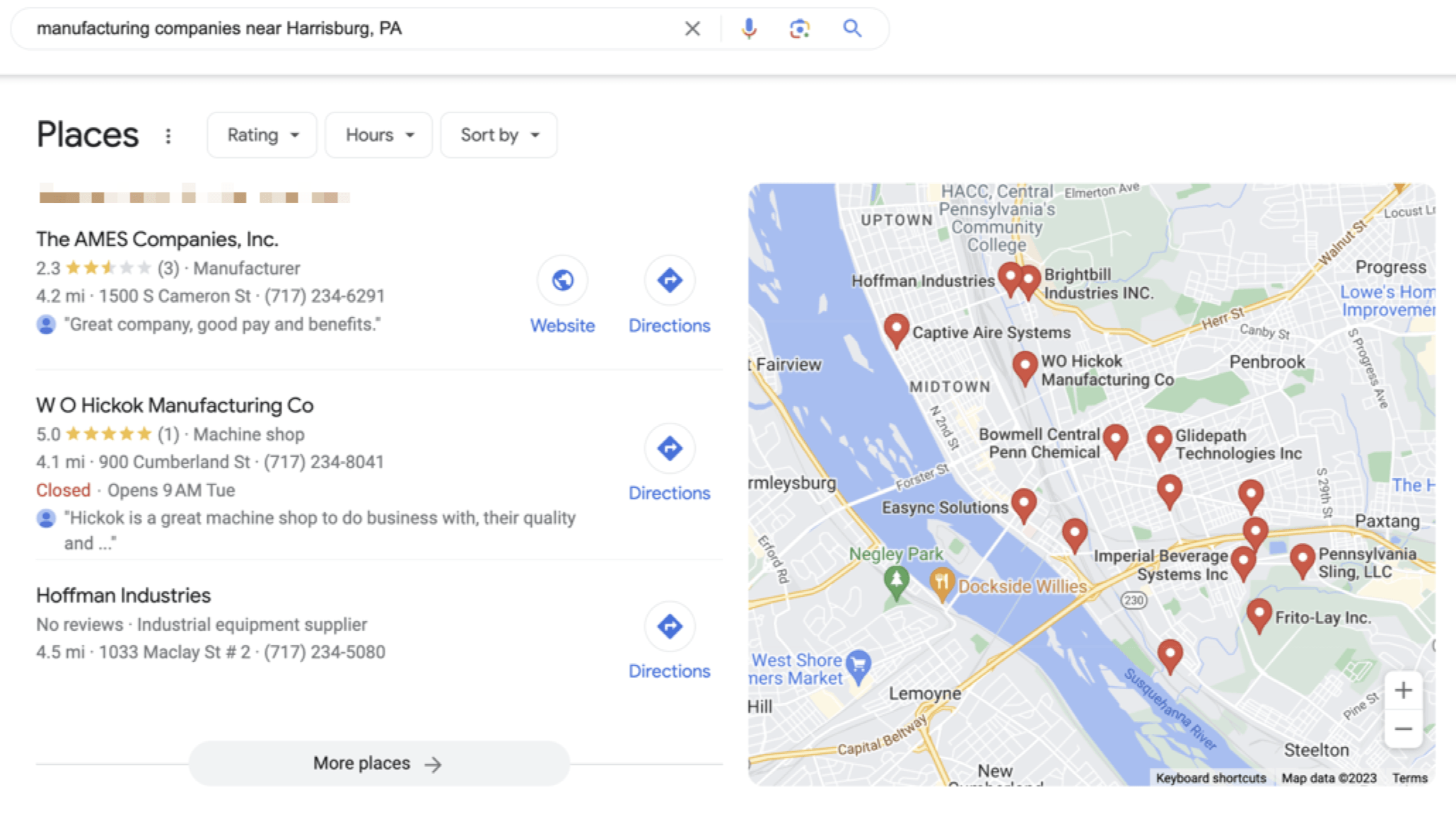 As a manufacturing company, you will likely target other businesses, wholesalers, retailers, or end-users. Your goal will be to show that you can create quality goods that they can either buy from you or a distributor.
For example, look at this well-designed about page and the content for a railcar manufacturing company:

Some ways you can use SEO would be:
Creating a Google Business Profile to show up in local search
Adding detailed service pages that target some of your specialty products
Targeting keywords related to your service options
Posting reviews to your website as a testimony to your work
All of these will help users find you as they search for a quality manufacturing company.
Distributors
Now, let's consider distributors and how they might use SEO. In contrast to manufacturers, your target audience would be people looking for a supplier of goods or a way to purchase specific items. This could include end users or other businesses.
For example, this company is a beverage distributor that provides vending machines to businesses: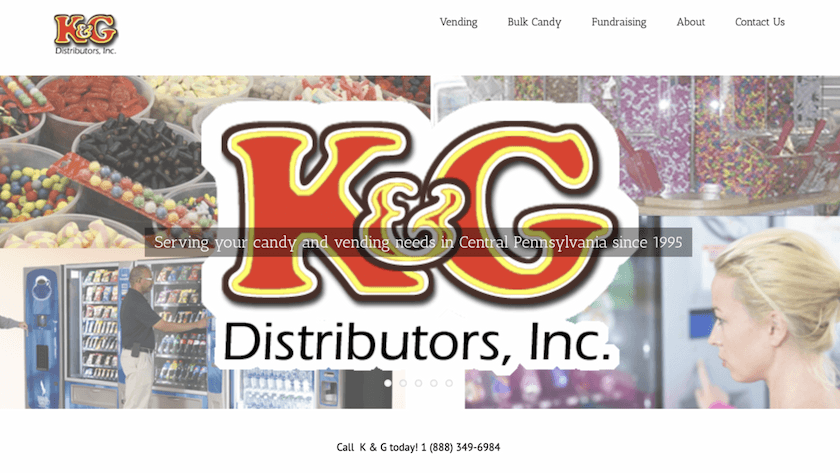 Your goal is finding people interested in the goods that you have access to and making sure they understand why your company is the best option. With SEO, you could:
Target local SEO and keywords to find local users in need
Create product and service pages for all your offerings
Writing content related to your offerings on your blog
As you can see, SEO is unique depending on the goals and use cases. Though the overall results might be similar — more revenue and customers — your individual needs and path will vary.
3 tips for improving SEO
Here are three different tips for helping you get the most out of your SEO approach:
Create buyer personas
Use tools where possible
Track your results
Let's dive into each one below.
1. Create buyer personas
If you haven't nailed down your target audience, you should consider creating buyer personas to help you pivot your SEO to people most likely to benefit from your services.
Buyer personas are characters that you create to represent the end user for your services. Some factors you can use include:
Age
Job title
Income
Education
Industry
Location
For example, if you offer manufacturing services for other businesses in your area, you might be looking for established business owners. By having this image of a user in mind, you can create better content that targets their needs.
2. Use tools where possible
SEO tools can help simplify the process. There are various tools available to help you with each step in the process, from keyword research to link building and beyond. Here are a few options to start with and what they can help with:
Ahrefs: Keyword research, competitor analysis, link tracking
Salesforce: Customer data storage, sales automation, lead scoring
Google Analytics 4: Web and app tracking, customer journey tracking, event tracking
3. Track your results
Finally, if you want better results from your SEO, you need to track your results. Without analytics, you can't see what's working and what you could change.
There are plenty of metrics to focus on that can show your campaign's health, but here are a few important key performance indicators (KPIs) to start with:
Conversions
Organic traffic
Improve your industrial SEO approach today
Learning about SEO is one thing — creating a strategy is another. It takes time and practice, but you can start optimizing your site to stand out in your industry today.
If you want to learn more about SEO, read more informative articles here on SEO.com, or contact us online to chat today!
Writers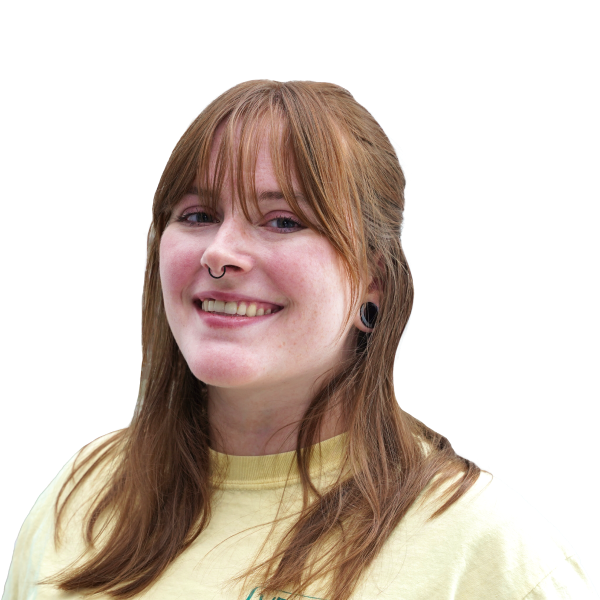 Abbey Stephan
Lead Editor