The goal of landing pages is to lead your prospects to conversion. If you want to shoot two birds with one stone — guiding your audience to conversion and driving more traffic to your landing page — you must employ SEO landing page best practices.
This article defines what an SEO landing page is and discusses SEO best practices for landing pages.
What is an SEO landing page?
An SEO landing page is a page that's designed to draw organic search traffic for keywords relevant to your business. Its ultimate goal is to lead your visitors to perform conversion actions, such as:
Downloading a resource
Leaving their contact details
Signing up as a lead
Signing up for a free trial
Making a purchase
SEO landing pages are typically part of an inbound marketing campaign that aims to increase site traffic from organic search.
What makes a good landing page for SEO?
Because these pages must guide users to conversion actions, SEO landing pages must:
Be straightforward
Provide a pleasant user experience.
Include a clear, compelling call-to-action (CTA) is optimized for your searcher's query and intent.
Learn more about how to build an effective SEO landing page below.
SEO best practices for landing pages
Now that you know what an SEO landing page is, let's go through this landing page SEO checklist to boost your ranking and conversion:
Let's dive into each one:
1. Perform keyword research and analysis
You may already have a list of long-tail keywords for your website's overall SEO efforts. This is an excellent starting point for your keyword research.
For your SEO landing pages, perform further keyword research to find relevant transactional, bottom-of-the-funnel keywords. Transactional keywords typically have "price" or "sale" because the searchers are ready to purchase.
Optimize your SEO landing page by using relevant, long-tail keywords matching your audience's transactional search intent on your landing page.
In addition to keyword research, examine your industry and competitors. What are the new customer behaviors that you've observed? What are your competitors doing?
Your target audience may be seeking out a product feature that you have along with enticing offers. Optimize your SEO landing page by using relevant, long-tail keywords matching your audience's transactional search intent on your landing page. Include the keywords in your:
Ensure you're using the keywords naturally throughout your page and copy. You don't want to overdo it, as keyword stuffing may hurt your rankings!
2. Align your landing page content and design with the search intent
Now that you've done your keyword research and analysis, you know the relevant transactional keywords that searchers use.
Next on our list of SEO tips for landing pages is aligning your page content and layout with the search intent. Doing so keeps your site visitors engaged on your landing page, thus easing them to conversion. Divide your content into logical sections to make your landing page easy to browse.
Will an interactive shopping guide embedded on your landing page address the search intent? Consider adding it to your SEO landing page.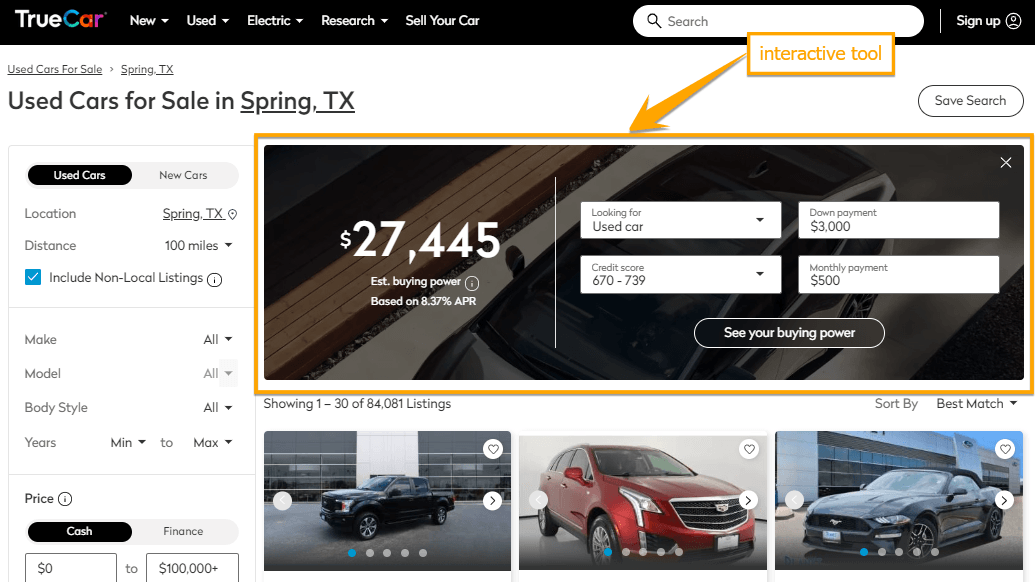 If you're embedding forms on your SEO landing page, keep them simple and intuitive. Gather only the necessary information from your prospects. Having very few fields may encourage sign-ups from unqualified leads. Meanwhile, a form with too many fields increases user friction, discouraging your qualified leads from converting.
By addressing search intent with your landing page content and layout, search engines like Google will find your landing page helpful for searchers, thus boosting their ranking in SERPs.
Pro tip: Ensure your SEO landing page is mobile-friendly, just like the rest of your site. You want your content and CTAs to be visible across different devices!
3. Optimize your landing pages' on-page elements
Help search engine crawlers understand your landing pages better by optimizing your on-page elements. This effort includes optimizing the following:
Title tag
The title tag is the page title that appears in SERPs, so make sure it captures the attention of your target audience and their search intent. Frontload your target keywords in your title tag to communicate that it's a relevant page for searchers.

Meta description tag
Search engines also use meta descriptions in SERPs, so write a meta description that convinces searchers to click on your page. It's also an SEO landing page best practice to use relevant keywords in meta description tags.
Headings and sections' subheads
Use an H1 heading tag with your target keyword in it. It can be similar to or a variation of your title tag.
Your sections' subheads give search engines an idea of your landing page's structure, helping them understand the topics you're covering. It also guides your site visitors skimming through your pages so they can immediately jump into the most relevant section!
Images
Follow SEO image best practices by renaming your image filenames and adding alt text that briefly describes the images. Doing so helps users with limited accessibility to understand what the image is. Alt text also gives search engines context on what an image is about since search engines can't read pictures.
Use high-quality images that support your landing pages' content. Place them near the text relevant to the image to give search engines context and make your content easier to digest for readers.
Compress your images to reduce their size without affecting their quality. This allows you to optimize images for both quality and page speed, which brings us to the next point.
Page speed
Page speed is an important metric for ranking in Google because it's part of its Core Web Vitals. Use tools like PageSpeed Insights to analyze your landing pages' Core Web Vitals.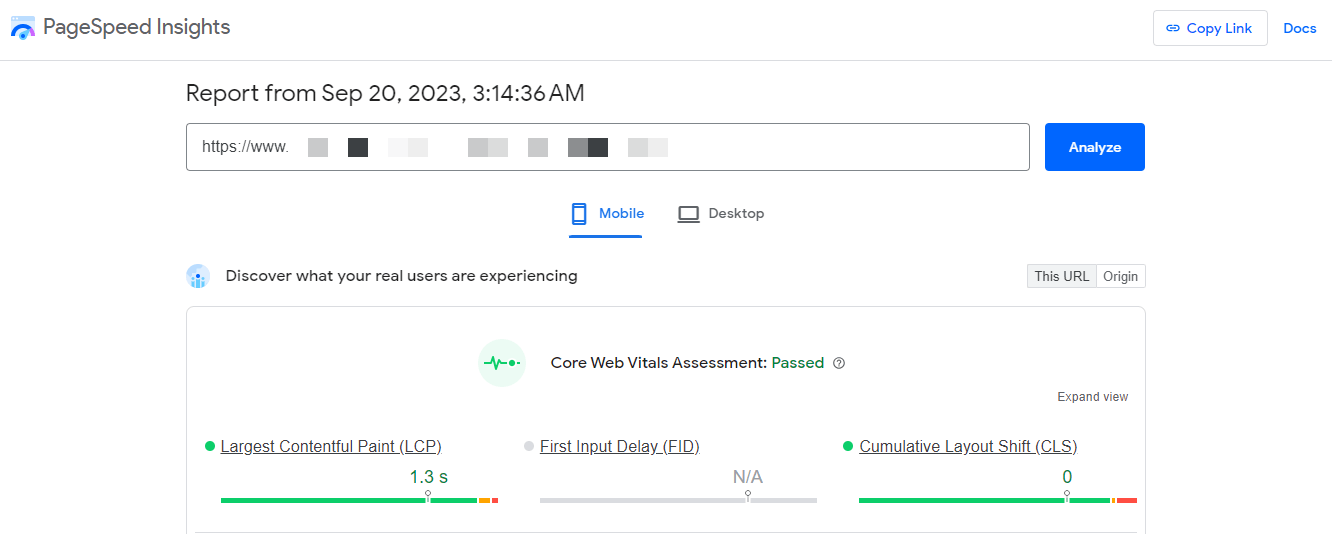 Internal links
Internal linking is one of the SEO best practices for landing pages that helps users and search engines. Internal links enable search engines to understand how your landing pages are related to other content and pages on your site.
In addition, it also leads users to relevant content that they may find helpful in their customer journey. For example, you can link to a relevant category page you mentioned in your copy. Ensure that your CTA to conversion is the most prominent link!
4. Publish your landing pages to your domain
Another best practice for SEO landing pages is to house and publish them within your domain. Why? Doing so makes your branding consistent, giving your target audience the impression that they're dealing with your business directly and leaving their contact information with a legitimate company.
This best practice also helps your ranking on search engines, as your domain authority may trickle down to your landing pages!
5. Regularly audit your landing pages with your website
When performing periodic site audits, ensure you examine your landing pages to check for 404 or 302 pages.
Proactively refresh your landing pages with relevant content or new interactive guides that address search intent. Did you develop a quiz or calculator that can help your target audience choose the best deal for them? Embed it on your SEO landing page for an enriched user experience!
[Bonus] Next level SEO tips for your landing pages
We've covered the basics! Let's dive into some more advanced tips for the experts out there:
1. Use pay-per-click (PPC) advertising to get a head start on measuring usability and conversion metrics
Google ranks a lot of content based on the behavior of users on those pages. If your page isn't competitive in keeping uses attention, you'll find yourself on page 2 (or worse) pretty quickly!
PPC can be a quick way to get a head start in this area. Try spending $500-$1,000 in PPC ads for the keywords you are aiming to rank for and watch some engagement rate metrics to see where you need to improve.
Better yet, if no one converts with these ads, they likely won't when you start ranking either.
While you're waiting for Google to do its thing to rank your page organically, getting traffic in other ways can help you determine your weak spots in your content. Improving those early on can give you months of data in the first week of running your ads that you desperately need to rank better organically.
2. A/B test your pages for better conversion rates
Don't stop optimizing your page if it is already ranking and getting traffic! Using A/B testing tools can help you find more opportunities to get that traffic to stick around or convert better.
Many different A/B testing tools can help you discover better engaging content strategies or better converting calls to action.
For example, a heatmap analysis tool can reveal a lot about how your users are interacting with your content. We've seen it before — a new navigational button in the right place can keep users from needing to go back to the search results again!
Google rewards content that answers users' questions, and A/B testing tools can help you surface exactly what those answers should look like on your landing page.
3. Re-align content with search intent changes
Google rewards fresh content over old and outdated content, and rightfully so! Search intent can change a lot over the course of a year or more. Sometimes search intent changes seasonally as your busy season tends to drive more bottom of the funnel visitors more than off season visitors.
Thinking about how you can adapt your content accordingly will ensure you're matching exactly what searchers are looking for at any point in time as changes in user intent naturally happens.
Accelerate your SEO landing page performance
Your business will benefit from optimizing your landing pages by driving more traffic and effectively driving conversion. Accelerate the performance of your SEO landing page performance by contacting us today to start working with our award-winning team!