If you want to boost your search engine optimization (SEO) results, you must know what tactics work best for your website. The best SEO techniques will help you improve your site and make it an accessible, accurate representation of your business.
This page will break down 14 different on-page and off-page SEO techniques to help you climb the SERPs. Here's a quick overview of what we'll cover:
Read more about each one below and see how these methods can help your website!
1. Look at competitor's websites for ideas
One way to get ideas for your website is to look at what other people in your industry are doing. A competitor analysis can help you make sure that you offer the same quality experience as your competition and find areas where they lack that you can fill.
Some factors you can look for in this analysis include:
Keyword usage and ranking
Blog topics
Backlink sources
Posting frequency
Image and video usage
SEO tools like Ahrefs make it easy to evaluate your competitors' pages and see what kind of traffic they're earning. Make a list of what you see and then compare it to your existing SEO campaigns.
2. Optimize for featured snippets and "People Also Ask" (PAA)
Not all search results are the same — that's why you should research the topics you write about before drafting your page to make sure you match the page format.
Featured snippets and PAA are two different search engine results page (SERP) features you can target within your content. This position on the SERPs is known as "Position 0," since users don't have to click on the result, and it appears above all other results.
Google likes to pull answers to questions/searches directly to make it easier to browse: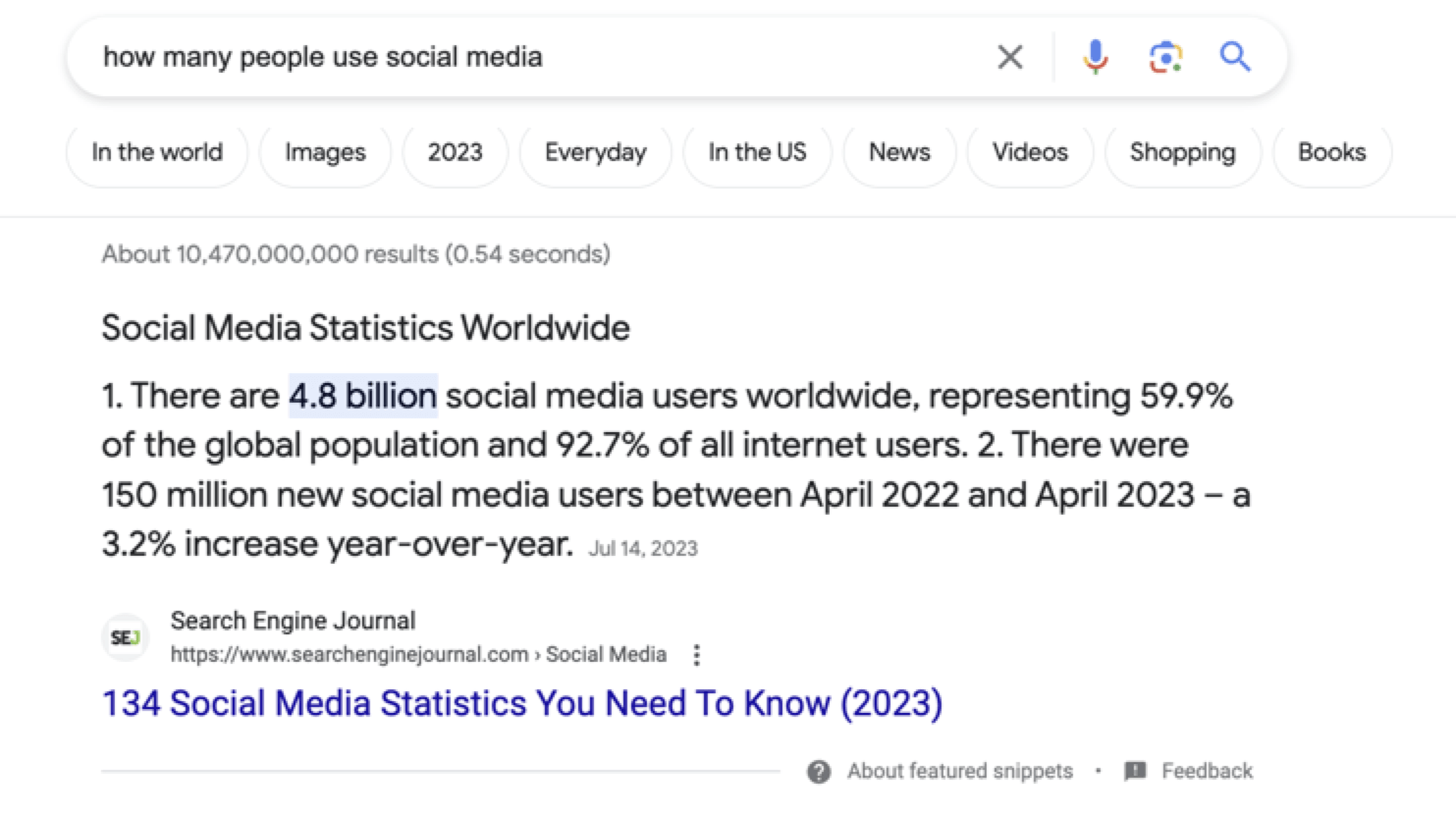 They also show related questions and answers from other resources in the PAA section: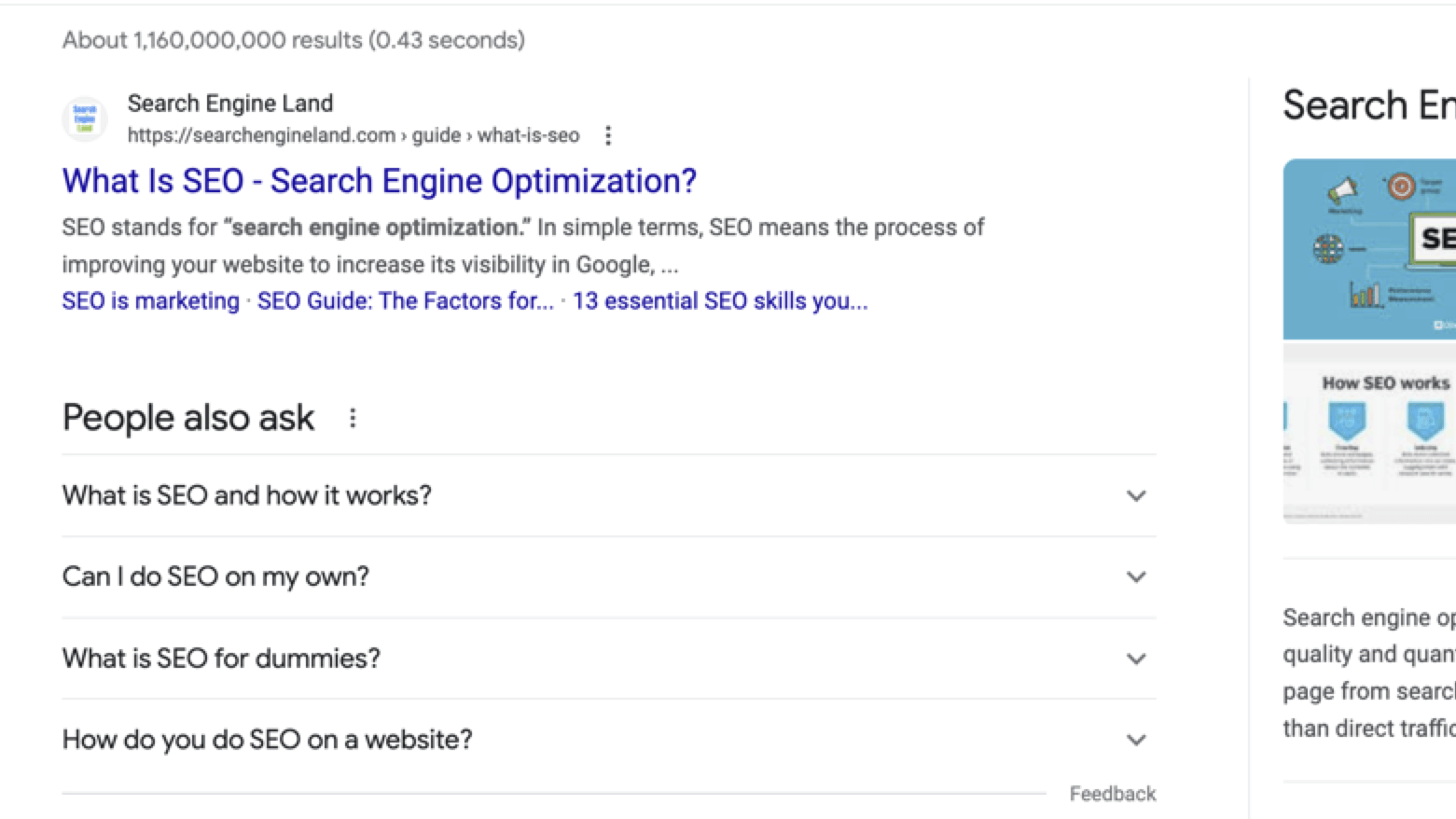 When writing your content, you should answer questions immediately and succinctly to target the featured snippet. Look for PAA questions related to your keyword, make them your H2s, and answer them. You'll create an informative article that ranks!
3. Compress your images and embed videos
No one likes a slow-loading image or video. In fact, most people will click away if images fail to load, and the same can be said for videos. That's why compressing your images and embedding videos is essential to SEO.
Compressing images means minimizing the image size in bytes without affecting the quality. Since smaller files load faster, you make sure that each image pops up without changing the image itself.
Embedding videos into your site instead of redirecting them outward can help them load faster, but check with your website host to make sure this is an option. If your overall page speed is fast, it shouldn't affect your videos too much.
4. Remove broken links
Broken links are those that lead to an error message instead of the intended page. This issue can happen for a few reasons, including:
The target page no longer exists
The URL is typed incorrectly
The content has changed locations
Checking your website for broken links will optimize your site for users and search engines. Ahrefs can help you find broken links so you can fix them.
5. Reach out to companies for backlinks
In terms of off-page SEO techniques, earning backlinks may be the most important. Backlinks from authoritative sources tell Google that other sites think that yours is trustworthy. You want to get as many backlinks as you can from reputable sources.
Some ways to earn backlinks are:
Reaching out to companies and asking them to link to your content
Finding broken links in their content and asking them to replace the link with your website
Creating content that other websites want to link to naturally
6. Consider your Core Web Vitals
Core Web Vitals are Google's metrics for calculating user experience (UX) for loading performance, interactivity, and page stability. These metrics can make all the difference in how users interact with your page and how Google ranks it.
Some ways to account for Core Web Vitals include creating a caching system, optimizing images, and updating your website hosting. These are mostly technical backend changes you can make to help your site run smoother.
7. Write link-worthy content
As we mentioned before, your content should entice other sites to link to it naturally. But there are a few ways you can encourage more links, like:
Writing how-to pages for common industry questions
Outline innovations you and your business have developed
Gathering and reporting on new research your business has done
Be the authority on a particular topic, or invent your own trendy topic for your industry
All these pages encourage links more naturally than a regular blog post, as they are easy for other sites to reference and link out to when authorizing their own claims.
8. Use quotes and research for E-E-A-T
Google defines high-quality pages with the Experience, Expertise, Authoritativeness, and Trustworthiness (E-E-A-T) scale. This system helps Google rank the best pages for searchers, and targeting these metrics can help you show your E-E-A-T credibility.
To show Google that you know what you're talking about, you can use quotes from important professionals and research to show your expertise and authority.
Here are some examples of how these factors might affect content:
A coffee shop review from a repeat customer of this shop and similar ones (Experience)
A medical advice piece written with quotes from doctors and other specialists (Expertise)
A contractor who shares their research and past project experience (Authoritativeness)
Trustworthiness comes from a mix of all three of these components, and if you lack any, Google will deem your website and brand unreliable. That's why adding quotes and research can help you build out your site.
9. Add internal links to help with page rankings
Linking between pages makes it easier to show connections between topics and pages on your site. Plus, it's an easy way to help users browse other pages and show Google how your site all connects.
Add internal links throughout your site to other relevant pages. Try to use the target keyword for the landing page as the anchor text in your link to reinforce the page topic.
10. Build a sitemap to improve indexing
Sitemaps are what they sound like — a map of all the pages on your website. There are two types that you can use to help users and search engines access your website.
An HTML sitemap is simply a page that links out to all other pages on your website that users could need: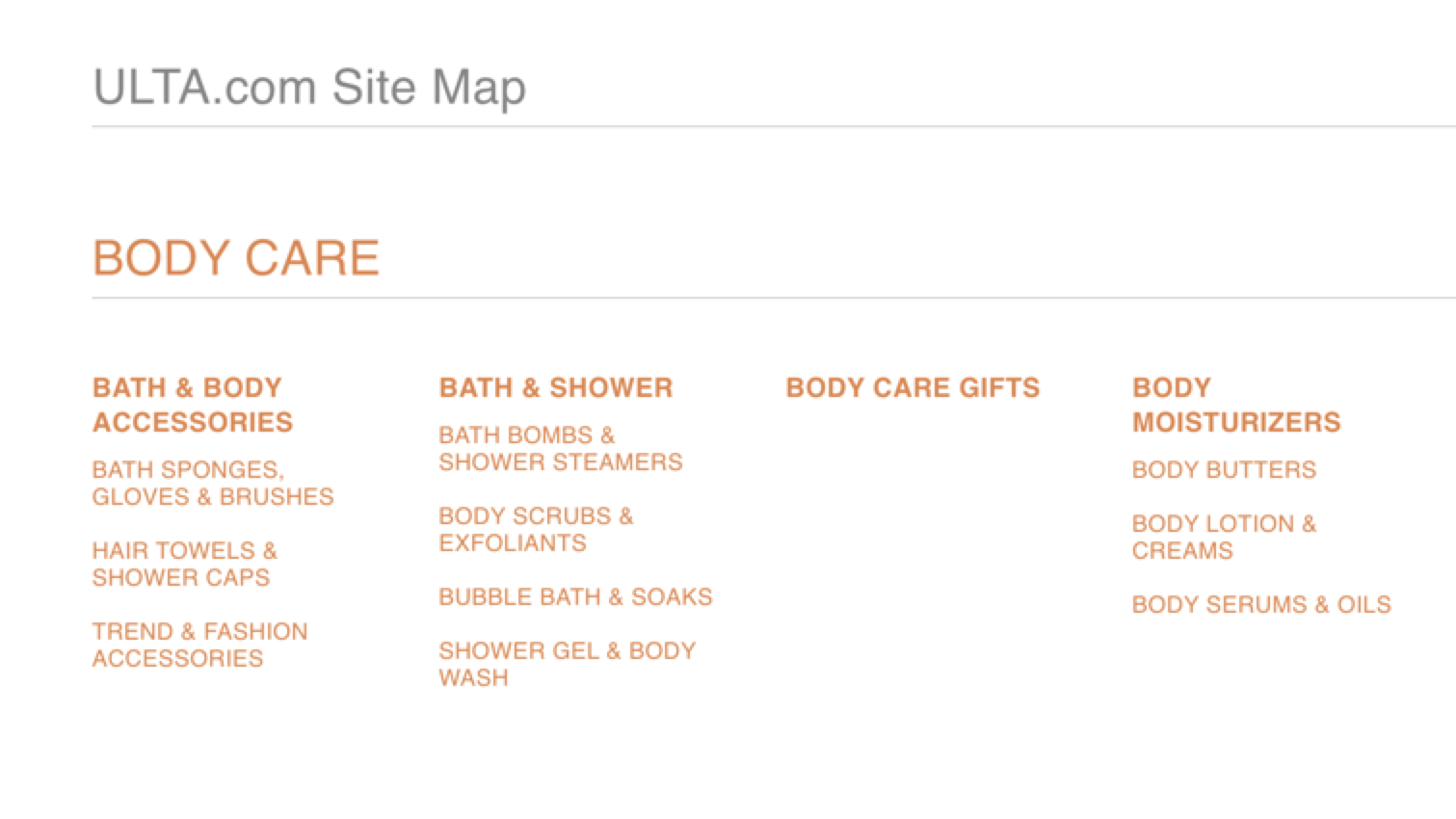 An XML sitemap is code that you submit to Google to help them crawl and index your pages. We recommend making a sitemap no matter how small your site is. There is always room to grow, and submitting it can help Google find your site faster.
11. Draw up topic clusters
If you don't know what to write about for your blog or website, you can try topic clusters to help you organize your ideas. Topic clusters are groups of ideas that go together and all fall into their own category. Creating topic clusters can help you lay out content ideas for multiple pages.
Let's say you own an art supplies store. One topic might be "children's crafts," and you could write pages on painting, drawing, paper airplanes, and more.
Think about the common areas in your business and field and what other topics are closely related to them. You might have pages on your site already that you could rework or expand on to create cluster pages.
12. Optimize metadata to create seamless search results
Metadata is the information Google grabs from your page to post in the SERPs. With metadata, if you don't submit it yourself, Google will usually pull the beginning of your article, which might not really speak to what your page is about.
Be sure to add a clear title tag and meta description to tell users about the topic of your page, and add your target keyword in both to boost keyword integration.
13. Rework your navigation
Navigation is key to UX and search engine crawlers. With high-quality navigation, you can encourage people to stay on your website, which reflects well with search engines.
The main type of navigation is a bar with dropdown menus or links:

If you have a lot of pages that stack together, you can also use breadcrumbs to keep them in order: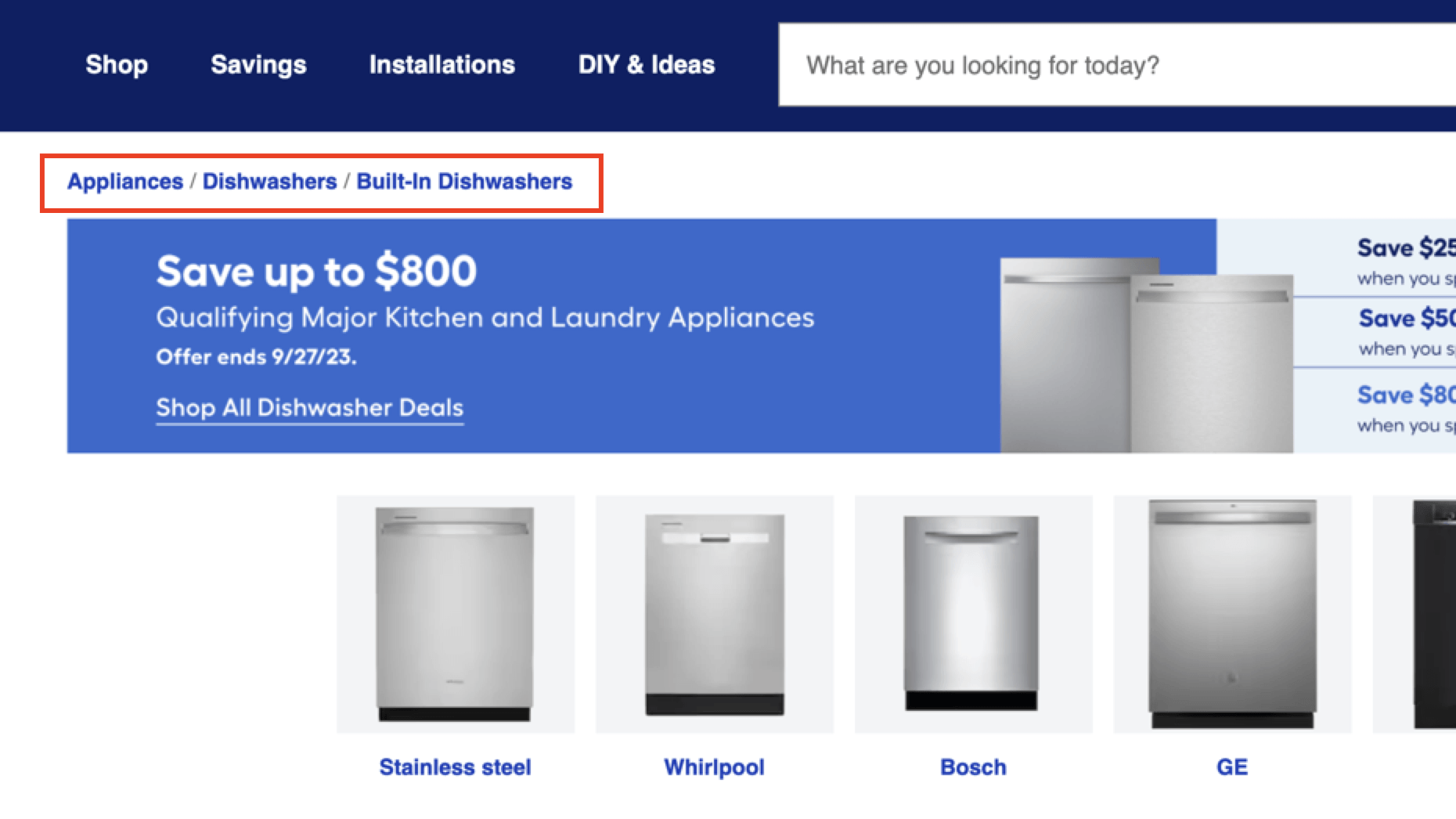 14. Use A/B tests and implement the feedback
What better way to test your pages than by asking users directly? A/B tests let you generate two versions of your page and test them with users to see which version people prefer. With A/B testing, you can avoid wasting time and money on a page that won't convert.
There are plenty of A/B testing tools out there, including:
Each of these tools can help you create pages, find an audience, and record their reactions before implementing pages on your site. You can also use A/B testing for your ads!
Boost your website with SEO techniques
If you are ready to grow your website, you can try these techniques or others. If you want more help, explore our SEO blog for more advice and guidance as you go!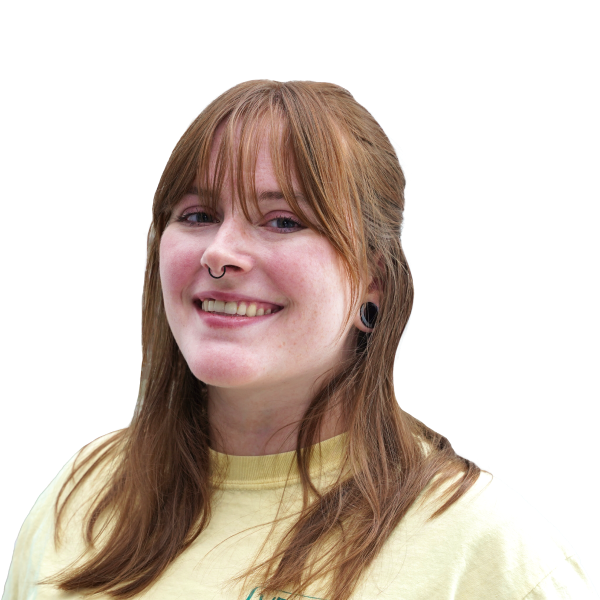 Abbey is a digital marketer, copywriter, and lead editor. She has worked on over 200 client campaigns and WebFX, and she specializes in marketing strategy analysis and industry-specific digital marketing plans. Outside of writing and editing, you'll likely find her taking pictures of her cat, making a new playlist, or tending to her houseplants.
What to read next
My Site Isn't Showing Up on Google! Discover 6 Reasons Why Your Site Isn't Ranking
Keep Reading